Disclosure of Material Connection: Some of the links in this post may be "affiliate links." This means if you click on the link and purchase an item, I will receive an affiliate commission. Disclosure in accordance with the Federal Trade Commission's 16 CFR, Part 255. This site is a participant in the Amazon Services LLC Associates Program, an affiliate advertising program designed to provide a means for sites to earn advertising fees by advertising and linking to Amazon.
Go Leafs Go! This is my hand picked selection of Toronto Maple Leafs fan gift ideas to kick off the next home game right! Everyone knows a hockey fan who's got it all. Why not surprise them with a gift that's really unforgettable?
The Best Toronto Maple Leafs Fan Gift Ideas
Outfit your favorite Maple Leafs fan with these unique gift ideas that go beyond basic. I've mixed the practical with the funny, the handmade and the one of a kind! Grab your lucky game socks, a cold one and a snack as we check out some awesome Toronto Maple Leafs fan gift ideas!
Auston Matthews
Grab this pop art figurine of star Leafs player Auston Matthews #34 to really surprise a maple leafs fan! These adorable little figures are whimsical and timeless. They're also great for the office desk or tv console!
Toronto Maple Leafs NHL Ball Cap
This grey ball cap takes a modern and stylish approach to the classic leaf's logo. Give your fan the best in new Toronto maple leafs apparel with this versatile and eye-catching hat!
NHL Boasters Maple Leafs Drink Coasters
These are specially designed with an ideal Toronto Maple Leafs fan gift in mind! They're custom engraved with the Maple Leafs logo making them a great addition to your favorite hockey fan's game space!
Timex NHL Maple Leafs Watch
Need help remembering what time the game starts? Sport this flashy and stylish timepiece featuring the classic Toronto Maple Leafs logo. This is a great way to strut with style for any leafs fan on game day!
Toronto Maple Leafs Golf Sock
Who said you have to leave your love for the Toronto Maple Leafs on the ice? This fantastic golf bag accessory not only protects your clubs, but shows your love on the greens. If you're looking for a unique hockey themed accessory we've got you covered!
NHL Stick Tape Maple Leafs Brand
This is a woven cotton sticky tape that will make for some extra grip on your favorite hockey stick. Not only that, it's adorned with the hockey league logo you know and love! Show your love for the Toronto Maple Leafs at your next beer league game!
Toronto Maple Leafs Sneakers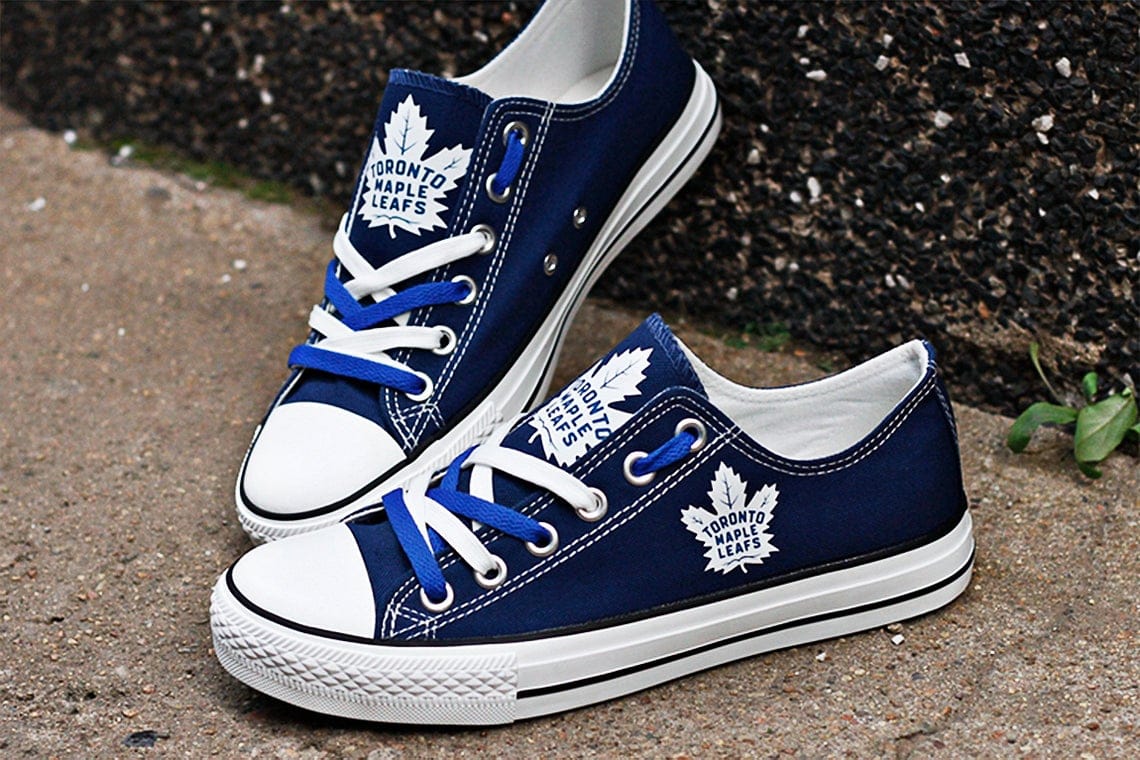 Need something stylish to step into in between games? These custom, hand made Toronto Maple Leafs shoes make the perfect fan gift! They're something you can't find anywhere else, and best believe they'll turn heads.
Toronto Map Tumbler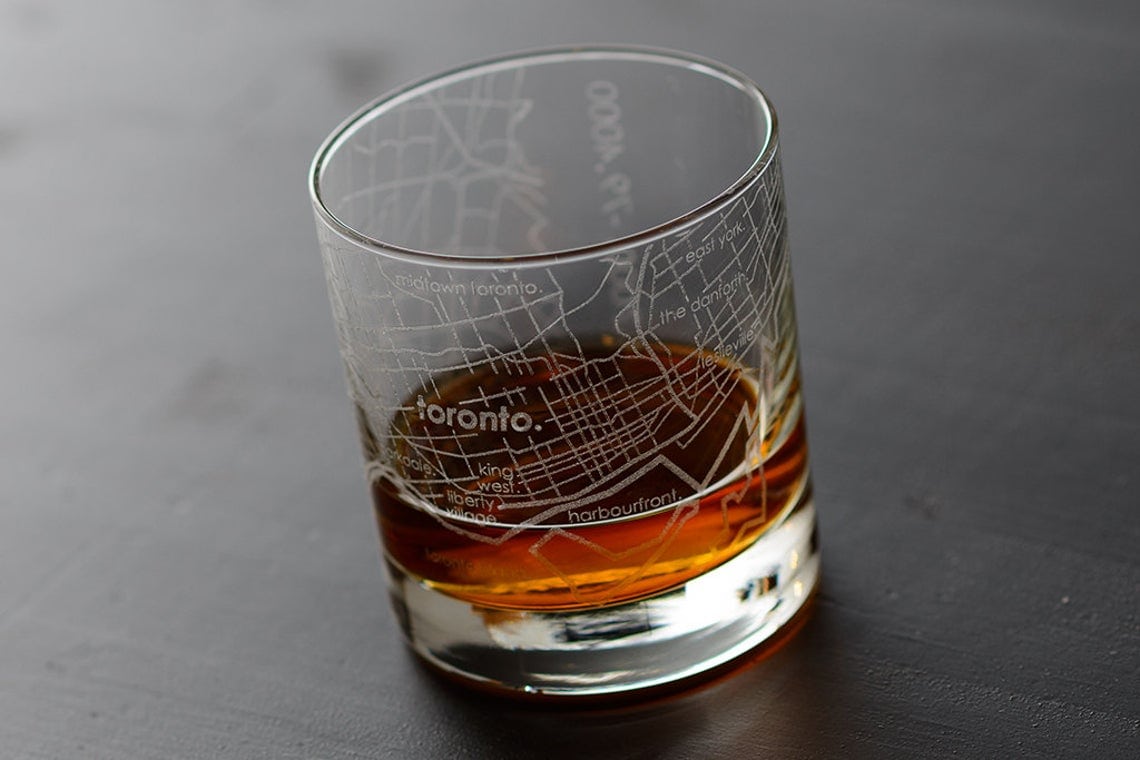 This classic style heavy bottom whiskey tumbler is a classy gift for any Toronto sports fan! Show them their favorite city map laser engraved onto a practical and heartwarming gift.
Toronto Maple Leafs Hair Bow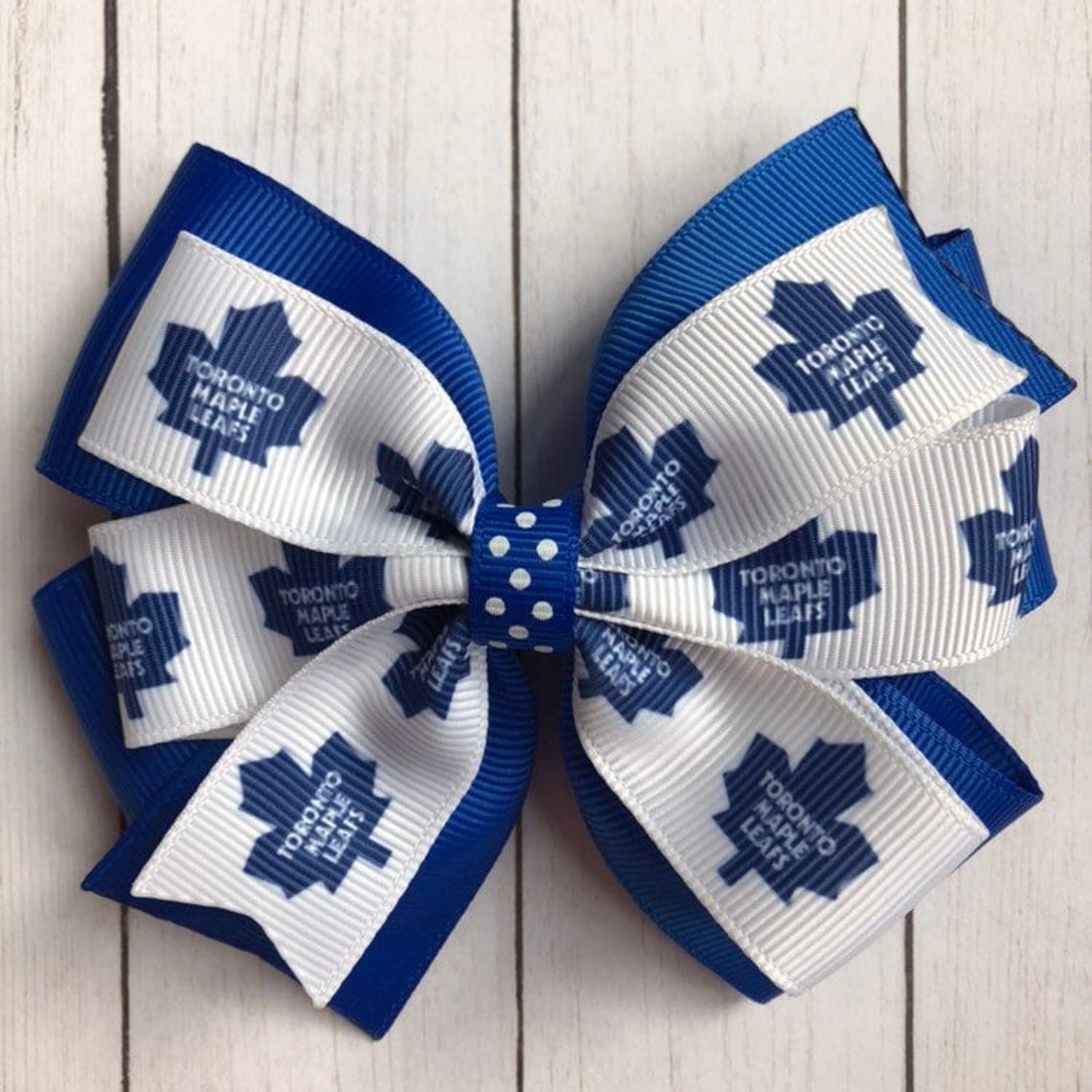 This is a handmade Toronto Maple Leafs accessory you can't go without! If you're doing up your hair for the next home game, grab one of these bows to round out your fan look!
Maple Leafs Wine Charms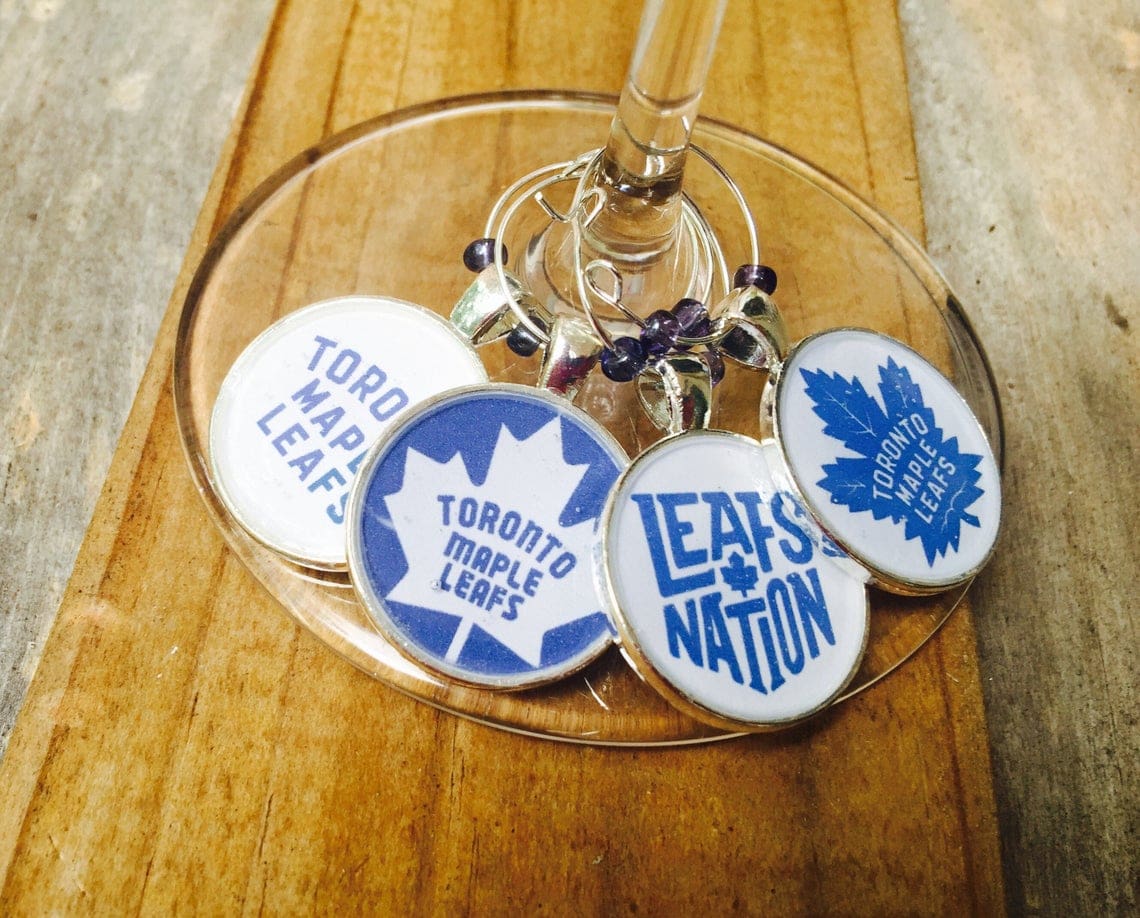 Maybe you're enjoying the leafs game from the fan box, or from your own kitchen! These wine charms show off your maple leafs team pride. Not only that, but they're also practical! You won't be mixing up wine glasses with these whimsical and adorable charms for wine glasses.
Maple Leafs Money Clip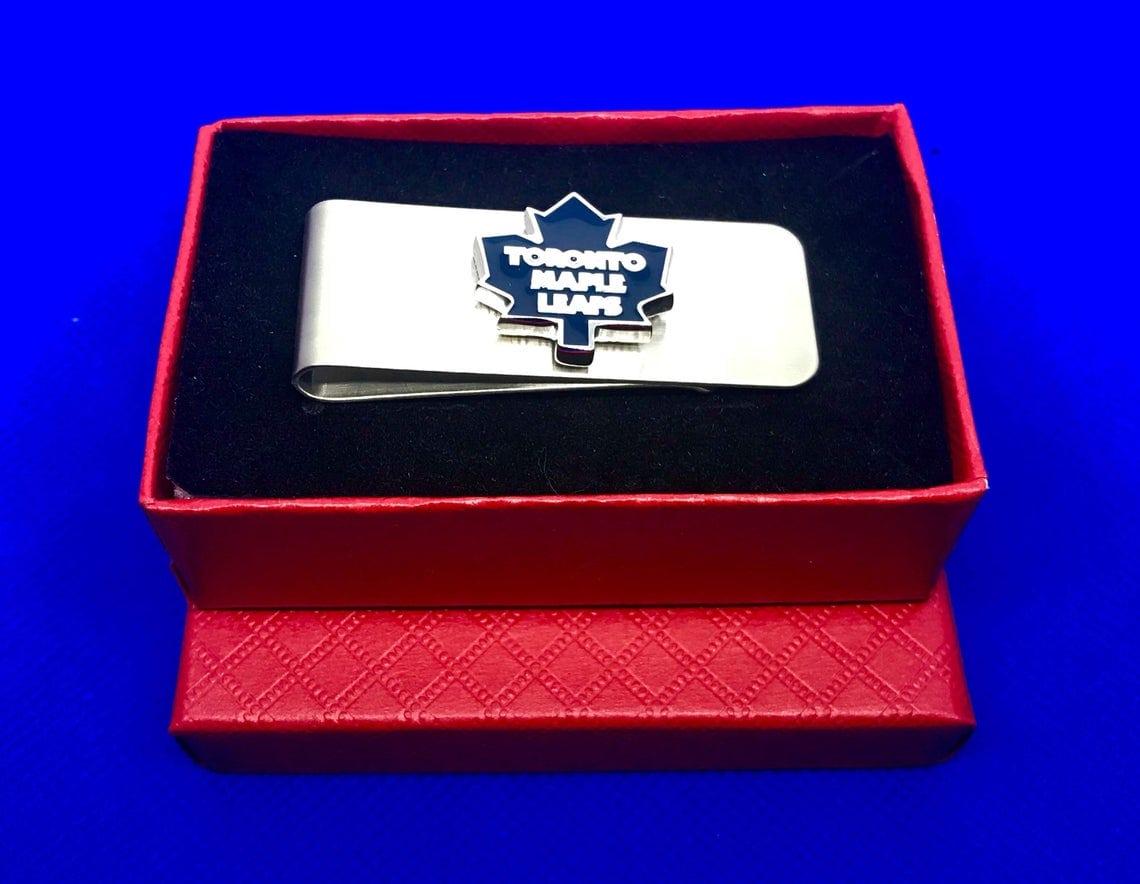 You've got a problem, too much money and nowhere to put it! You're in luck. I've found this awesome Toronto Maple Leafs money clip that makes the perfect fan gift. Make sure you've got all of your bills in one place for those pricey drinks next home game!
Maple Leafs Wall Decor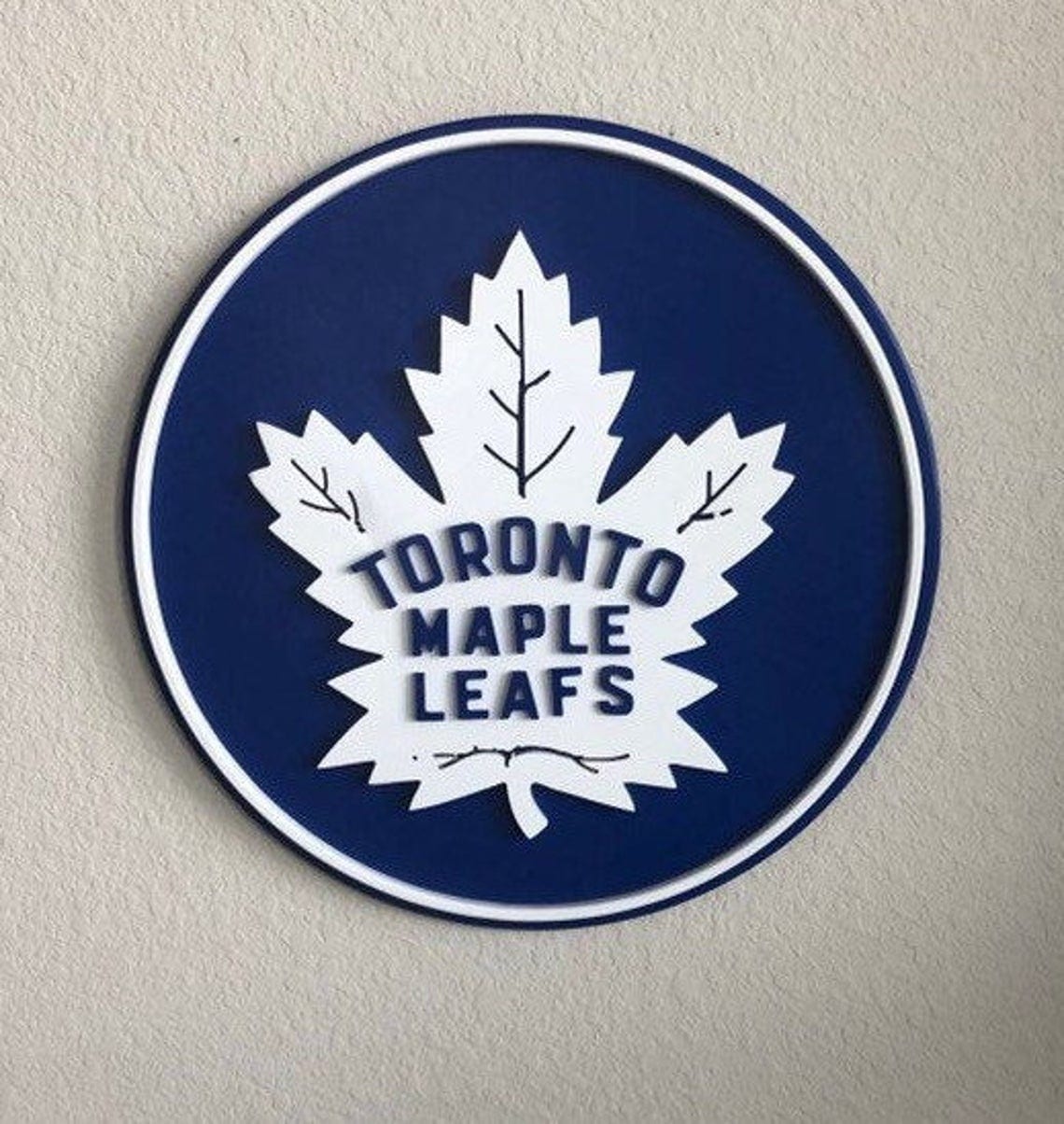 Your favorite fan might just have it all, but they won't have this! This is a unique handmade Toronto Maple Leafs logo designed to decorate any room with leafs team pride!
Maple Leafs Citronella Candle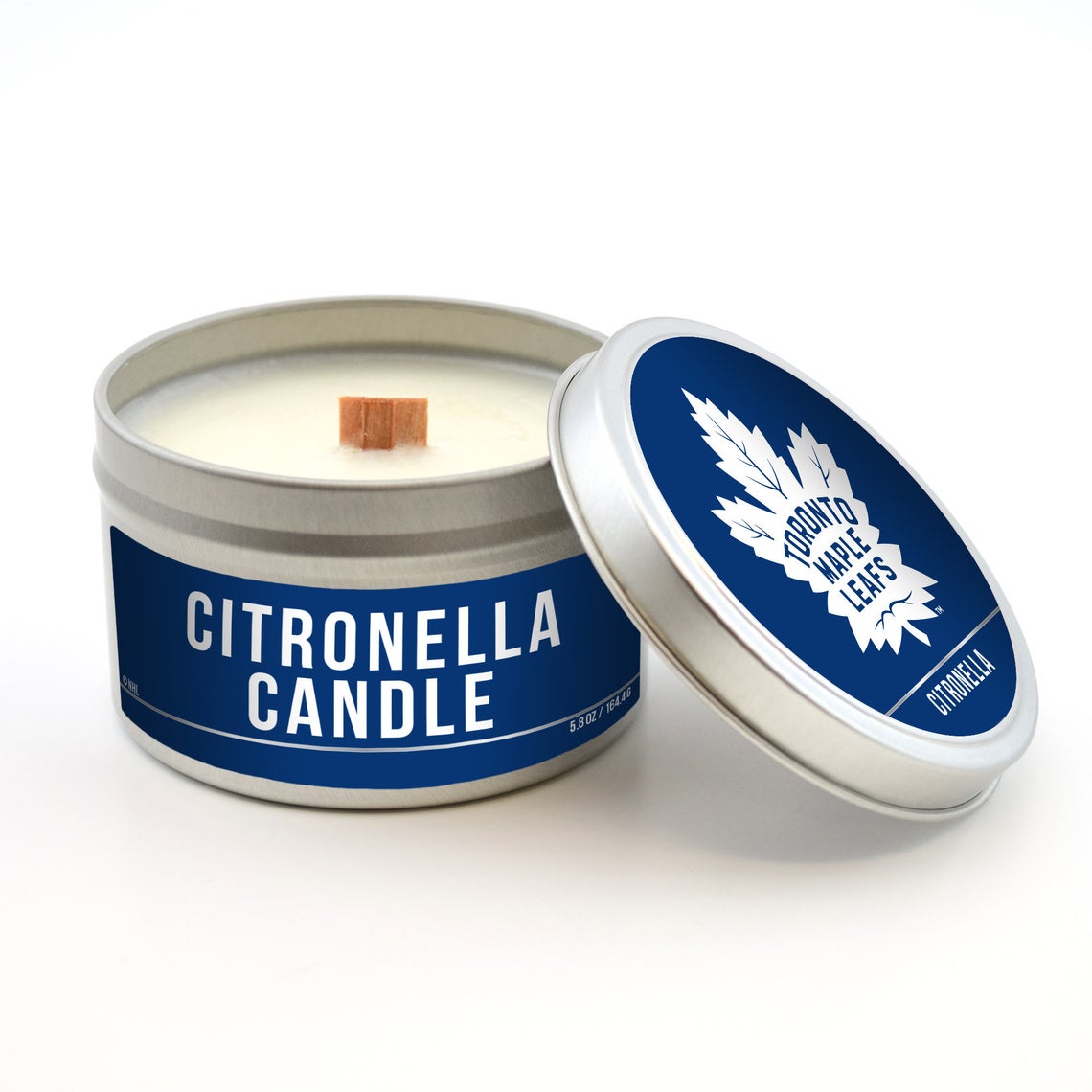 If you're lucky enough to be enjoying Toronto Maple Leafs hockey games from someplace warm, look no further! This citronella candle will keep the bugs away so you can enjoy a game on the porch or back deck in peace.
Toronto Maple Leafs Neck Tie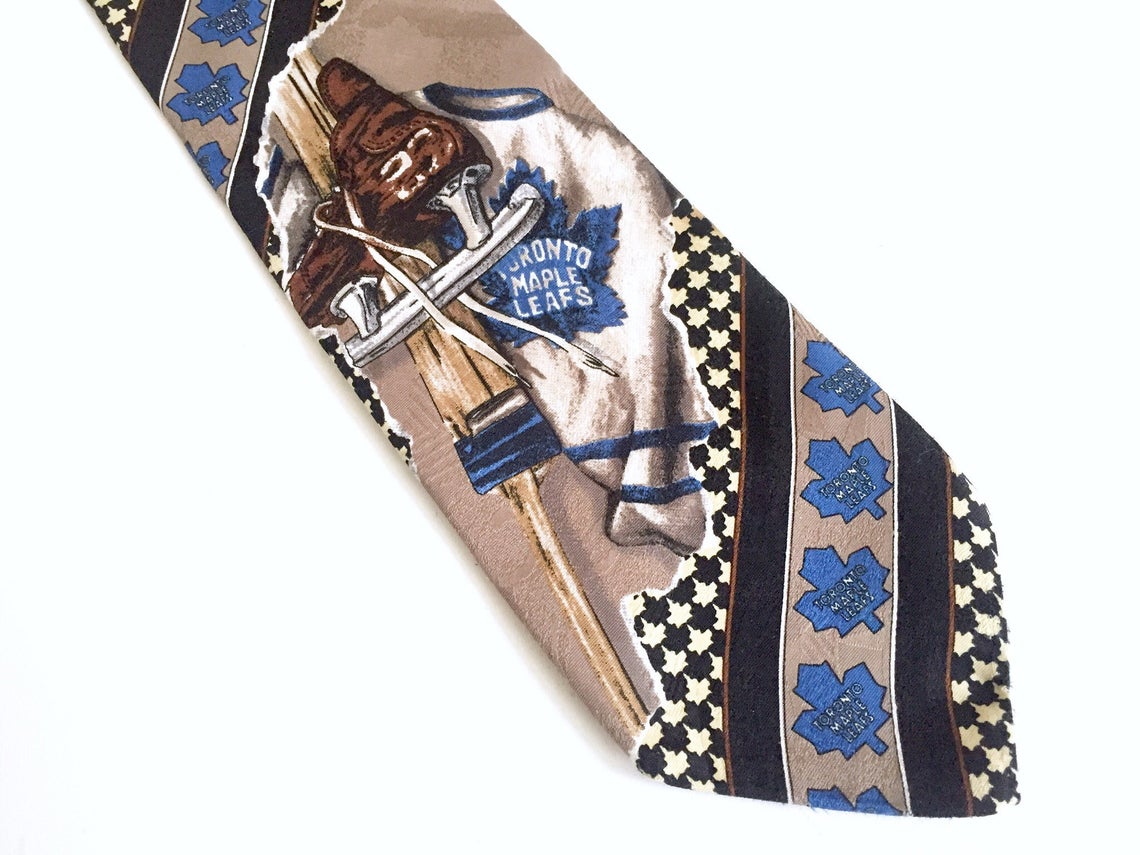 Neckties might sometimes seem a bit overdone, but this piece is something else! Your favorite Toronto Maple Leafs fan will love this gift idea. It features the Leafs uniform across their logo for the perfect piece of apparel for a true fan!
Slate Hockey Coasters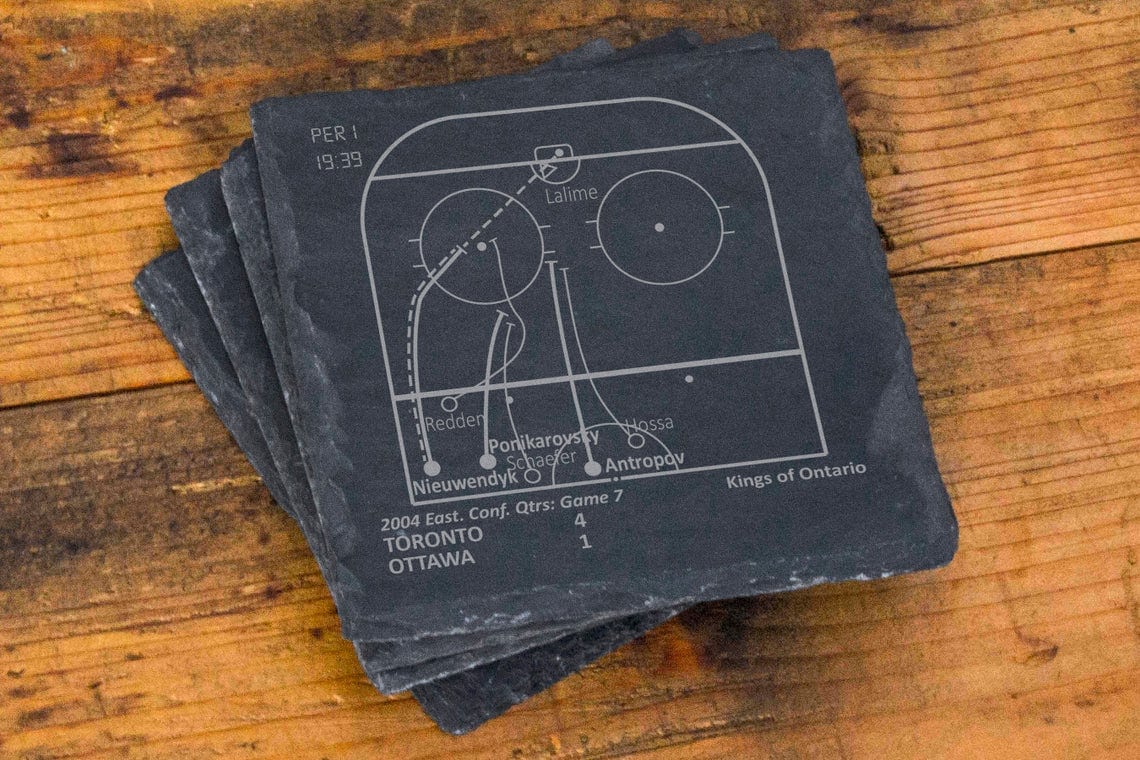 These are a lot more than meets the eye! These Toronto Maple Leafs slate coasters are etched with the greatest plays in franchise history! Test your favorite fan's knowledge of ice time with this epic Toronto Maple Leaf gift!
Maple Leaf Gardens Sign Decor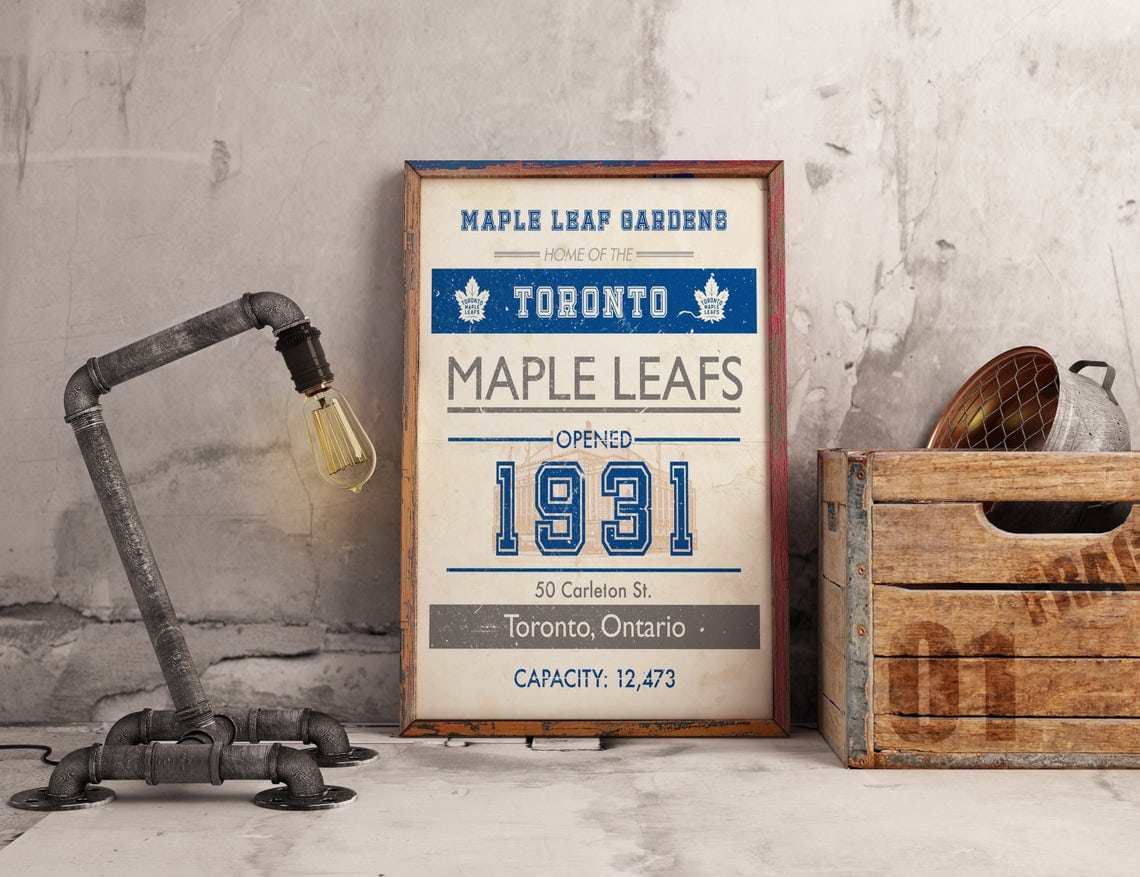 Classy enough for the office at work, this piece of wall art has it all! It's a Toronto Maple Leafs poster framed commemorating the opening of Maple Leafs gardens! This is a unique print you can't find in stores.
All-Stars NHL Dog Hoodie
This is a Maple Leafs branded hooded sweatshirt, for dogs. Need I say more? Grab one of these for the dog lover who just can't get enough of their favorite hockey franchise.
Maple Leafs Party Kit
This is a party decor and accessory kit designed to take your Maple Leafs party to the next level. Cut out the guesswork and stick to a pre-made set like this! They're also great for celebrating during the next game in your home!
Toronto Maple Leafs Teddy Fleece
Looking for a Toronto maple leaf gift for kids? This is an infant fleece maple leafs onesie that's comfy and stylish! This is great for taking the little one to home games while keeping them warm!
Toronto Maple Leafs Utility Knife
Be prepared at any moment, with your favorite team on check! This Toronto Maple Leafs branded utility knife is a whimsical and practical gift idea for your favorite fan!
Hit the ice with anyone of these awesome unique Toronto Maple Leaf fan gift ideas! You won't regret their surprise when they open up one of these. What's the most unique sports-themed gift you've given or received? Thanks so much for stopping by! Check out our other sports lover themed gift guides!