Disclosure of Material Connection: Some of the links in this post may be "affiliate links." This means if you click on the link and purchase an item, I will receive an affiliate commission. Disclosure in accordance with the Federal Trade Commission's 16 CFR, Part 255. This site is a participant in the Amazon Services LLC Associates Program, an affiliate advertising program designed to provide a means for sites to earn advertising fees by advertising and linking to Amazon.
20 Heavenly Halo Gifts
Halo. One of the most renowned first-person shooters of all time. This game brought back the shooting genre in a big way, truly resurrecting it after Goldeneye became a thing of the past. It's spawned a multitude of sequels, comics, and even a television series! When it comes to such a massively successful franchise, there's no doubt that there's a fan of this series in your life and we're sure there's a special occasion coming up that needs that Halo touch!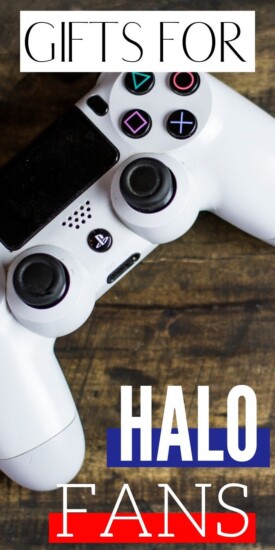 Become A Master Chief Of Gift Giving
Halo: Combat Evolved was released for the original Xbox console in 2001 and since then, it's gone on to be one of the biggest video game series of all time. Just about any gamer that exists has played at least one game and the majority of gamers have played multiple titles in the series. All of this popularity has flooded the marketplace with plenty of merchandise and we're here to help you navigate your way to that perfect gift for that certain someone, so get ready to find it within these 20 heavenly Halo gifts!
Halo: The Master Chief Collection (Xbox One)
Starting the list off the right way, this game includes the first four Halo games in one collection! Spanning Master Chief's entire storyline, it even includes prologues to introduce Halo 5. Whether it's to play the older games for Nostalgia purposes or because the fan in your life doesn't own it yet, this is a prime gift!
Halo: The Complete Video Collection (Blu-Ray)
Know what's up there with playing Halo? Watching Halo! Especially on Blu-Ray. This collection has a bevy of action-packed videos including the series and is sure to keep any Halo lover busy for hours!
Infinity Replica
The largest ship in the UNSC's arsenal available as a replica! What fan wouldn't love this awesome looking 9 inch, officially licensed reproduction of the famous vessel? We've gotta say that Dark Horse definitely nailed it with this one!
Energy Sword
Undoubtedly one of the coolest weapons in the entire Halo series! This energy sword is officially licensed, looks awesome and hopefully won't hurt too bad when the gift recipient is swinging it around and accidentally smacks you with it!
Duty And Honor Blanket
For someone that wants that video game feel for their bedroom or even for snuggling up on the couch, we've got that route covered! This blanket features Master Chief and is even a pretty impressive size, measuring in at 62×90!
Needler Blaster
One of the most infuriating guns in the game when it comes to multiplayer in our opinion! This toy replica of the needler blaster looks exactly like it does in the video game and even shoots pink darts that resemble the needle ammo!
Halo: Official Spartan Field Manual
A must-read for every Spartan fireteam leader or commander! This field manual teaches you how to use your enhanced strength, skills, and speed for training simulations or realtime war!
Halo Adult Coloring Book
Even Halo fans that spend their spare time slaughtering aliens or shooting at their buddies in multiplayer matches enjoy relaxing downtime. What better way to relax than coloring pictures of Master Chief slaughtering aliens?
Metal Cortana Chip
Every Halo fan wants to own their very own Cortana. Let's be honest though, who wouldn't? She's pretty rad. These replica Cortana chips are made from solid pewter and come with a chain for easy wear!
Halo 3 Coffee Table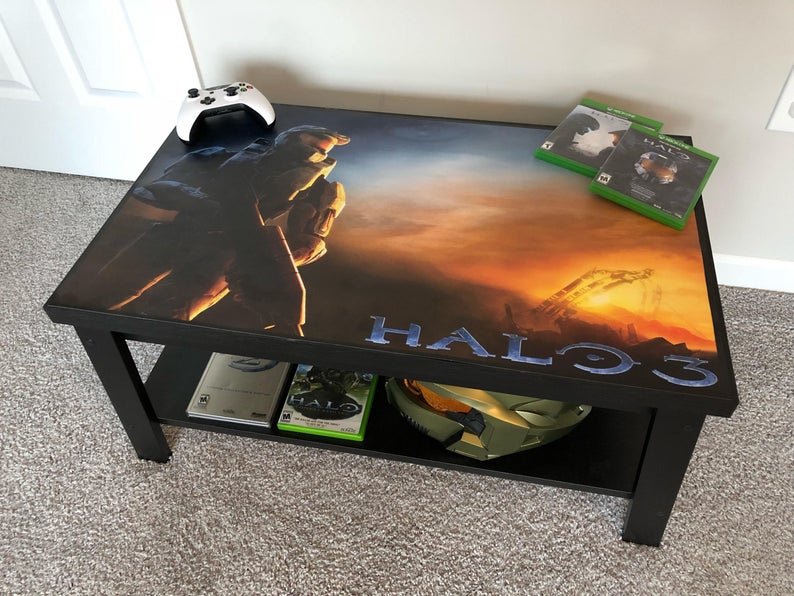 Definitely one of the cooler items on our list, this coffee table is fitting for any gamer, let alone fans of the Halo series! Custom made and featuring art from the cover of the Halo 3 game, it's sure to be the centerpiece of any geeky living room!
Halo Suit Leggings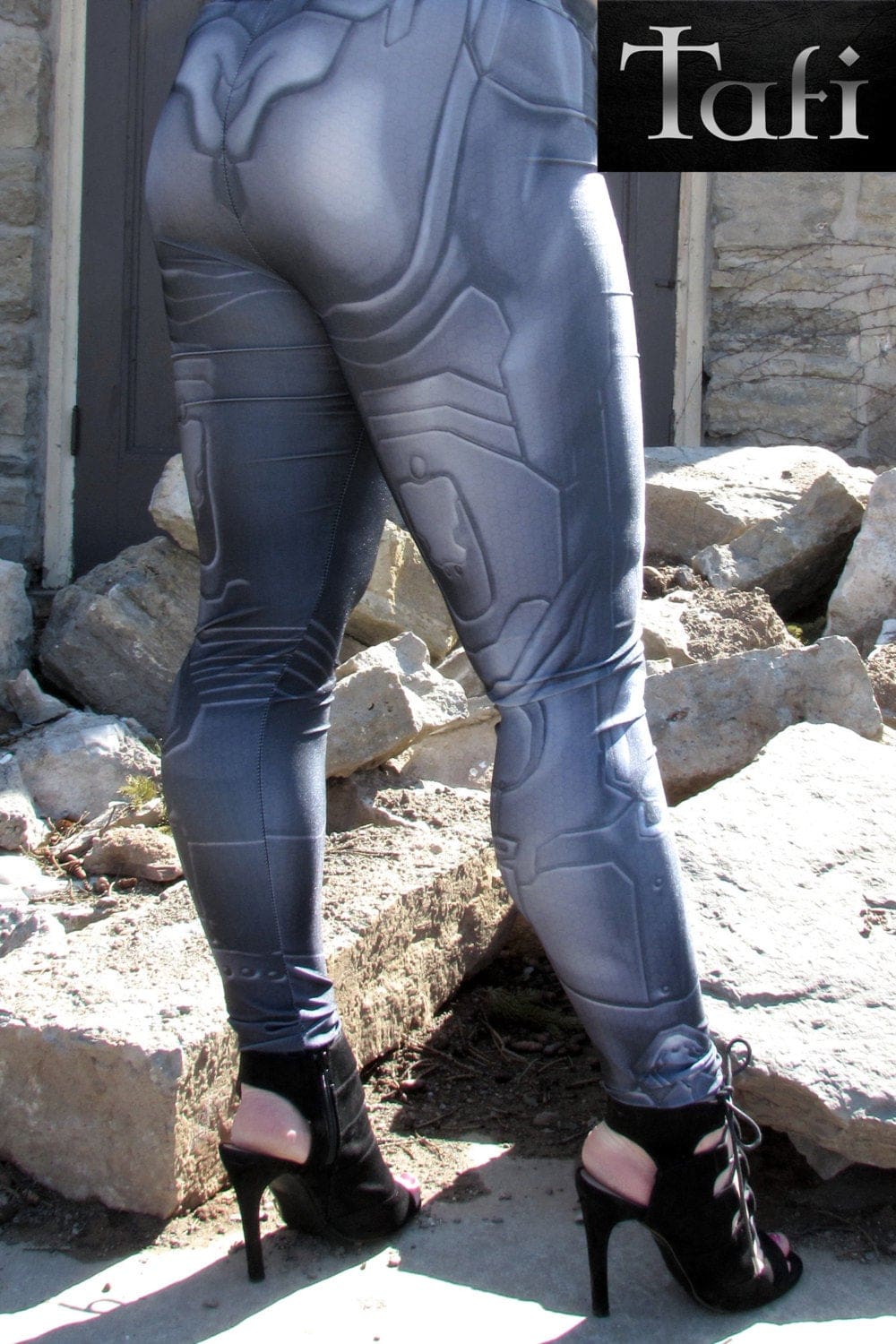 These leggings are for the fan that want to dress like Master Chief just without the armor and headgear! Fashioned to look like a Halo combat uniform, they are perfect for lounging around in nerdy fashion!
Energy Sword Lamp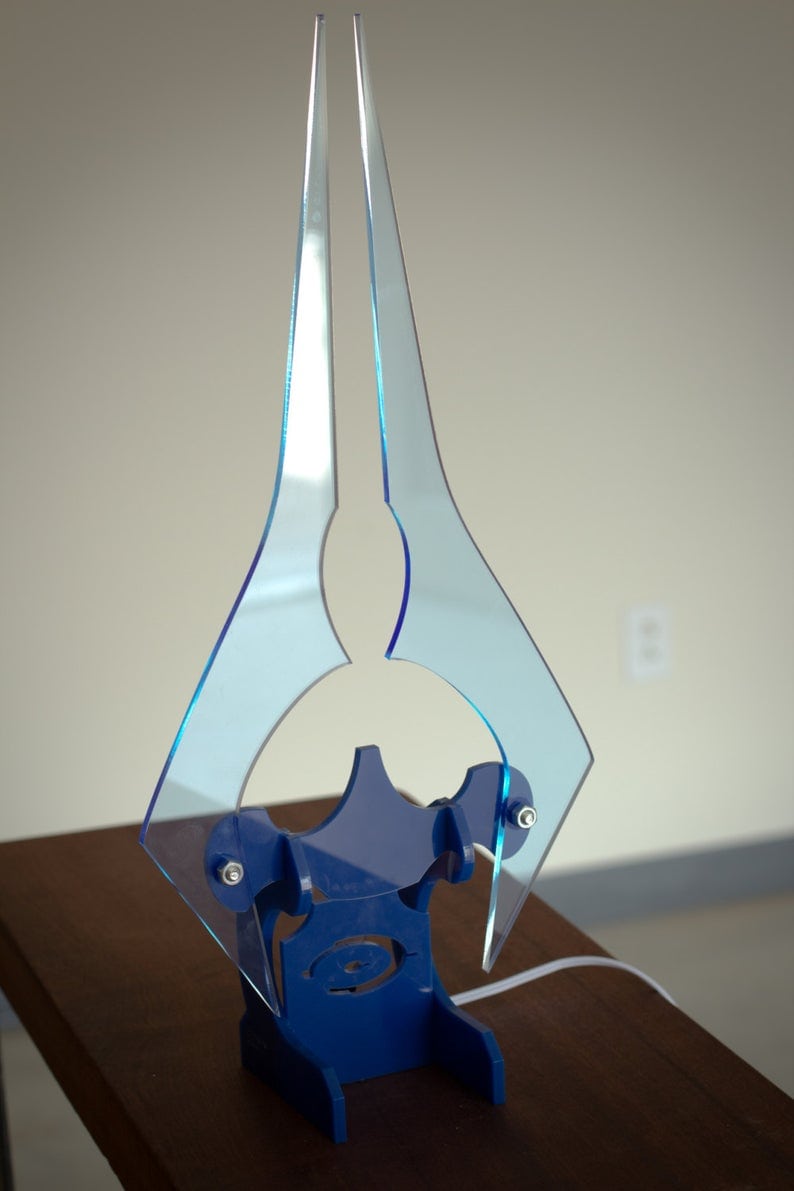 Most fans love the look of the Energy Swords in Halo but if you're not wanting a toy to swing around, this is definitely a great option! Fans will go crazy over this awesome handmade lamp, made in the likeness of the classic sword!
Master Chief Decal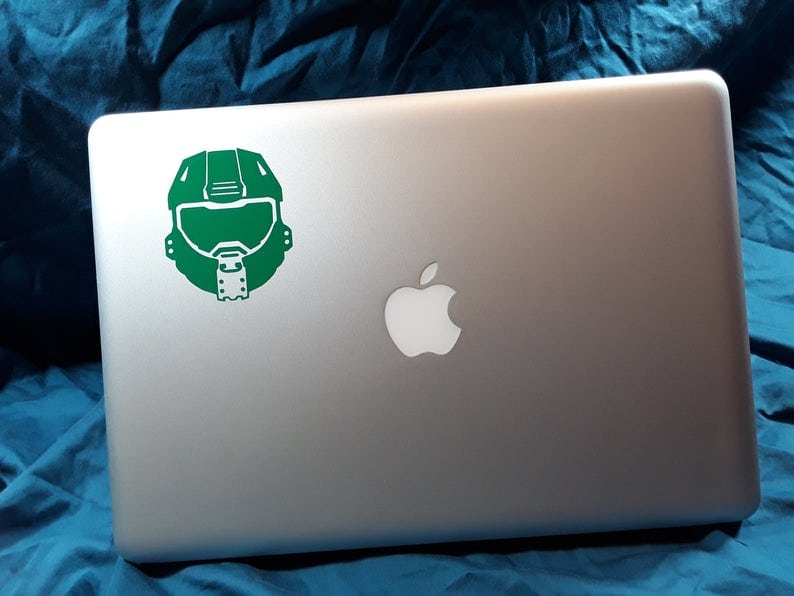 A cool and cute decal, this decal is a subtle way for any fan to give a nod towards the game series. Available in different colors and even different sizes, it's sure to add some beloved geeky pizazz to any Halo lover's vehicle or belongings!
Master Chief Minifigure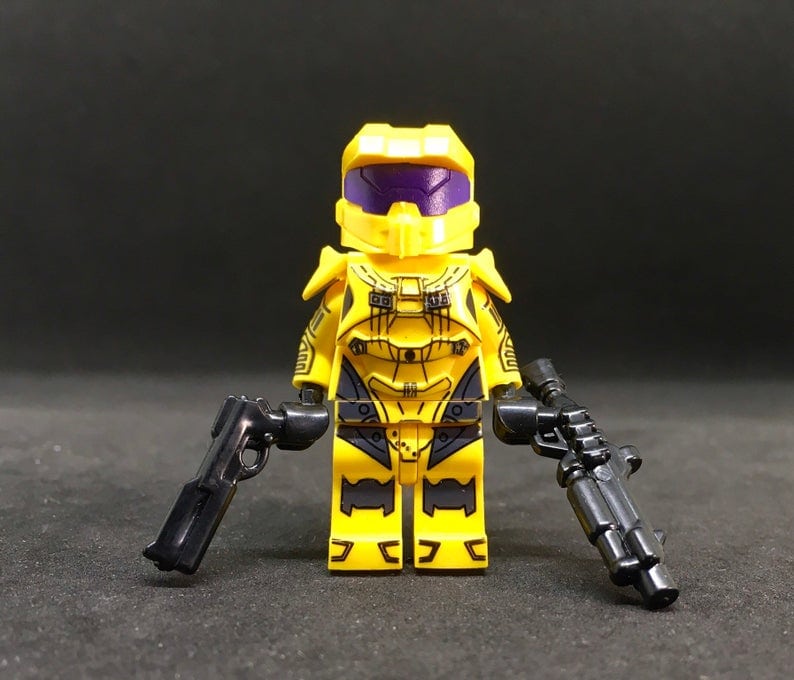 Got a fan in your life that is into Legos as well as Halo? You'll have them covered if they ever decide to build a custom Halo action scene from the popular bricks with this Master Chief Minifigure!
Halo 5 Inspired Cloak
Made popular by the Halo 5 game, this cloak is awesome and fitting for any fan that needs all things Halo for their collection! Made from 100% cotton duck cloth, this 3 layer poncho style cloak includes a hood!
Master Chief Armor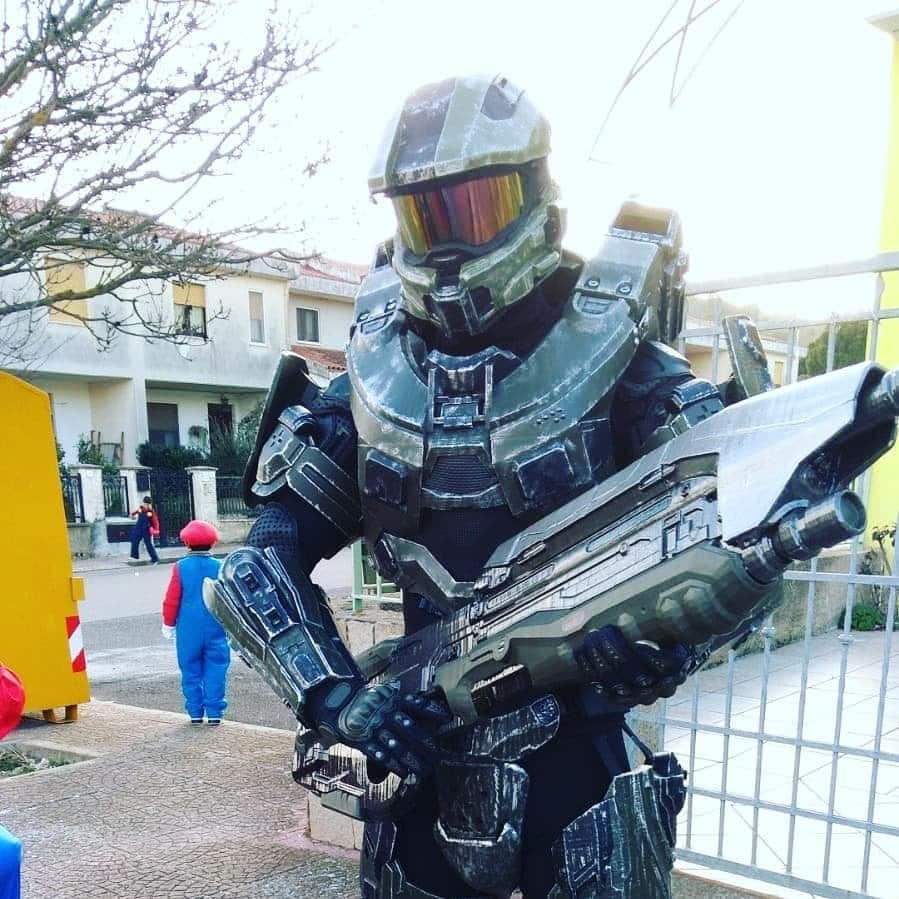 Ready for the big one? We're ending this list with a bang! Combine that cloak with this armor for the ultimate gift for absolutely any Halo fan! This armor is complete and fantastically realistic and is ready for cosplay or just having an awesome set of Master Chief armor in their collection!
Halo Ammo Crate Tin Lunchbox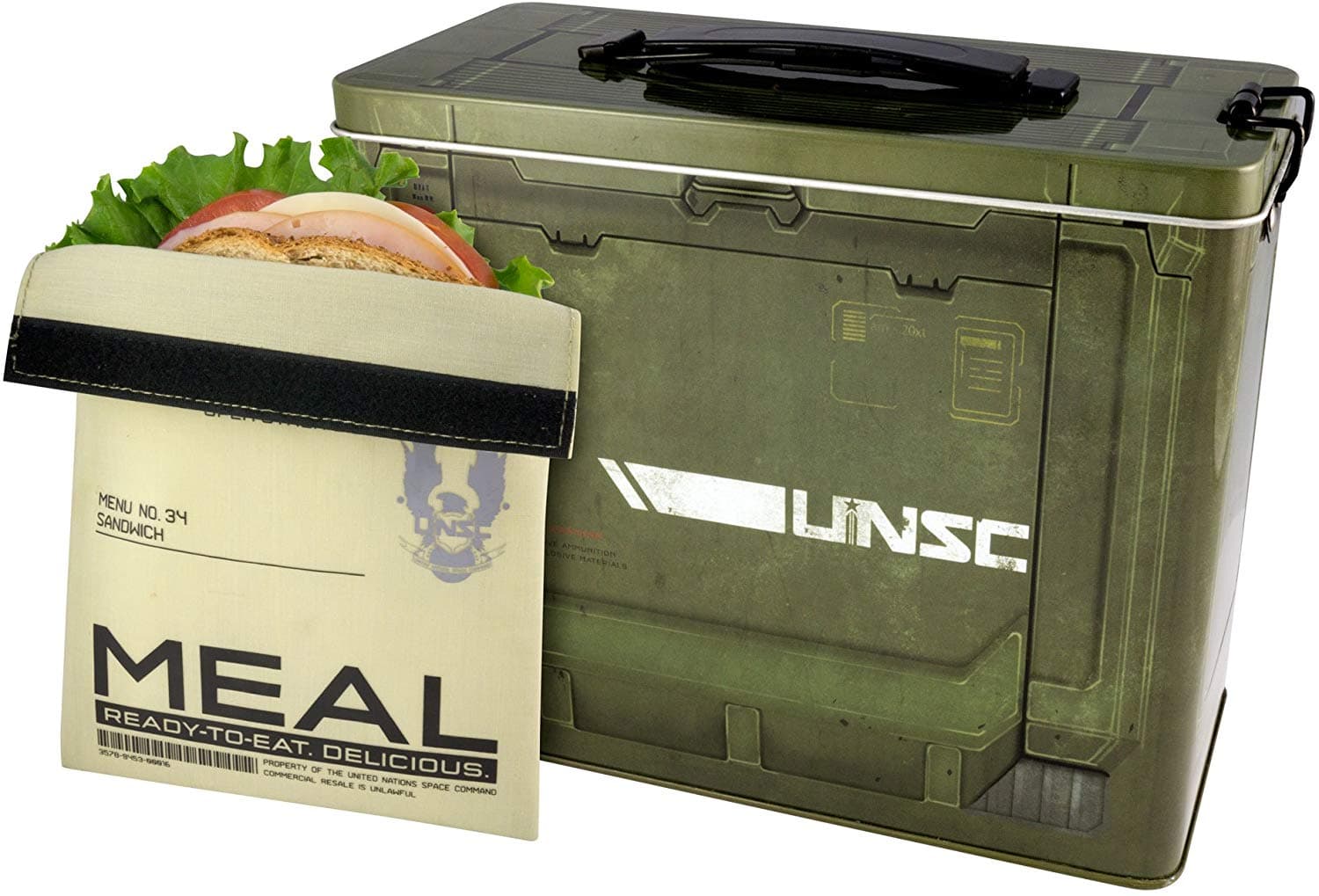 Eat lunch in style with this awesome lunch box that looks like an ammo can!
Funko Pop Halo Arbiter
Funko Pop fans will love this Halo Arbiter!
InkWorks Halo Projector Pen Set with Decal
This is an awesome gift for any Halo Fan! They will love it.
If you the Halo fan in your world loves to play the game Risk, this will be the best gift idea ever! Check it out.
We've survived the flood of Halo merchandise and brought you the best gifts that you'll find on the internet from the gaming series! Did you find something that you know the fan in your life can't live without! Maybe you've bought something from this list and want to tell us how much you loved it? Feel free to hit us up on Twitter (@ugifter) or Instagram (@uniquegifter) and thanks for checking out 20 Heavenly Halo Gifts!