Disclosure of Material Connection: Some of the links in this post may be "affiliate links." This means if you click on the link and purchase an item, I will receive an affiliate commission. Disclosure in accordance with the Federal Trade Commission's 16 CFR, Part 255. This site is a participant in the Amazon Services LLC Associates Program, an affiliate advertising program designed to provide a means for sites to earn advertising fees by advertising and linking to Amazon.
Things were better in the 80s. Snacks were chemically-er, colors were neon-er, and hair was bigger. Here's some 80s themed gift ideas to make you feel nostalgic for one of the greatest decades that ever happened.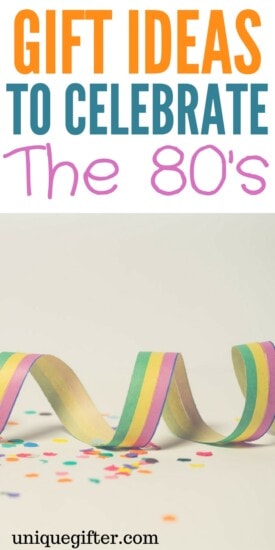 Candy Memories From the 80s
All the candy you remember from your childhood packed into one gift box. Nostalgia can be delicious.
80s Trivia
Test your 80s knowledge with this trivia box or challenge your friends to see how much they remember.
Vinyl Coasters
Although vinyl is still somewhat popular today amongst certain people this is pretty indifictive of how useful most of your old records are nowadays.
80s Accessories
Perfect for an 80s themed party! All the things you loved wearing in the 80s are back again so you can party in style.
VHS Pin
You may not miss rewinding but these VHS pins will style bring back 80s nostalgia.
1980s History Book
This book takes on the 80s with a unique perspective on the trends and important events that shaped the decade.
Mixtape Doormat
Remember making mixtapes for people? Well now it may be a Spotify playlist but you can still be nostalgic for the "good old days" with this 80s doormat.
80s Pop Hits
Relieve the greatest hits of the 80s with the pop hits collection on CD.
Sweatband Set
Do you want to look awesome? Definitely wear this out, or pick up a set for a friend. There's even a little pocket to store things, how practical!
80s Slang Chart Poster
Bring back some of the more tubular 80s slang by referencing this chart of expressions long forgotten.
80s Unitard
Be the star of your aerobics class with this 80s inspired unitard. It was made from an 80s pattern so you know it's the real deal.
Coloring Book
This coloring book is like, totally 80s so you can like, totally color a whole bunch of righteous things you're nostalgic for.
1980s Quiz Book
How much do you really know about the 80s? This book has questions from a bunch of 80s categories including pop culture and politics.
Inflatable Boom Box Cooler
Remember taking your boom box to the beach on a hot summer's day? Now you can again, except this time it weighs a lot less. That is until you fill it up with summer drinks, of course.
I Miss the 80s Shirt
The 80s were over 30 years ago (feeling old yet?) but that doesn't mean you can't still miss them.
Retro Gloves
They're warm and they're practical and they're so very 80s it hurts. A reprint of the retro design you remember.
Mistaken Lyrics Coaster
Ever wonder if you're remembering the words to your favorite 80s song wrong? Chances are you won't have made these leaps, but they're still sure to give you a good laugh. A great hostess gift!
Kung Fu Fighting Mug
This sarcastic mug makes reference to the insanely popular 80s song.
Scene It 1980s Edition
Remember all those 80s shows and movies you watched? Now's your time to put those skills to use with this 80s themed version of the popular trivia board game.
80s Art Print
This print has a whole lot of 80s packed into one picture. It makes a great gift and might have them feeling a little nostalgic for their childhood, in a good way.
Now that you're done shopping for 80s gifts why not go do something else useful like start a flash mob or get a perm?