Disclosure of Material Connection: Some of the links in this post may be "affiliate links." This means if you click on the link and purchase an item, I will receive an affiliate commission. Disclosure in accordance with the Federal Trade Commission's 16 CFR, Part 255. This site is a participant in the Amazon Services LLC Associates Program, an affiliate advertising program designed to provide a means for sites to earn advertising fees by advertising and linking to Amazon.
It's a jolly holiday with Mary, and these Mary Poppins gift ideas are practically perfect in every way. Whether they're fans of the old Disney film or the newer Mary Poppins Returns, you definitely won't need a spoonful of sugar to make them enjoy these gifts.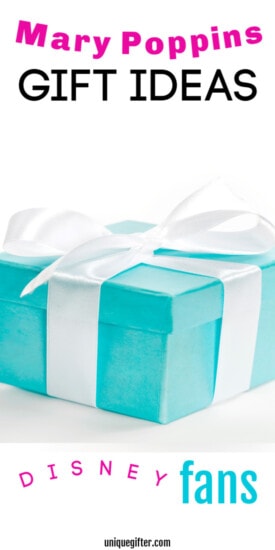 20 Mary Poppins Gift ideas
Whether you're shopping for kids or adults, these Mary Poppins gift ideas are perfect birthdays, Christmas, or other holidays. Or just give them to the Disney fan in your life!
Spoonful of Sugar Spoon
What's Mary Poppins without this iconic song? Give them their very own spoonful of sugar to keep in the sugar dish or to help the medicine go down.
Mary Poppins Bag
What's inside the tote bag? It's hard to say, but it sure looks like it's holding everything that Mary Poppins keeps in her bag.
Matching Couples' T-Shirts
These would be so cute for a couple traveling to Disneyland or as an anniversary gift for a Mary Poppins loving pair.
Disney Parks Mary Poppins Mug
If you can't make it to a Disney Park, you can always order this mug, inspired by Mary Poppins' umbrella, online. It is pretty darn amazing, after all.
Mary Poppins Towels
These 3 towels are perfect for any Mary Poppins fan to have in their home! Get them one design you think they'd love or all 3 for a unique, yet practical, gift idea.
Mary Poppins Funko Figure
This is great for a Mary Poppins fan who collects Funko POP figures, or one who likes to display little toys like this. She's so cute and ready to sit on a shelf or desk.
Jolly Holiday Planner Stickers
They can be perfectly organized and on top of things, just like Mary Poppins with this planner sticker set. There are some great organization stickers as well as some cute themed ones.
Mary Poppins Insulated Travel Mug
Something to take along on your jolly holiday! This adorable insulated travel mug is an excellent way for fans of Mary Poppins to show off their interests. Oh yeah, and to tell the world that they're also practically perfect in every way.
Mary Poppins Tape Measure Lanyard
Lanyards are handy to have about for attaching to keys, IDs, and other things. They also make great stocking stuffers! This one, though, is super cute; it has the measurements from Mary Poppins' tape measure. You never know when they're going to come in handy!
Mary Poppins Books
"A cover is not the book, so open it up and take a look!" But really, any fan of the Mary Poppins movies should take the time to read the books that inspired them.
Jolly Holiday Shirt
This would be an amazing Christmas or holiday gift idea for fans of Mary Poppins. After all, it is a jolly holiday with whoever you're giving this t-shirt to.
Mary Poppins Costume
This dress is perfect for kids who are into Mary Poppins. It would be great as a Halloween costume, for cosplay, or just as a fun addition to their dress-up wardrobe.
Saving Mr. Banks Bluray
This is a must-see for fans of Mary Poppins. It tells the story about how Mary Poppins went from a popular children's book to the silver screen – including the challenges Walt Disney faced convincing the author to get it there.
Turning Turtle T-Shirt
This one is from the new movie Mary Poppins Returns. What does it mean, exactly? Well, it's when the whole world goes "flippity flop" on its back, of course.
Mary Poppins Tea Set
This personalized tea set would make an amazing gift for a Mary Poppins fan or as something special to give a nanny in your life. You can even include their name!
Mrs. Banks Apron
Votes for women! Mrs. Banks would totally approve of this apron even if she herself wasn't spending much time in the kitchen as a busy suffragette.
Mary Poppins Bert Art Print
Although she's in the title, Mary Poppins isn't the only iconic character from the film. This art print has one the iconic lines from "Chim Chim Cher-ee."
Mary Poppins Throw Blanket
This stylish throw blanket is great for road trips or just having around the house.
Mary Poppins Starry Night Poster
This artwork is fantastic and would look awesome in any themed room or home theater.
Mary Poppins Figurine
This Mary Poppins figurine is terrific and is a wonderful collector's item.
These wonderful Mary Poppins gift ideas are going to have them smiling so wide they float right up to the ceiling, guaranteed.