Disclosure of Material Connection: Some of the links in this post may be "affiliate links." This means if you click on the link and purchase an item, I will receive an affiliate commission. Disclosure in accordance with the Federal Trade Commission's 16 CFR, Part 255. This site is a participant in the Amazon Services LLC Associates Program, an affiliate advertising program designed to provide a means for sites to earn advertising fees by advertising and linking to Amazon.
Get your horns out for the LA Rams! This is a guide of handpicked, unique LA Rams fan gift ideas for the football maniacs who have it all. I've taken the time to source some truly authentic, and also handmade original LA Rams gear and gifts you'd be hard-pressed to find anywhere else. Tackle your gifting list head on this year with these Rams football-inspired presents and gift ideas to kick this season off right!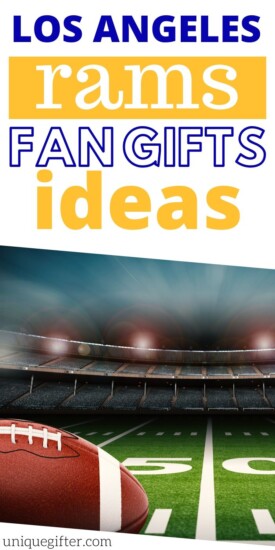 Awesome LA Rams Fan Gift Ideas
All out of ideas from the NFL fan shop? We've got you covered! Score a touchdown with your favorite LA Rams fan with these unique finds. Everything from the funny to the practical is fair game, and these are some LA Rams themed gifts you're not going to want to miss! What is it that sets La Rams fans apart from the rest? Check out some of their awesome gear to find out.
NFL Rams Retro Fleece
This fleece blanket features a retro-style LA Rams logo and marque to give your favorite fan a blast from the past!
LA Rams Flag
Represent the blue and white with this standard-sized flag that will have you feeling something between patriotic and game ready! Is there any other way to truly show off your Rams pride?
LA Rams X Vegeta Shirt
This original piece is truly one of a kind, putting the LA Rams behind everyone's favorite Super Saiyan! Channel your superhuman strength to show up to support your favorite team in the NFL with this awesome fitted shirt.
Rams Retro Pennant
This is a true piece of memorabilia! Grab your favorite LA Rams fan one of these vintage pennants for the perfect collectible gift idea.
LA Rams Cutting Board
That's right, bring your love for the LA Rams to the kitchen with your second favorite passion: food! Slice it up with pride with this one of a kind Rams logo fire branded cutting board you can't find in stores.
LA Rams Ring
Want to stay loyal to the Rams and your wife? You'd better! This black LA Rams logo ring is the perfect gift idea for the newlywed fan! As a bonus, they don't have to risk losing their wedding band at the next Rams home game.
LA Rams Shephard Dress Sock
Keep it cool in the office with these iconic LA Rams branded socks. They feature the team's white and blue colors so you can sport your support for the Rams wherever the next meeting takes you!
Official NFL Rams Golf Bag
Take the Rams with you to the greens with this official Wilson NFL La Rams golf bag! It will keep your clubs as organized as the Ram's defense, with plenty of pockets for all of your other LA Rams swag!
NFL Rams Poncho
This is an innovative and eye-catching hoodie/poncho combo! Stay warm during evening games without sacrificing your love for the Rams! Grab one of these for your favorite fan for the perfect LA Rams gift idea.
LA Rams Fanmats
If you thought Rams gifts couldn't get any more practical, think again! These fan mats will keep your car's interior clean and remind all of your passengers just what team you're rooting for! Great for Uber or carpooling to the office, these fan mats are a hilarious and useful reminder of your favorite NFL team!
La Rams Mascot Statue
Need to spruce up your cubicle for the Rams this season? Make this your new favorite lucky token next time the LA Rams hit the field and let everyone know who you're supporting!
LA Rams Cuff Knit Hat
The best brand in outerwear just met the best team in the NFL. Watch out, this Carhartt beanie will turn heads and keep you cozy in the most stylish way possible! Grab one for your favorite LA Rams fan to complete their collection with this gift idea.
LA Rams Crochet Baby Outfit
For the younger Rams fans out there, grab one of these absolutely adorable handmade crochet sets! Featuring the Rams logo and name, these team-colored baby clothes are a must for an LA Rams fan baby shower!
Rams LA Coliseum Vintage Print
This is a retro-style piece of LA Ram's decor that any fan would love to receive as a gift! Stylized as a vintage seating chart, this poster would find a nice home in any La Rams fan's bar or living room.
Vintage Rams Shirt
Talk about a blast from the past! This LA Rams shirt has it all, featuring a 1956 logo and color scheme design, this is sure to turn heads at the next tailgating party!
NFL Los Angeles Ram Men's Hat
Want to go for a jog and look good doing it? Don't go without this head-turning cap to show off your LA Pride the right way! With a modern take on the Rams logo, any fan would be more than happy to call this gift their new favorite piece of gear!
NFL Rams BottleCap Wall Decor
Dress up your Rams home bar right with this must-have piece of decor! It'll set the mood for game night, and your friends will be asking where you found it, too!
La Rams Replica 1979 + 1999 Championship Rings
What collection is complete without these stunning pieces of memorabilia? These replica championship rings have it all, you can even wear them to the next home game to really catch some eyes!
LA Rams Cropped Sweatshirt
This women's cropped sweatshirt is an original retro-style recreation! Roll up to the halftime party in style with this sporty and one of a kind piece of La Rams apparel any fan would love to be gifted!
Thanks for checking out these truly unique LA Rams fan gift ideas! What's the craziest piece of Los Angeles fan gear you've ever seen? Hopefully, you'll score the ultimate touch down with these one of a kind finds! Until next time, play hard!