Disclosure of Material Connection: Some of the links in this post may be "affiliate links." This means if you click on the link and purchase an item, I will receive an affiliate commission. Disclosure in accordance with the Federal Trade Commission's 16 CFR, Part 255. This site is a participant in the Amazon Services LLC Associates Program, an affiliate advertising program designed to provide a means for sites to earn advertising fees by advertising and linking to Amazon.
Marlins fans, batter up! I've collected some of the best Miami Marlins fan gift ideas on the market! Need something truly unique for your favorite Marlins fan? Look no further, we've got some truly one of a kind finds. Celebrate this baseball franchise right with these unique and eye-catching gifts that honor the team at its core!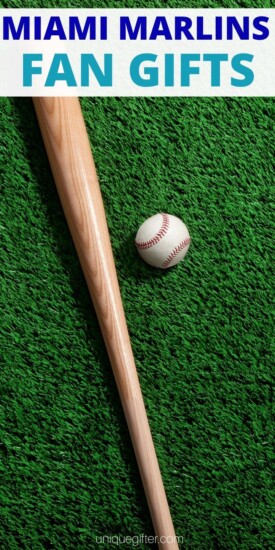 Our Favorite Miami Marlins Fan Gift Ideas
What's your favorite type of gear to wear to the stadium? Everyone's got a favorite lucky token going into the baseball season, why not grab a new one for your favorite Marlins fan? Find something they won't see anywhere else with these unique finds that are sure to turn heads and win bases!
MLB Bling Emblem
This is an emblem for the crafty and creative Marlins fans out there! It adds a touch of eye-catching bling you won't see anywhere else. What will you create with it?
Miami Marlins Knuckle Ring
Make no mistake, everyone on the bleachers will know exactly what team you're here to support! This Miami Marlins ring is all style and bling!
Marlins Golf Umbrella
Florida is known for its rainy season. Don't let the rain keep you off the course! This Marlins branded golf umbrella is resilient and adorned with the Marlins logo and name. Grab one of these for your favorite Miami Marlins fan who loves to hit the golf course with this gift idea.
Miami Marlins Nation Flag
Everyone's got a star-spangled banner, but make sure you hang one of these over baseball season! Grab your favorite Marlins fan something special with this US flag style Marlins flag for the coolest MLB gift idea on the block.
Marlins Brand Louisville Slugger
This is a collectible miniature slugger that's perfect for any Marlin's fan space or study! Surprise them with this Miami Marlins fan gift idea by hanging it on their wall for a gift they'll never forget.
Miami Marlins Park Vintage Print
This is an eye-catching piece of Marlin's decor your favorite fan will love! It's a retro-style image of Marlins Park stadium, and it makes for a classy and unique piece of wall art for your living room or gamespace!
Miami Marlins Baseball Wristlet
This is an original handmade item that's both functional and stylish! Perfect for Marlin's home games, your favorite fan will be able to carry all of her cash and keys or cosmetics in this cute wristlet bag.
Vintage Marlins Cropped Zip Up
Bring the style to the stadium with this original crop top featuring the team's logo! She'll love being the only one in the stands with this awesome piece of fan wear.
Florida Marlins 1995 Lapel
MLB fans love collectible gifts almost as much as they love baseball statistics! Grab your favorite Miami Marlins fan this collectible 1995 lapel pin for the ultimate unique gift idea!
Miami Marlins Retro NES Style Art
Love retro baseball video games? This piece of wall art decor channels your love for the marlins and gaming in a classy piece of art you won't find anywhere else! What fan wouldn't love a truly original piece like this?
Miami Marlins Wooden Phone Stand
This phone stand keeps your MLB Marlins stream upright! Stream the game from the airport bar or wherever you are with this handmade Marlins logo phone stand that's highly practical, and well made.
Team Golf MLB Headcovers
Do you know a Marlins fan who's gold gear could use an upgrade? Do them a favor! Grab this set of Marlins branded golf club headcovers for a functional and head-turning gift idea.
New Era MLB Marlins Cap
This snapback cap is an authentic new era fitted cap featuring the modern colorful Miami Marlins logo. Who doesn't know a fan who would love this iconic cap for a Marlin's themed gift idea?
MLB Marlins Elite Chair
Enjoy the Marlins game in style in the backyard this year with this awesome logo adorned folding chair! Want to represent the Marlins while you're on the campsite? This chair will do double duty!
MLB Cufflinks
True MLB fans need to show off their game pride wherever they go! Give them a hand with these handmade cufflinks featuring game-used baseball stitches that are sure to turn heads.
Miami Marlins Invitations
These mock-up invitations are styled as Marlins game tickets! Surprise your party-goers with the ultimate Marlins party, or World Series party with these creative invitations.
New Era MLB Bucket Hat
Keep the sun out of your eyes so you can witness the Miami Marlins at their best! Grab one of these awesome hats for your favorite Marlins fan as a really unique gift idea. Besides, who doesn't need more MLB gear?
Louisville Slugger MLB Stick Bag
This is a dual-sided bag for holding bats and gear for practice or your local baseball league! Show up in style, sporting the Marlins logo with this practical and eye-catching bag.
Miami Marlins Decal
This is a die-cut sticker that will cap off your Miami Marlins fan gift idea perfectly! Add it to a Marlins themed MLB gift basket, or add it to a piece of gear to make it something special. P.S. we won't tell anyone if you grab one for yourself!
Thanks for checking out these unique Miami Marlins fan themed gift ideas! What's your favorite piece of gear to take with you to the stadium? Hopefully, you'll score a home run with your favorite Marlins fan with one of these team-inspired gift ideas!