Disclosure of Material Connection: Some of the links in this post may be "affiliate links." This means if you click on the link and purchase an item, I will receive an affiliate commission. Disclosure in accordance with the Federal Trade Commission's 16 CFR, Part 255. This site is a participant in the Amazon Services LLC Associates Program, an affiliate advertising program designed to provide a means for sites to earn advertising fees by advertising and linking to Amazon.
Jets fans! These are some of the most interesting and unique New York Jets fan gift ideas out there. From the practical to the hilarious, the collectible and the must-haves, they make excellent gifts for real fans. Commemorate your favorite team in the NFL with these unforgettable and fan inspired gifts to kick things off right! Honestly, some of these NFL gifts are just downright fun!
The Best New York Jets Fan Gift Ideas
You've got to check out these New York Jets fan gift ideas for some inspiration!
Jets Tire Toss
This is the awesome test of agility you and your buddies, or the whole family can have a go at during halftime! See if you're any better of a shot than your favorite QB!
Jets Biography Book
This book covers the 69' Superbowl win, kicking off the meteoric rise of Joe Namath! Gift this book to any younger fan who needs to learn where this team comes from.
New York Jets Sweatshirt
This is the holiday sweatshirt that's really going to get people talking! Hook up your favorite fan with this legendary piece of merch.
Jets Logo Cutting Board
Here's a display piece that goes great in the kitchen! Not only that, it's totally practical. It comes with a set of stands so you can show it off on tailgate night!
New York City Whiskey Glass
This is an etched whiskey glass depicting a map of the Big Apple! Make it your game time chalice for good luck to the Jets!
New York Jets Gnome
Adorable, and a true fan, this little lawn gnome carries a football and sports Jest colors to the max! Let him keep your garden safe, and remind everyone on the block who your favorite team is going into this season!
Tackle Buddy Punching Bag
Adorned in New York Jets Gear, this Tackle Buddy is an inflatable bobble! He's bounce back after each punch, so let him know what you think when the Jets aren't living up to their expectations!
New York Jets Knit Beanie
Life in New York is cold over the winter months! Keep warm, and don't give up your love for your favorite NFL franchise! This comfy cozy knit beanie is all style, and all comfort!
Double Sided NFL New York Jets Flag
Let this flag fly under Old Glory during football season to show off your loyalty to the Jets! Fly it for good luck to the team, and so everyone knows where the tailgate party is!
New York Jets Pop Up Table
Built for serious tailgating, this pop up table is exactly what you need to keep the party going! It features four cupholders so your drinks will stay perfectly snug when you jump up to celebrate a Jets touchdown!
Jets Potholders
This set of pot holders is exactly what you need to get those fresh Jalapeno poppers out of the oven! Or, hang these out during football season to decorate for the greatest team in the NFL!
New York Jets Sportula
Talk about unique! This
New York Jets Protective Mask
This facecovering is adorned with the Jets logo pattern. It makes a great piece for you to be responsible when you're not feeling well, or just want a little extra privacy! Add it to your wardrobe so you're always ready!
Glen Foley Vintage Jersey #4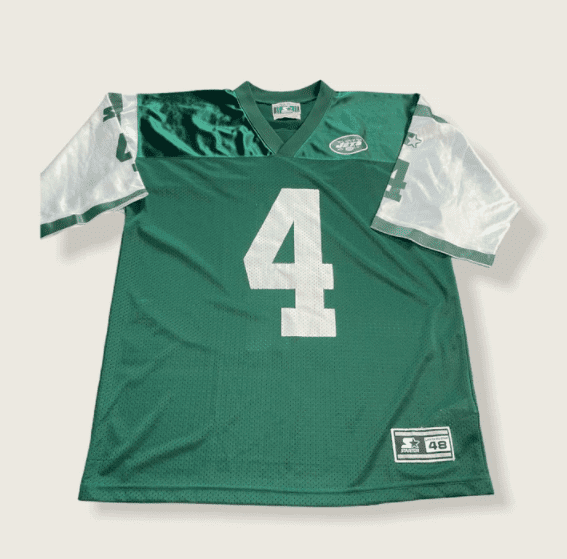 Celebrate one of the most well known Jets players with his very own jersey! This official commemorative Jesrey comes in a large, and makes the perfect New York Jets throwback gift idea!
New York Jets Vintage Sweatshirt
This sweatshirt comes all the way back from the 90's! It's got all of the retro character and style you need to really turn some heads at the arena. Grab one of these for the fan who has absolutely all of the gear, because this one is limited edition!
New York Jets Logo Beer Stein
This beer stein is the perfect piece to round out your New York Jets themed football bar! Seriously, it has the look and feel of an authentic wood stein, but with the Iconic Jets logo in bronze.
New York Jets Metlife Stadium Wall Art
This modern piece of wall decor commemorates Metlife Stadium! It comes in a vintage subway-poster style that's sure to turn heads. It comes in a custom size, and it's definitely unique compared to what you can find in stores.
New York Jets Zippo Lighter
This lighter is a Zippo official, with the Jets logo and a streak of color to honor the franchise! Smoker or not, this piece makes an excellent collectible for any New York Jets fan.
New York Jets Trucker Hat
The ultimate in retro Jets apparel, this trucker-style snapback cap features an eclectic Jets logo design that's been lost to time. It certain to get people talking, but it would also go great in just about anyone's New York Jets merchandise collection!
Thanks for checking out these iconic New York Jets fan gift ideas! Hopefully you've found some inspiration in these one of a kind pieces of fan gear! They just don't make em' like they used to, and you can't get away from that nostalgic, throwback NFL gear charm. Which piece did you like the most?