Disclosure of Material Connection: Some of the links in this post may be "affiliate links." This means if you click on the link and purchase an item, I will receive an affiliate commission. Disclosure in accordance with the Federal Trade Commission's 16 CFR, Part 255. This site is a participant in the Amazon Services LLC Associates Program, an affiliate advertising program designed to provide a means for sites to earn advertising fees by advertising and linking to Amazon.
Chicago fans are world renowned for their deep passion for local area sports teams. Bears, Cubs and Blackhawks pride is the lifeblood of a true Chicagoan! Celebrate their love for the game with these awesome, unique Chicago Bears fan gift ideas! These gifts are great inspiration to let you score a touchdown with your favorite fans this year!
The Best Chicago Bears Fan Gift Ideas
Check out these fantastic gift ideas for some awesome Chicago Bears football gifting ideas!
Chicago Map Tumblers
These glasses commemorate the Bear's home city! These awesome etched glasses deserve a spot in any fan's home bar.
Chicago Bears Stainless Steel Mug
Great for taking your hot coffee on the go, these mugs aren't just durable. They're the mark of a true Bears fan! Show off your Bears pride wherever you are with this awesome mug!
Chicago Bears Men's Board Shorts
This shorts aren't just great for surfing! Show off all of your Chicago Bears fan love with these stylish and comfortable, quick-drying board shorts.
Chicago Bears Stapler
Why limit your love for the bears to the stadium? This stapler is exactly what you need to brag about your fandom with at work. Be careful, don't let anyone run off with it!
Chicago Bears Apron BBQ Set
The ultimate Chicago Bears BBQ set! Impress anyone with this set. Complete with apron, hat and all the BBQ tools you need to host a BBQ or have a tailgate party!
Chicago Golf Club Head
This is a gold club head protector to keep your clubs safe in the cart. Only it's got the iconic Bears name a logo, not to mention their team colors! Know any Bears loving golfers?
Chicago Bears Steak Knives
An NFL-branded steak knife set, what a concept! These knives might just be the most fan loyal way to cut steak I've ever seen. Sincerely, they have just about the coolest design you've seen in kitchen ware!
NFL Wood Pilsner Glasses
This awesome wood case with glasses is inscribed with the Bear's logo making it the perfect gift for a football fanatic in your family.
NFL Tailgater BBQ Set
This set of BBQ tools is the best way to honor dad's love for the Chicago Bears! Make any fan proud to grill with these iconic BBQ tools featuring the Bears logo and colors.
Coach Ditka Mug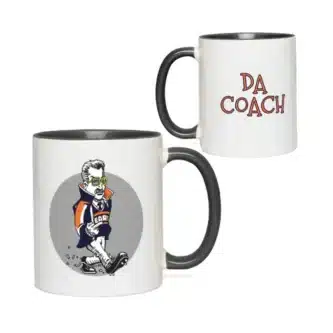 Featuring the legendary Coach Ditka and his world-famous catchphrase, you can own a small piece of Bears history in a practical and stylish coffee mug.
Chicago Bears Bar Set
This is a personalized bar set for Bears fans adorn their home bar with! (Or office bar!) It can be personalized with their favorite player or their name.
Bears T-Shirt
Buy Now
Rock the tailgate party with this iconic Chicago Bears T-shirt! High quality and durable, it will stand up to all of your celebrations.
Chicago Bears Wall Bottle Opener
No man cave is complete with a cool wall mount bottle opener! Every Chicago Bears fan will be envious of this.
Chicago Bears Ribbon
Gifting a gift? If that floats your boat… Otherwise, use this awesome Bears logo ribbon to adorn your awesome Bears themed gift for the perfect surprise!
Soldier Field Chicago Bears Wall Art
This is a classy and eye catching piece of Bears commemorative wall art! It depicts a retro style seating chart of Soldier Field.
Chicago Bears Scrunchie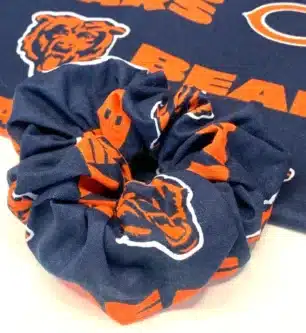 Let's face it, Scrunchies are back! Might as well dawn a Bears pattern, handmade scrunchie to show off at the stadium! Gift this to complete her set of fan gear for the next game!
Chicago Bears Ziploc Bags
This Ziploc bags are exactly what you need to upgrade your Chicago Bears tailgate party spread prep!! They also double as perfect freezer bags.
Chicago Bears Director Chair
Need somewhere to sit at a tailgating party? This Chicago Bears fan gift idea is practical, and stylish!
Chicago Bears Wrap Sunglasses
These are basically the default dad gear for mowing the lawn, or catching the game from the back deck while grilling! Get him the most stylish pair imaginable in the form of these Bears sunglasses!
Hopefully you've enjoyed these funny, practical and collectible Chicago Bears themed fan gift ideas! Which ones gave you the most inspiration for your next Bears fan gift?