Disclosure of Material Connection: Some of the links in this post may be "affiliate links." This means if you click on the link and purchase an item, I will receive an affiliate commission. Disclosure in accordance with the Federal Trade Commission's 16 CFR, Part 255. This site is a participant in the Amazon Services LLC Associates Program, an affiliate advertising program designed to provide a means for sites to earn advertising fees by advertising and linking to Amazon.
Have someone in your life who's just obsessed with crossword puzzles? Maybe they subscribe to the New York Times just to do the puzzles, or they take a crossword wherever they go. I know there's people that obsessed with crossword puzzles out there, and I also know these crossword puzzle lover gift ideas will be just perfect.
Crossword Puzzle Lover Gift Ideas
Pick up one of these great crossword puzzle lover gift ideas for someone's birthday, Christmas, or any occasion that requires a gift. Not only are they crossword themed, these gift ideas are thoughtful and creative.
Crossword Puzzle Jigsaw
A puzzle on a puzzle! Give them a break from completing crossword puzzles by giving someone this crossword puzzle themed jigsaw puzzle to complete instead.
Chalk Wall Squares
These little stick on squares are a perfect decorating accessory for crossword puzzle lovers. You can order as many as you want in a few different sizes. The best part? They're made of chalkboard so they can write in any letters they want.
Family Crossword Puzzle Pillow

This pillow can be customized with family's names for a unique and thoughtful crossword puzzle lover gift idea. Maybe something for grandparents with all the grandkids' names?
Crossword Puzzle Infinity Scarf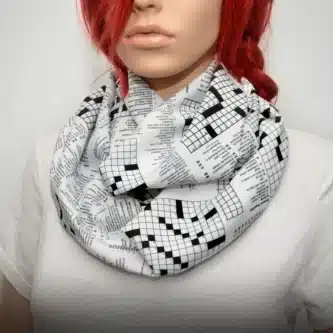 This lightweight chiffon infinity scarf will add some crossword puzzle themed style to any outfit. It's definitely a unique, but practical crossword puzzle gift idea!
Crossword Print Tie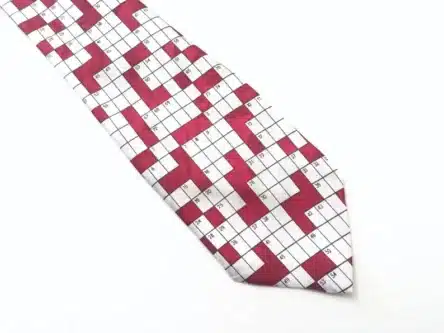 This crossword novelty necktie is the perfect gift for any occasion. what crossword lover wouldn't want to look professional but also show off their love for crosswords?
The History of the Crossword
This book has both the 100 year history of the crossword puzzle, and 100 historic crossword puzzles for enthusiasts to work on. Kind of like a 2 in 1 for crossword puzzle lovers!
Crossword Puzzle Mug
What does someone do while they do crossword puzzles? The answer is probably drink coffee. This customizable crossword puzzle mug makes a perfect gift idea that they can use every day.
Crocheted Crossword Puzzle Blanket
You're either going to have to make this gift (super thoughtful!) or enlist some help, because this is just the pattern. But a crossword puzzle lover will sure appreciate a handmade crossword puzzle blanket like this one!
Scrabble Tile Signs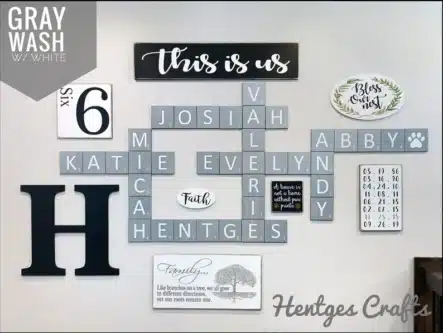 Just like with the chalkboard tiles you can order any number of these hand painted wooden tiles to hang on the wall. They're done in Scrabble style and can be customized to say anything you'd like.
Crossword Puzzle Shirt
This funny shirt is a great gag or white elephant gift idea for crossword puzzle lovers. You just know they'll love it, especially if they actually do crossword puzzles in pen.
Glasses Case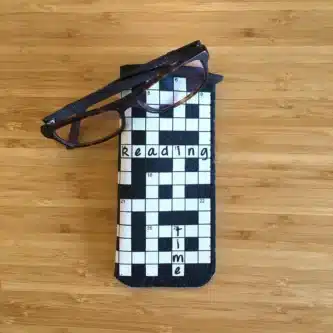 What better way to store glasses than this eye catching crossword themed case!
Mega Crossword Puzzle Book
You can't have crossword puzzle lover gift ideas without at least one dedicated crossword puzzle book. There's so many out there to choose from, but something like this is good for almost any crossword puzzle fan.
Drink Coasters
Crossword puzzle lovers need furniture protection too! I love the rustic vibe – it would truly go with any decor. Perfect if you don't know what to get!
Crossword Puzzle Pen
For those bold people who do their crossword puzzles in pen! This pen has a tiny crossword puzzle inside of it and just might become a crossword puzzle lover's go to writing device. Ironically the tiny puzzle is benign done with a pencil.
Printable Wall Sign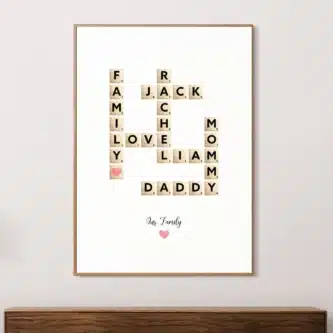 Need last minute crossword puzzle lover gift ideas? This one can be customized and then printed at home so you don't have to wait for delivery.
Puzzle Gift Basket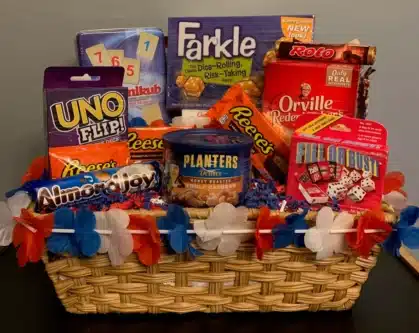 This would make a great long distance gift idea. The basket comes with a bunch of great snacks and crossword puzzle books too!
Tablecloth
They can use it on the dining room table or you could pick up this unique crossword puzzle tablecloth as part of your party décor. Either way crossword puzzle fans will love it!
Crossword Companion
This portable "roll a puzzle" has 48 puzzles built in! Great to throw into a bag or purse, or for travelling.
Bathroom Sign
If you really want a unique gift idea for crossword fans, this might just be the best thing out there. For those moments where you forget your phone in the bathroom, or for people who don't have a phone at all.
Scrabble
Buy Now
Scrabble is a timeless game for word enthusiasts and crossword puzzle lovers alike. If they don't own it, get it. If they do own it, get them a better version.
Now that you have these crossword puzzle lover gift ideas on your mind it's time to get shopping. If you're the one who loves them make sure to send this list to your family and friends!