Disclosure of Material Connection: Some of the links in this post may be "affiliate links." This means if you click on the link and purchase an item, I will receive an affiliate commission. Disclosure in accordance with the Federal Trade Commission's 16 CFR, Part 255. This site is a participant in the Amazon Services LLC Associates Program, an affiliate advertising program designed to provide a means for sites to earn advertising fees by advertising and linking to Amazon.
We play outside a lot but realized at some point that we'd forgotten to do anything that resembled sports. Luckily our daycare is great with introducing all kinds of sports, so we figured out pretty quickly that if you toss a toddler a ball, it's likely to hit them in the face. Wait, no that's not the takeaway. They may have no style but toddler enthusiasm has no bounds once you've introduced them to a sport they can understand.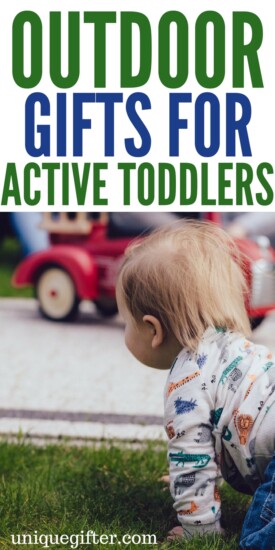 Outdoor Gifts for Active Toddlers
Sunscreen SPF 50
First things first, sun protection before you leave the house!
Baseball Cap
And second, physical sun protection!
Sunglasses
We always put on our sunglasses before venturing out into the California sun. As good as it feels on our faces, our eyes appreciate the sun protection.
No-Sting Pillow Cover Volleyball
Have you ever seen toddlers line up for a chance to pass the volleyball? It's one of the cutest things.
Soccer Ball
We're Pele fans around here though our feet wouldn't prove it.
Basketball
Our kid's coordination is pretty terrible but there's nothing like learning to dribble to get them to concentrate on their hands.
Baseball and bat
Sized for beginners, kids can haul their own lightweight set to and from the field.
Mini Game Football
It's
Jump Rope
We started playing around with a jump rope just so the kids could get used to the idea.
Sidewalk Chalk
Remember hop scotch? We used to play that for HOURS. Draw your own patterns and send the kids hopping through!
Balance Bike
I still don't quite get balance bikes but the research seems to think that they're great for kids to learn their balance.
Rashguard
I love the rashguard option for kids, less exposed skin to have to remember to slather with sunblock!
Water Shoes
Usually we advocate trotting (slowly!) around the poolside in bare feet but these water shoes are important for scorching hot days when the pavement is unbearable.
Toddler Brim Sun Protection Hat
Our toddler wouldn't keep a hat on but if you start early, they'll happily wear these hats while splashing in the pool or playing in the sun.
Beach Toy Set
Once they're tired of running into the surf and back, or even swimming, toddlers like to keep going with building in the sand.
Toss and Catch Sports Game Set
I'd completely forgotten about these! They were awesome for beginners to catching.
Toddler Backpack with Leash
Toddlers have an amazing sense of independence and it's good to foster that while you're walking to the park or playground but also leashes are amazing to keep them from independently running into traffic.
Mesh Drawstring Bag
Everyone has to pull their weight, even the little ones, so we load them up with lightweight gear for our outings.
Lawn Bowling
This is fun for a small group of kids – I'd set up three sets in our courtyard and let the kids have at it.
Ring Toss
Add this to our little outdoor (or indoor on rainy days!) carnival with a bit of popcorn for all the players when they land a ring close to the pegs.
How do you wear out an active toddler?