Disclosure of Material Connection: Some of the links in this post may be "affiliate links." This means if you click on the link and purchase an item, I will receive an affiliate commission. Disclosure in accordance with the Federal Trade Commission's 16 CFR, Part 255. This site is a participant in the Amazon Services LLC Associates Program, an affiliate advertising program designed to provide a means for sites to earn advertising fees by advertising and linking to Amazon.
If you recently had a baby or know someone who did, you might be looking for a special gift to celebrate baby's first Easter! I have gathered up some really great first Easter gift ideas for girls and boys. These gifts are a variety of sentimental items to fun items that your child will enjoy playing with for months to come. Your little one will be delighted when they see their Easter basket full of fun goodies for them.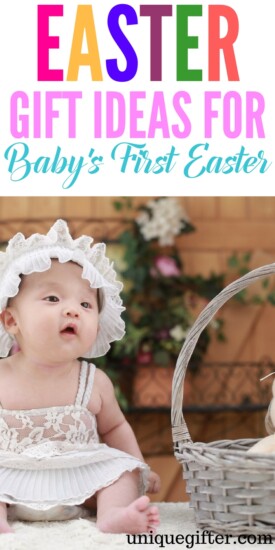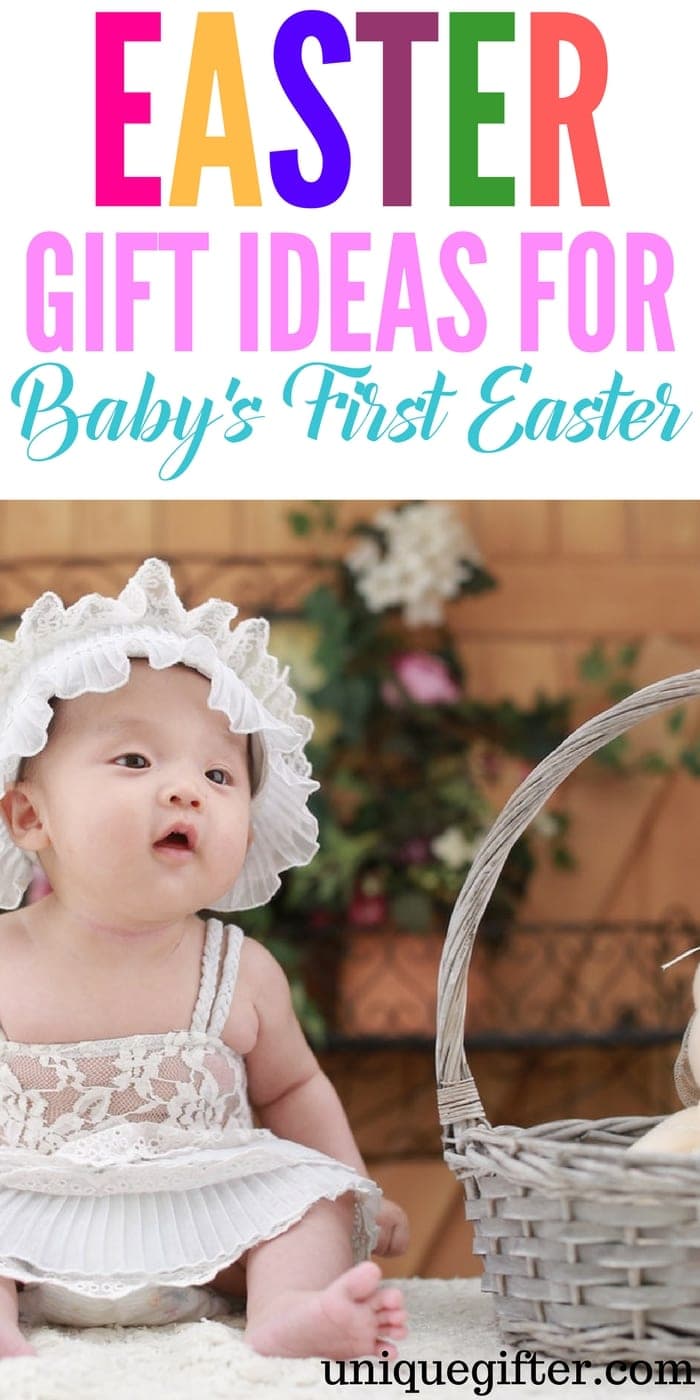 Tutu Outfit
If you have a little girl, get a custom outfit with her name on it to celebrate her first Easter. A perfect photo opp outfit, that will make her look over the moon adorable.
His Too Hip Outfit
We can't share a girls outfit without a little boy to follow! Here is a fun too hip outfit that he will look dashing in.
First Easter Puzzle
This is a really cute first Easter puzzle that has your child's first name for the pieces with a little egg. I love gifts like this cause you can save this forever as a keepsake.
Bib
Here is a fun My First Easter bib that is great for serving up either baby food, a bottle, or if they can eat solids an Easter dinner!
Personalized Stuffed Bunny
This bunny is so cuddly soft and a great keepsake for later on, that showcases it was their first Easter, and you can even add your child's name to the bunny. How special is that?
Snuggly Bunny Blanket
These type of blankets that have a little plush animal on top are something that most little ones love. It can even become a security blanket as they begin to get attached to it over the months of using it.
Rabbit Ear Hair Clip
If you have a little girl, this would look absolutely precious in her hair. I love the sequins it really makes it look extra dainty and girly.
Jeremiah 29:11 Baby Blanket
This baby blanket has the scripture of God's plan, which is extra special to wrap your sweet baby in. You can buy it in pink as well if you have a little girl in mind.
Ceramic Egg
If you are big on saving back items from your baby's childhood so they have it when they are grown, these ceramic eggs are really special. Put your child's name on it and year, so they will have that little piece to hold from their past.
Carrot Burp Cloth
When you have a baby you can truly never have enough burp cloths on hand. They get dirty so fast, so why not toss in a new Easter-themed cloth for you to use on Easter. This one is absolutely cute as can be.
Board Book
Books always make great gifts for kids, so give them the My first Easter book. They will enjoy you reading and seeing all the colorful pages.
Dog Grasping Toy
These are a fun Easter basket filler as wooden toys last, and they are great for your baby to learn to grab on and play. They might even nibble on the dog, which is okay.
Wooden Giraffe
This is another grasping style toy that is so cute. I love the giraffe it is great for a girl or boy, and the neck does move around a bit. Your little one will love moving it all around.
Bunny Racer
This is good for ages of 12 months and up, but if your little one is close to one, it can be a toy they can use and grow into. It is fun to push around on the floor and helps build fine motor skills.
Bunny Plate
Give a personalized bunny plate that they can use for years to eat their meals as they grow. I love personalized gifts, especially for little kids. It helps them learn their name and feel special.
First Easter Frame
Capture the first picture of your child's Easter, whether it be with some Easter eggs or the Easter bunny. It is a really cute wooden frame that is perfect to put out for display.
Easter Block
This is a personalized Easter block where you can put your child's first initial, their name, and more. Like the classic letter blocks, this is a beautiful keepsake.
Unicorn Hooded Towel
This towel is really cute, and I will say buying a larger towel that your child grows into is a good idea. They won't be little for very long so having a towel they can use for a longer period of time is worth investing in.
Washcloth Carrot
Here is a fun way to give your little one some washcloths for their next bathtime. They are little enough they won't mind and it being a cute carrot makes it a fun and practical gift.
Mary Had a Little Lamb Hat
This hat is something to swoon over and to be on a little cutie would make it even more precious.