Disclosure of Material Connection: Some of the links in this post may be "affiliate links." This means if you click on the link and purchase an item, I will receive an affiliate commission. Disclosure in accordance with the Federal Trade Commission's 16 CFR, Part 255. This site is a participant in the Amazon Services LLC Associates Program, an affiliate advertising program designed to provide a means for sites to earn advertising fees by advertising and linking to Amazon.
Hanukkah is a Jewish observance that falls around the same time as Christmas. In recent years, it has become more and more celebrated by Jewish families, especially those with small children who see a lot of their friends celebrating Christmas.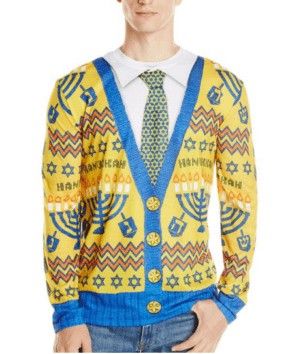 The tradition of Hanukkah is to give small and inexpensive tokens to family and friends, generally one small gift for each of the eight nights.
Here are 20 Hanukkah gifts that don't break the bank, enjoy.
Clifford Celebrates Hanukkah

Did you know Clifford the Big Red Dog was Jewish? No? Neither did we. Nonetheless, this is always an exciting time for little ones. Buy them something that will both entertain and educate.
Pewter Star of David Necklace

Show your faith with this stylish pewter Star of David necklace. Ideal for anyone who wants to show how proud they are of their faith this Hanukkah.
Star of David Napkin Rings

When you're showing how thankful you are by stuffing your face, there's no classier way than with these Star of David napkin rings.
Menorah Napkins

But you also need something to put in those napkin rings, so here you are. Decorated with colorful dreidels and the menorah, you have the perfect embellishment for a feast.
Electric Menorah

Fire can be dangerous. Don't set the place on fire literally with this battery-operated Menorah. Plus it's blue, so who can possibly resist that?
Mini Menorah Set

For when one menorah isn't enough, why not have lots of them instead with these mini menorahs? Also good for when the kids have a table of their own during a grand feast.
Shalom Sesame

Big Bird cares not for one religion. He's every religion! Watch the first twelve episodes of when the gang from Sesame Street celebrates Hanukkah.
Crazy Nights

Why do we recommend this, you ask?
Adam Sandler managed to produce the only Jewish hit song revolving around the holiday. The Chanukah Song! That makes it worthwhile on its own.
The Oy Vey Fish

Judaism is about many things. It's about worshipping in the right way. But didn't you know that the Torah also had something in it about a fish that when squeezed yells 'Oy Vey!'?
Oy Vey! My Son is Gay!

Do be careful if you buy this one. It could either go down really well or really badly. But it's well worth the watch nonetheless.
Happy Hanukkah Mug with Donut

We don't know what the best representation of Hanukkah is from family to family, but we're sure some family out there covets donuts.
L'Chaim T-Shirt

Your mother is sure to be impressed when you walk in with this shirt. Trust us.
L'Chaim Bottle Stopper

It comes with an airtight seal and an engraved finish. This bottle stopper will prevent you fiddling around with pesky corks all the time. A great way to start the holidays.
Ahava Soap

Become one with yourself with the healing properties of the Dead Sea from the Holy Land. Ahava soap will cleanse your skin and leave it feeling as smooth as a baby's bottom.
Super Jew for Kids

Who needs Superman when you've got a Super Jew in the house? An adorable present for the little ones.
Magic Color Dreidels

Hanukkah is a time for family and a time for spending some quality time together. Break out these blank dreidels and use magic colors to craft a stunning, spinning, fountain of color.
Hanukkah Fortune Cookies

The only thing you won't need a fortune cookie for is to tell that you're going to have a fun time with these hanging around the family table.
Musical Dreidel

Rather than get Uncle Joe to break out the harmonica, spin the musical dreidel instead. We love the musical dreidel because it's embroidered with plush and all you have to do is give it a squeeze to get started.
Hanukkah Bush

Grow your own Hannukah bush over the eight days of the holiday. What's even more exciting is that when you tickle it the leaves close up.
Jewish Gnome

Bring on Shalom the Jewish Gnome. There's no better way to spruce up the garden than to introduce this little fellow.