Disclosure of Material Connection: Some of the links in this post may be "affiliate links." This means if you click on the link and purchase an item, I will receive an affiliate commission. Disclosure in accordance with the Federal Trade Commission's 16 CFR, Part 255. This site is a participant in the Amazon Services LLC Associates Program, an affiliate advertising program designed to provide a means for sites to earn advertising fees by advertising and linking to Amazon.
As someone who currently lives in a 10 square meter apartment in Europe, I know the ups and downs of the living in a tiny apartment. This list has perfect gifts for the small apartment dweller in your life. To translate for everyone back home, that's 107 square feet. Yup. I'm living in 100 square feet.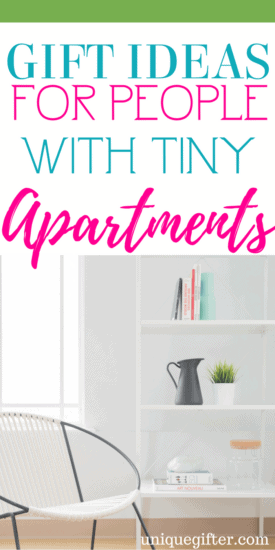 Tiny Apartment Gifts
French Press Mug
If you don't have counter space, this combo French press mug is your ultimate morning weapon. No need for a bulky coffee machine!
Stackable Cactus Mugs
A cute decoration and functional mugs, the perfect combo! Four cups that are microwave and dishwasher safe never looked so cute.
3-in-1 Retro Breakfast Station
A griddle, toaster oven, and mini coffee pot all in one! Perfect for an apartment without an oven, or just a great gift for a breakfast lover.
Hanging Planter Set
Finding space for a plant is hard, so this hanging planter set is great for a tiny flat. Pair with some tiny succulents for a big reaction!
Portable Bluetooth Speaker
A teeny speaker for a tiny apartment. Wireless and rechargeable, this little gem will fill up an entire tiny apartment.
Wall Mounted Wine Bottle and Glass Shelf
This wine shelf and rack holds both wine bottles and wine glasses. It is mounted on the wall to save counterspace and time
when you need a glass of wine, sometimes you need it fast!
Wallet Ninja
This credit card sized tool has 18 functions and can literally fit in your wallet. It saves space and is handy in all sorts of situations.
Urbio Wall Organizer
This set can be used to store office supplies, plants, or anything your heart desires. A magnetic set, more pieces can be added to make it the ultimate space saving storage system!
Bookniture Side Table
This "book" becomes a small table when opened up and assembled. Surprisingly, it can also function as a small seat, as the crazy cool origami design makes it super strong.
Floating Bookshelf
This bookshelf becomes invisible when you place books on it. A wall mounted bookshelf is the ultimate space saver, and this turns it into a design piece as well.
Wireless Charging Pad
In a small apartment, extension cords and charging cables are bulky. This wireless charging pad is perfect to keep on your desk for charging without the hassle.
Collapsible Strainers
A set of 2 collapsible colanders are a perfect gift for the pasta lover with limited space.
Compact Bar Set
A tiny cocktail set that can fit on the counter instead of being shoved under the sink! Compact yet sophisticated, this mini set will glam up any tiny kitchen.
Personal Blender
Not only will this fit on a tiny counter, the mason jar blending cups will make your tiny apartment feel cozy and warm. A great compact kitchen accessory!
Magnetic Spice Tin Rack
A wall hanging spice mountain? Yes please! Save space and spice up your kitchen with these magnetic spice tins and spice rack.
Boogie Board Writing Tablet
Instead of wasting paper, use this tablet to jot down and erase notes whenever it strikes your fancy. Super thin and quite compact, this will save space, money, and the trees!
All in One Kitchen Tools
A funnel, measuring cup, lemon juicer, and more! This uniquely designed set has 9 kitchen tools that take up less space than a wine bottle.
Corner Laundry Hamper
Use every inch of space with this corner laundry hamper. A space savvy spectacular gift!
Storage Cube
This storage cube can be used for storage, as a foot rest, or as a chair. Small enough to be hidden under a desk but big enough to be used as a seat for guests, this is a great small accent in a tiny apartment.