Disclosure of Material Connection: Some of the links in this post may be "affiliate links." This means if you click on the link and purchase an item, I will receive an affiliate commission. Disclosure in accordance with the Federal Trade Commission's 16 CFR, Part 255. This site is a participant in the Amazon Services LLC Associates Program, an affiliate advertising program designed to provide a means for sites to earn advertising fees by advertising and linking to Amazon.
Awesome Gifts For Horror Fans
We all have that friend or family member that just seems to be into the darker aspects of entertainment, and with so much merchandise pertaining to horror media, we know that it's a bit overwhelming when trying to find that perfect gift for them. No worries! We've braved the dark and terrifying depths of the internet just for you!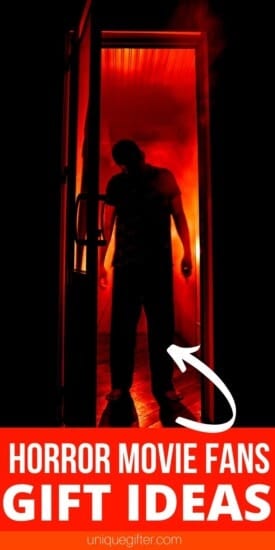 Horrifyingly Great Gifts
No matter what kind of horror your fan is into, we're sure to have them covered when it comes to this list! From films to books, we've got all sorts of terrifyingly awesome gifts to please that horror buff, so you can relax and get ready to find that ideal present in this list of 40 gifts for horror fans!
Lovecraft Altar Statue
Starting the list out with a truly horrifying note, we present this wooden, handmade C'thulu statue! H.P. Lovecraft is one of the most renowned horror authors in the business, and this cool altar is a testament to his creepy creatures!
Horror Candle
This All Things Spooky inspired candle would be perfect for sitting around a horror fan's dungeon! With a scent like "Creepy Woods and Graveyard Dirt," we can't imagine a more suiting scent for their home!
Tarot Card Shoulder Bag
This awesome looking shoulder bag gives that creepy, gothic feel that goes well with any horror fan's wardrobe! Handmade with designs of different Tarot card designs, it has plenty of pockets for storing away scary stuff!
Horror Monsters Wrapping Paper
We're going to put this one early in the list because you're going to need something to wrap that horrific gift with! This wrapping paper features classic iconic monsters from assorted horror movies and is bound to set the mood for the occasion!
Michael Myers Decal
One of the kings of horror films with a massive fan following, we're sure that if the gift recipient is into horror flicks, there is a huge chance that they've seen the Halloween movies! If they're a fan of them and of the slasher himself, this decal is for them!
Horror Movie Posters
This snazzy set of posters is perfect for filling that bare space on your friend's wall! Four different posters featuring Freddy Kreuger, Jason Vorhees, Leatherface, and Michael Myers sporting similar artwork make for one great present!
Killer Clown Knife Set
We're gonna go ahead and say that this is one of the coolest items on this list! A custom made knife set featuring killer clowns with the flip side of the knife showing their origin! What a sharp gift!
Jason Vorhees Ring
This awesome ring is sure to be a fantastic gift for any fan of the Horror genre! Handmade from pewter, it's a horrifically superb addition to a jewelry collection.
Mini Horror Terrariums
Hardcore horror fans usually decorate their home with all sorts of spooky decor, and this is an excellent addendum to that! These nifty little terrariums include four different scenes and even include an actual dead bug and real moss!
Vampire Teeth
What horror fan doesn't fantasize about being a vampire? Help out the horror buff in your life with these sick looking, handmade, acrylic fangs!
Pennywise Bath Bomb
Who said bath time can't be a spooky experience also? These Pennywise bath bombs are sure to get a kick out of the gift recipient. Made out of natural materials and fashioned to be the visage of the killer clown, these bath bombs even "bleed" red as they fizz into the water!
You'll Float Too Bracelet
This snazzy, stylish bracelet is perfect for the horror fan that likes to keep a low-key look but represents their interests at the same time! A charm bracelet featuring a paper boat, balloons, and a charm that reads "You'll float too," fans of the film and book will immediately recognize the significance!
House Of Horrors Sign
This sign is perfect for the outside of horror fans' homes! Handmade and distressed to give it a weathered and retro look, this sign is even available with wood trim!
Edgar Allen Poe Book Purse
Another excellent purse on our list! This one is for that bookworm that loves their horror authors and wants to display it with pride! Fashioned from recycled books with customizable buttons, this one is a killer gift for sure!
Zombie Batman Bust
Horror and comic heroes? Yes, please! This handmade statue features the Dark Knight as a zombie, and we think the only one that would be more excited about it than us will be the fan you're buying it for!
Pentagram Earrings
There's plenty of horror fans out there that sport that dark look, and when it comes to that fashion, it's hard to find the right accessories. These handmade pentagram earrings can definitely help with that problem!
Horror Looksee Collector's Box
When you're looking to give an entire bundle of gifts instead of just one, this collector's box hits the nail on the head! Featuring items from franchises spanning from Nightmare On Elm Street to The Walking dead, the box even resembles the cube from Hellraiser!
Horror Trivia Card Game
How knowledgeable is the horror buff in your life, really? This gift is the perfect way to find out! With over 100 different game cards and questions, this present is sure to put a test to their horror fandom!
Funko Pop Horror Classics Bundle
These terrifying villains have never been so cute! Classic villains Freddy Krueger, Michael Myers, and Jason Vorhees get that snazzy Funko makeover with these horrifying bobbleheads!
The Shining Lawn Gnome
Heeeeeere's Gnomey! If you've got that fan that digs the darker side of things but also has a wonderful sense of humor, they'll love this creepy, yet cute, little gnome for their front yard!
Sinister Nightmares Coloring Book
Who said that coloring was just for kids? Massive spiders, possessed toys, vampires, and other assorted creatures make their horrific appearance in this adult-themed coloring book!
Bloody Bath Mat
At first glance? A simple white bath mat. After you step out of your shower and get your wet feet on it, the bath man sports bloody red footprints! This cool bath mat is perfect for someone that wants a minimalistic styled bathroom but still wants to flex a horror flair!
Love Never Dies Snow Globe
If you've got that lovely couple in your life that loves all things horror, they will undoubtedly appreciate this gem! Featuring a skeletal couple in full wedding attire, it's a snow globe that shows that love truly never dies!
Horror Movie Killers Clock
From Pumpkinhead to Captain Spalding, the gang is all here with this nifty clock! With a square retro feel, it features multiple villains from an array of films and even glows in the dark, so it stays spooky with the lights out!
Zombie See, Hear, Speak No Evil Figurines
These zombies are created to resemble the types of walkers from The Walking Dead, and we think they look fantastic! Made to sit on the edges of shelves or desks, these 3 undead figurines sport the classic "See/Hear/Speak no evil" poses!
Horror Characters Wallet
This leather wallet has the classic plain leather wallet feel with a horrific twist! Available in blue, chestnut, and classic leather colors, it features villains from assorted horror movies for that fan that has to have the genre infect all of their things!
I Run On Coffee And Horror Movies T-Shirt
When you've got that fan that loves their coffee as well as their slasher flicks, we've got that perfect gift! Proudly declaring the fuel of their existence, this t-shirt is sure to be a beloved staple of their wardrobe!
Blood Bath Shower Gel
Fashioned to look like a blood transfusion bag for that cool, creepy feel, this awesome shower gel even has a rope for it to hang from! Cherry-scented with what is likely the coolest design for shower gel, this one is a must-have for horror fans!
Lifesize Pennywise Cardboard Cutout
Not all gifts have to have a practical use, right? This righteous Pennywise cardboard cutout is actually life-sized and realistically detailed. Perfect for setting up in their home to scare unsuspecting victims!
The Complete Fiction Of H.P. Lovecraft (Hardcover)
H.P. Lovecraft was one of the most influential horror authors of all time, inspiring such authors as Stephen King and Clive Barker. If the horror fan hasn't read anything by them, it's about time that they have! This hardcover book includes Lovecraft's novel, four novellas, and all fifty-three short stories!
The Shining Key Tag
The majority of horror buffs have seen "The Shining." Likely multiple times! With that being the case, this keychain is likely to be an outstanding gift! With a throwback to the classic horror film, this red key tag looks like it belongs to Room #237 from the movie!
Zombie Hand Back Scratcher
Everyone has that itch that they just can't scratch without help. Help the fan in your life scratch that itch while simultaneously scratching the itch for awesome horror merchandise!
Freddy Kreuger Coin Bank
This highly detailed collector's piece of the iconic character is sure to be a beloved gift for any lover of the genre! With his classic, menacing look, this awesome item doubles as a bust and a coin bank!
Zombie Breath Mints
For a neat little addon gift or stocking stuffer, these mints are absolutely ideal! No worries, they don't actually smell like zombie breath; they are actually wintergreen!
Chucky Action Figure
No list would be complete without the terrifying doll killer from the "Child's Play" series! This detailed, 4-inch tall action figure comes complete with multiple heads and attachments to give it an assortment of looks and poses!
Waterphone Instrument
The final item on our list is for true horror fans! This waterphone makes the iconic and terrifying noises that accompany horror flicks, and now your fan can create their own or just use it to punctuate events that happen around their own home! Awesome!
Friday The 13th Jason Mask Lunch Box
Scare all your friends with this incredible lunch box! What's cooler than a replica of this mask?
Scary Hallway Twins Cutting Board
Pretty much everyone needs a cutting board with these creepy twins on it. This is a must-have for horror flick fans.
Hooded Blanket
Warm-up in style with these scary hooded blanket. It's complete with 2 USB's as well. This is the perfect gift for someone who wants to chill all day watching horror flicks.
Scratch Off Wall Poster
Now you will never have to struggle deciding what to watch again. This scratch-off gift is fantastic and has all the best horror flicks on the list.
We've made it to the end of this terrifying list, and even though you may have been scared that you wouldn't find the perfect gift, we're sure that you got the happy ending that you deserved! Did you find anything on here that was just too horrifying to pass up? Did you find that gift that absolutely shocked and amazed the fan in your life! Let us know on Twitter (@ugifter) or Instagram (@uniquegifter), and thanks for checking out 40 Gifts For Horror Fans!