Disclosure of Material Connection: Some of the links in this post may be "affiliate links." This means if you click on the link and purchase an item, I will receive an affiliate commission. Disclosure in accordance with the Federal Trade Commission's 16 CFR, Part 255. This site is a participant in the Amazon Services LLC Associates Program, an affiliate advertising program designed to provide a means for sites to earn advertising fees by advertising and linking to Amazon.
[CC Attribution – Sheishin17 – Photo]
This post covers a few more ways to save your pennies when you attend a wedding away from your area. Most of these would work as a way to save on any vacation or travel; however, the group nature of a wedding lends itself to finding more ways to effectively split costs.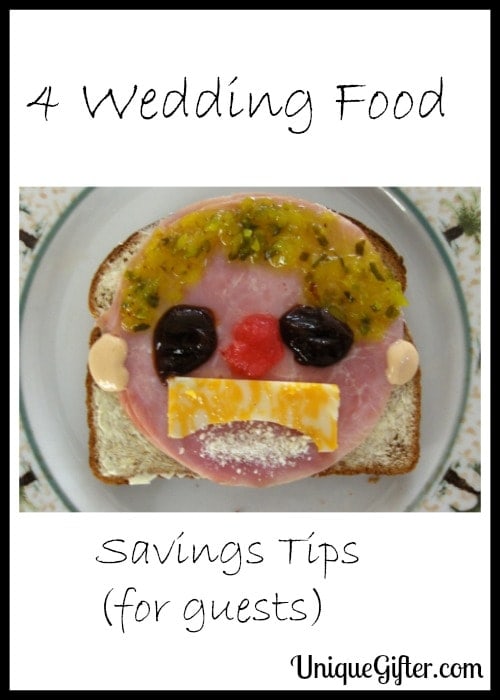 Canadian television watchers can visualize the following Tim Horton's commercial with me: A large group of happy twenty and/or thirty-somethings attend a summer wedding and are looking to both kill some time and find refreshment. Let's 180 from the premise of this commercial and find ways to spend less. They want you to go buy cold drinks and sandwiches.
So – Cold Drinks and Sandwiches. We can do those.
#1 – Water
Summer weddings are usually on gorgeous, hot days (or so the couple hopes). You may be sitting outside for a ceremony, then have a gap before the reception. Take your own water to a summer wedding. You can take a small cooler and put your water bottles (reusable, of course) in it. Alternatively, you can partially freeze your water bottle so that it keeps the water ice-cold. Many hotels now have mini fridges, so you can keep your own water cold. This will save you from purchasing $4 bottles of water when you're driving. Yes. $4. I had to last week.
#2 – Lunch or Breakfast Brown Bagging (+ Drunk Food)
Staying in a hotel with a bunch of relatives or friends? This is another positive to group bookings. Chances are that you will be getting ready in the morning or early afternoon, at the hotel; at the very least, starting your day with breakfast. Organize a few people to split the cost of some groceries.
For breakfast, you could have a few apples and bananas, some yoghurt in the mini fridge/cooler, some granola bars, muffins, or even a bagel with cream cheese. Most rooms these days also come with complimentary coffee and tea.
If your hotel has an included breakfast, you should definitely take advantage!
For $10 or $15, you can buy a full loaf of bread, a pack of deli meat or veggie protein source, a pack of sliced cheese and some mustard. Throw in a few apples or some baby carrots and you have a very affordable, nothing-but-napkins required, lunch. Of course, you can expand on that theme and having a mini fridge or cooler will help make a gourmet lunch. A knife would make you even classier when you attempt to spread the mustard around.
If you expect to return to the hotel late at night, having already spent your pennies on a taxi, definitely consider stocking up on some munchies BEFORE you head out. That will reduce your temptation to buy even more unhealthy fast food, plus should save some $$.
This is another great reason to pop off an email to your friends or relatives who will be attending from out of town too.
#3 – Lunch with Friends
If you are visiting from out of town and have not managed to stay with some in-town friends, you could always try inviting yourself over for lunch, too! Make sure to take something as a token of your appreciation!
When deciding to go to a restaurant, you can follow the tips in Carrie's post regarding local groupon apps, or plan in advance and pick up a discount coupon. Make sure that you read the fine print! In particular, if you are heading out with a group of friends, there may be a limit of one coupon per group. Be wary of all those restaurants who charge mandatory gratuities with groups, sometimes they are 18 or 20%!
If you have a large group and will be looking for lunch or brunch, consider asking a restaurant for a group discount, similar to a sports team deal. This one will take a bit more leg work and usually involves restaurants that are a tad pricier than cafes.
#4 – Pre-Game
Yup. As previously mentioned, there's probably several people getting ready in the hotel, at the same time as you. Get together, have fun, take a taxi together and split the cost. Make sure you remain respectful, as you will at some point be in public space. (Pro tip: make sure you have corkscrews sorted out, if that's how you like to pre-game.) I have it on good authority that you can bum cups off of a local fast-food restaurant or 7-11, if you're really stuck.
[CC Attribution – starmist1 – Photo]
For some further ways to save, I recommend reading the article How to Use your Smartphone to Save Money while Traveling by Carrie over at Careful Cents.
Also take a look at our wedding guest savings main page of suggestions.