Disclosure of Material Connection: Some of the links in this post may be "affiliate links." This means if you click on the link and purchase an item, I will receive an affiliate commission. Disclosure in accordance with the Federal Trade Commission's 16 CFR, Part 255. This site is a participant in the Amazon Services LLC Associates Program, an affiliate advertising program designed to provide a means for sites to earn advertising fees by advertising and linking to Amazon.
Whether you're trying to save a little money on gifts or just want to be prepared the next time you need a gift in a pinch, having a gifting stockpile on hand can be a lifesaver. From last-minute kid's parties to endless summer weddings, a stockpile of great gifts is the perfect way to always be prepared for gift-giving. But building up a gifting stockpile isn't something you can do overnight. It takes a little bit of planning and a lot of organization to make the most of this party goer must-have.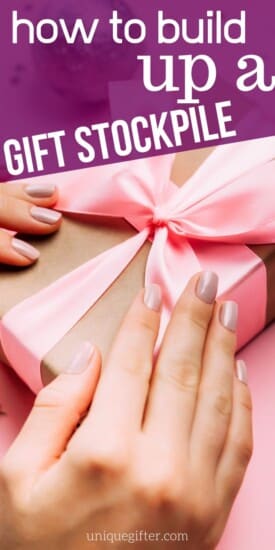 How to Start a Gift Stockpile
If I've sold you on having a stockpile of gifts in your, you may be wondering where to start. Before you go shopping to buy tons of great gifts to add to your stockpile, you should start by making sure you have a place to store all those gifts. Clear out a space in a closet, set up a storage area in your basement, or clean out a corner of your attic, then grab a few sets of storage bins that are big enough to hold a variety of gifts.
Your gifting stockpile should contain gifts for all the different types of parties you might attend, like:
Kids birthday parties
Baby showers
Bridal showers
Weddings
Graduation parties
Holiday get-togethers
Adult birthday parties
In addition to parties, you might also consider gifts you could give to your kids' teachers, gifts to welcome new neighbors to the neighborhood, and just-because gifts to give your friends and loved ones.
After you have decided what types of gifts you'll add to your stockpile, create labels for each of the boxes to make it simple to grab the perfect gift for every type of party. Then you're ready to start shopping for gifts! The next time you head out to go shopping, keep each of these types of celebrations in mind so you can look for great gifts to start adding to your stockpile.
Gifts for Kids Birthday Parties
When stocking up on gifts for your kids to give their friends at parties, it's a good idea to add gender-neutral items to your stockpile so they can be used for any occasion. Great kids' birthday party gifts to add to your stockpile could include:
Art supplies
Craft kits
Coloring books and crayons
Stuffed animals
Play-doh kits
Tech gifts, like headphones and charging cables
Baby Shower Gift Ideas
Creating a baby shower gifting stockpile is so easy! Make sure to have a variety of baby-friendly gifts in your stockpile so you always have a great present on hand the next time you need to head to a friend's baby shower. These baby shower gift ideas are perfect for your stockpile:
Diapers and wipes
Baby bath products
Gender-neutral clothing
Baby socks and hats
Receiving blankets
Towels and washcloths
Sleepers and swaddles
Gifts for Bridal Showers and Weddings
To create a stockpile of gifts idea for bridal showers and weddings, focus on adding common household items newlyweds would love to receive. When building a stockpile for bridal showers and wedding, consider adding:
Countertop appliances, like toasters and blenders
Glassware and barware
Neutral sheets, blankets, and towels
Smart home items
Cooking must-haves, like knives, cutting boards, and cookware
Graduation Gifts
If you expect to be attending a variety of graduation parties in the future, stocking up on graduation gifts is a great idea. Make sure to purchase items that can be used for other types of parties, like weddings or teen birthday gifts, to make the most of this gifting stockpile. These versatile graduation gifts are perfect:
Gift cards
Cosmetics and beauty products
Dorm room essentials, like bedding and small appliances
Dorm/teen bedroom décor
Tech gifts, like headphones, charging cables, or gaming items
Teacher and Neighbor Gift Ideas
Showing your kid's teachers, your friends, and your family's neighbors you care by giving a gift is always a good idea. And having a great gifting stockpile is ideal for being able to find a great gift for a teacher or neighbor in a short amount of time. Add these simple gifts to your teacher gifting stockpile to always have the perfect gift on hand:
Skincare items, like hand sanitizer, soap, or lotion
Vases for flower arrangements
Decorative containers for homemade treats
Bottles of wine
Jewelry and accessories
Other Gift Stockpile Must-Haves
In addition to having a gift on hand for any occasion, there are a few other essentials to add to your stockpile to make it even more convenient. These handy items will make giving the perfect gift every time so much easier:
Gift wrap
Gift bags
Tissue paper
Tape
Scissors
Ribbon and other package decorations
Cards for all party types and holidays
These additional items will ensure you have everything on hand to give a great gift to everyone who invites you to their celebration.