Disclosure of Material Connection: Some of the links in this post may be "affiliate links." This means if you click on the link and purchase an item, I will receive an affiliate commission. Disclosure in accordance with the Federal Trade Commission's 16 CFR, Part 255. This site is a participant in the Amazon Services LLC Associates Program, an affiliate advertising program designed to provide a means for sites to earn advertising fees by advertising and linking to Amazon.
Wait, what?? This post applies to both wedding guests and people holding weddings! Christmas is decidedly the strongest consumerism push in our society, so much so that Hanukkah has been elevated from a minor Jewish holiday to a widely recognized one. So, if you will be attending a wedding or two, or if you are planning your very own, at the very least you can take advantage of the Boxing Day and on sales. The ideas at the top are more geared towards guests and progress into things aimed more at wedding hosts. These tips to save on weddings could also be utilized for that big family reunion, anniversary or reunion party you're planning in the new year!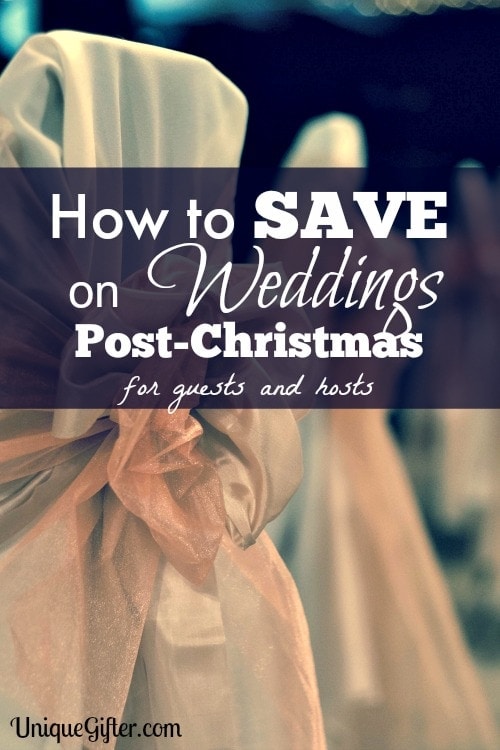 Wedding Shower Savings
This can be tricky, as you may be straying too far from a potential registry, but there are a myriad of small kitchen and home decor items on sale after Christmas. You could pick up a selection of nice tablecloths, serving trays, or general nicknacks to use as shower gifts or add-ons to other shower gifts.
Formal Wear Savings
Especially bridesmaid dresses! Shoes, ties, dress shirts, men's accessories, gowns to wear to very formal weddings. Pick them up post-New Years and save!
Wedding Gifts
Housewares and appliances are also on sale, after stores have ramped up their inventory over the holidays. Spatulas, stand mixers, bakeware, you name it, there are probably some on sale.
Wrapping Paper, Gift Bags
Get a nice selection of silver, gold, plain stripes and kraft paper, as well as bows and ribbon. Be quick about it though, the less Christmassy, the faster it goes! I have found that many stores don't put this stuff on sale quite as much anymore, because so many of us stock up after the holidays :-) Now is a great time to pick up some gift bags to make up your out of town bags. Remember that you could glue a welcome message printed on card stock over a particularly festive part of a gift bag, allowing you to snap them up for pennies.
Candles
Perhaps you want to do the "year of firsts" candle gift? Or maybe you need centerpiece decor items? Want to have a scented candle burning in the bathroom at your venue? Stock up! (A note to those who are only part of the way along in their wedding planning, many venues do not allow open flames.)
Candy Bar Candy
There are chocolates and candy GALORE on sale now. It takes chocolate a very long time to go bad, stock up!
Decor Items
Silver and Gold, Bells, Lanterns, Candle Holders, Vases…. these things are all on sale! Silver balls filling giant vases do not look Christmassy when it's the middle of the summer! Sparkly, shimmery sticks? Get them now! A cute fall or summer decor theme is easy if you re-purpose little topiaries or trees. Do not overlook things that can be altered to make them less themed. Can you cut off the Christmas part? Can you cover it with ribbon? Can you repaint the sign with the message you want? Ice/Crystal things, glitter and sparkles should also be widely available.
Serving Ware and Linens
This one works for gifts or if you are the wedding host, or even a rehearsal dinner host. Usually, the hassel and cost of linens makes them more affordable to rent. However, you may be able to pick them up at rock bottom prices right after Christmas, so you could buy a whole bunch and sell them on to another frugal couple when you're done with them. Post holidays, there are lots and lots of platters, table cloths, side plates, serving ware, champagne flutes and wine glasses on sale.
White Lights
'Nuff said
Centrepieces
There will be plenty of nice things to choose from that are on sale – bases, craft supplies, glitter, ribbon and more.
Party Stuff
Napkins, plastic utensils, disposable plates for the family dinner beforehand, cocktail sticks, disposable cups for your backyard BBQ wedding, paper straws, ice cube trays and more.
Batteries
You may need these for your uplighting.
Crackers
Perhaps you can find some nice nondescript crackers and refill them with your wedding favor of choice!
Wedding Party Gifts
Again, you are only limited by your imagination here. Cute clutches that didn't make their way to New Years dance floors? Stock up for your bridesmaids! A nice selection of cufflinks and ties? Perhaps you can find flasks, cute wine glass sets or day-of robes? A million bath sets will also be on sale.
Wedding Favor Ideas
This is somewhere where you might be able to pick up HUGE savings. Just get a little bit creative and see what you can find. My personal favourite? Cheese and pate knives! Tie them up with a cute little tag and you have a great wedding favor idea. You could do the same with a bell shaped cookie cutter, which won't look out of place at a wedding! Here are some more: If you can find a smoking deal on something and have willing and able assistance, you could possibly save a ton by repackaging something you find: candy, chocolates to rewrap, containers for favours, mini jars of oils, spices, vinegars, jams, candles, candle holders and more.
Classical Music CDs
Have you determined which songs you want to use in your ceremony? What about during a cocktail hour or during dinner? Classical music usually experiences an uptick during Christmas time, so be on the lookout for discounted CDs (ones that don't include carols!)
Thank You Cards
You are going to have to write a ton of Thank Yous, well before you have your stationary selected. Stock up early and write them as soon as possible, so that you don't get overwhelmed at the end! You will probably want to write some nice notes to your parents and wedding party, in addition to the thank yous for any gifts you might receive.
Thank you to the following for some ideas for this post, I recommend that you peruse them as well:
Wedding on a Budget: Shop Holiday Sales to Save on Wedding Decor
After Christmas Sales – What to buy for your upcoming wedding