Trying to find the perfect 40th Ruby Anniversary Gifts For Him just got way easier. Rubies are not typically viewed as something for men, but with your 40th ruby anniversary coming up, you may be searching for a ruby gift for him. This list will help take away some of the stress of shopping for him! Check out these excellent gift ideas for your husband this year.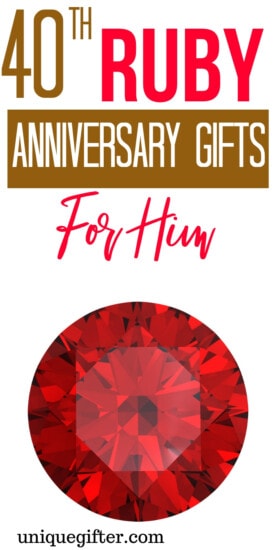 Fantastic 40th Ruby Anniversary Gifts For the Men in Your Life
These presents are an incredible way to commemorate your anniversary. These ruby anniversary gifts for men are perfect for your husband or dad!
You might also like: 40th Ruby Anniversary Gifts for Her.
As you can see from this impressive list, there are so many lovely ruby gift choices for your husband. It just might be hard to choose a favorite so you might have to buy two!