Disclosure of Material Connection: Some of the links in this post may be "affiliate links." This means if you click on the link and purchase an item, I will receive an affiliate commission. Disclosure in accordance with the Federal Trade Commission's 16 CFR, Part 255. This site is a participant in the Amazon Services LLC Associates Program, an affiliate advertising program designed to provide a means for sites to earn advertising fees by advertising and linking to Amazon.
Have you ever had one of those awesome moments where you find a forgotten twenty in the coat you last wore six months ago, or the purse you took that one night out? Discovering money, even if you were the one who put it there originally, is always awesome. That sense of discovery is exactly what we are going to recreate with this very creative handbag gift… that's full of surprises!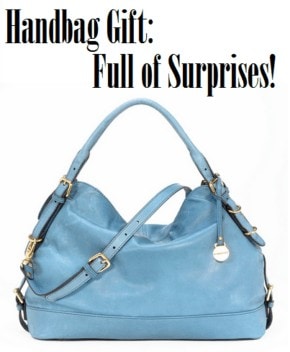 The Starting Point: A Handbag
There are a great many outfits hanging in every woman's closet, mixes and matches that work for all different situations. One way to give your closet even more flexibility is to mix and match accessories, especially handbags. There are large, day-out-on-the-boardwalk style handbags, or minuscule clutches that add a pop to a ballgown. Handbags also come in a huge variety of price points, from the one you picked up for $4 at your local Zellers to the mid-priced luxury handbags of Rabeanco to high-end, over the top creations like Gucci's soft stirrup crocodile shoulder bag.
The Gucci Bag in question.
So start by selecting a handbag that suits your recipient. You may want to read a bit further before picking, because sticking with a theme will bring the whole handbag gift together nicely.
The Handbag Gift
Now, simply owning a status-symbol handbag will make many a woman swoon. However, here at Unique Gifter, we are all about making your gifts unique and very memorable. From the starting point of a handbag, you are going to tuck in some lovely surprises into all of those pockets!
Option One:
Think of things which normally fit into a purse, and tuck the pockets full of them. Then you can watch as your gift recipient discovers all the little things here and there, tucked into the nooks and crannies! Here are a few suggestions:
A new wallet
Lip gloss
Makeup
Lotion
Key chain
Change purse
Cheque book cover
Pen
Mints
Phone charger
Phone case
New phone!
Pocket mirror
Subway passes or a transit pass
Jewelry
Lottery tickets
Cash – who wouldn't love a handbag that came with cash inside?!
Option Two:
Craft a date night or an excursion out of the contents of the purse. You can also include some of the things listed above, but add in an activity aspect, such as one of the following:
Fundraiser/Gala tickets
Restaurant gift certificate
Hair/makeup gift certificate and event ticket
Symphony, opera or theatre tickets
Winery tour tickets
A scavenger hunt that you've made
These ideas are just the tip of the iceberg, you could go as far as putting plane tickets into a handbag gift, or maybe even an engagement ring! Given that handbags are designed to carry things, you could fit a whole selection of gifts, right into the bag.
[First photo – the Chatham II by Rabeanco]
Do you carry anything odd in your handbag or wallet? I carry a construction measuring tape, a lot.