Disclosure of Material Connection: Some of the links in this post may be "affiliate links." This means if you click on the link and purchase an item, I will receive an affiliate commission. Disclosure in accordance with the Federal Trade Commission's 16 CFR, Part 255. This site is a participant in the Amazon Services LLC Associates Program, an affiliate advertising program designed to provide a means for sites to earn advertising fees by advertising and linking to Amazon.
Choosing a Watch for Your Male Partner
When it comes to gift giving, it can be difficult to find something that adequately sums up how you feel about the man in your life. Classic gifts like briefcases, ties and cologne might feel tired and like they're not enough for big birthday celebrations or important anniversaries. The watch, on the other hand, is an enduringly popular gift. A watch is more than an accessory. It's highly functional and a good quality timepiece will last your partner his lifetime. You can guarantee that a watch will be both appreciated on the day, and cherished over the years.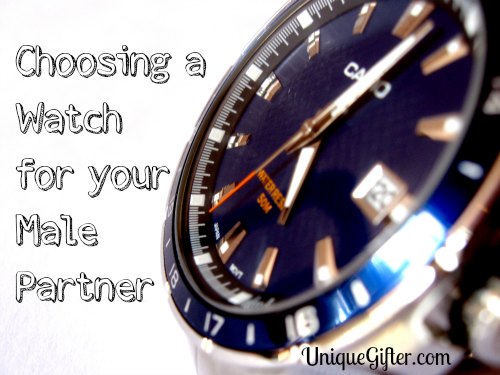 Match the Watch to His Style
Think about your partner's wardrobe and the jewellery he already wears. If his rings and cufflinks are silver or platinum, you should pick a watch with a similar metal tone. Your man's personality is also an important consideration. Is he more understated or does he like to be the centre of attention? Don't buy a flashy watch for someone who doesn't have a gregarious or outgoing personality. It's also a good idea to think about your partner's lifestyle. Is he after a watch that can be worn to the office, to formal occasions or on his days off? You can buy versatile timepieces that meet all of these requirements, or opt for something more specific. Unless your partner is involved in team sports or has a love of physical activity, it's best to avoid sports watches. Their extra features will all contribute to a higher price, and they are not a good investment if the functions will not be used regularly.
Which Movement?
There are two basic kinds of watch moments, and these are mechanical and electronic. The more complex the movement, the higher the price of the watch. There are advantages to each kind of movement, and will both kinds you should remind your partner to visit a watchmaker every four or five years to ensure that the timepiece is still accurate and that the battery isn't in need of replacement (if the watch has one).
Avoid Fakes
Stay away from fake watches. However tempting it might be, your partner isn't going to be particularly pleased with a fake Rolex and his friends and colleagues may be able to spot that it isn't real. Always buy from a reputable retailer like H. Samuel, as these jewellers do not stock fake watches. It's best to save for the highest quality watch you can afford, rather than going for a fake with a cheap movement that will inevitably break down.