Disclosure of Material Connection: Some of the links in this post may be "affiliate links." This means if you click on the link and purchase an item, I will receive an affiliate commission. Disclosure in accordance with the Federal Trade Commission's 16 CFR, Part 255.
If their passion is carpentry, celebrate their craftsmanship with a thoughtful gift. There are varieties gift ideas for carpenters, but if you want to impress, choose a personalized item that will be a one-of-a-kind gift.
Gift ideas for carpenters
Whether they are amateur woodworkers or professional carpenters, they will appreciate any of these gifts:
These gifts are:
1. Carpenter assembly tool belt
This belt will be used as a tool holder to ensure a good working rhythm. Having all the tools in one place reduces time wastage.
Occidental Leather Bag

2. Personalized wooden tape measure
Let the tape measure speak for itself. Since most work involves wood, why not go for a wooden tool? This is a gorgeous tape measure that they won't already own.
Mahogany Tape Measure

3. Magnetic Tool Wristband
Once wrapped around the wrist, all nails/screws will be secure and safely within reach. These things are ridiculously handy.
Magnetic Wristband

4. Multi-Bit Screwdriver
This lifesaver will enable them to switch between the bits in under three seconds.
Stanley Multi-Bit Screwdriver

5. A hammer
Do not overlook this item. Yes, they may have one, or several, already, but they wear out or get misplaced. Get them one with a rubber handle for a comfortable and secure grip.
Stanley Fiberglass Hammer

6. Tote Bag
Provide them with a bag that has a large interior to carry all the saws, screwdrivers, and hammers.
Custom Tote Bag

7. Carpenter work gloves
The thumb, palm, and fingertips need extra protection. In addition, a glove will add comfort and the open finger design will allow better dexterity.
IRWIN Carpenter Gloves

8. Pencil set
Get them a tough pencil that can mark a variety of surfaces.
IRWIN Carpenter's Pencil

9. Chisel set
For carvings around the wood, carpenters will often need this tool.
Irwin Woodworking Chisel

10. Level
In artisanship, accuracy is key. Combine function and beauty with this mahogany carpenter level. It might remind the recipient of their grandfather's workbench.
Mahogany Carpenter Level

11. Utility Knife
More than ever, a carpenter will need a utility knife that is durable. Luckily, new utility knives are much more ergonomic and handily store extra blades right in the handle.
Stanley Stainless Steel Retractable Blade

12. Angle Square
For greater accuracy. Square cuts are essential for framing applications.
Rafter Angle Square

13. Power Drill
Who doesn't love a power tool? You can never have enough of them in your arsenal.
Black & Decker Lithium-Ion Drill/Driver

14. Digital calipers
Any carpenter will spend plenty of time measuring and marking the wood to identify places that need cutting. Get a super-accurate readout by opting for digital calipers.
Neiko Digital Caliper

15. Sander
Sanding in an old-fashioned way can be time-consuming. Therefore, instead of using sandpaper, get them a sander to ensure they get smoother finishes.
Black & Decker Orbit Sander

16. Bar Clamp
A bar clamp will give the carpenter another pair of hands in the workshop.
Bessey Bar Clamp

17. Table saw
A table saw suffices for most projects. This item substitutes a handsaw and makes it easier to cut through wood. Straight cuts or angled cuts will be achieved with precision.
DEWALT Table Saw

18. Overalls
Perfect for all carpentry projects. The bib pockets are very convenient for holding tools together.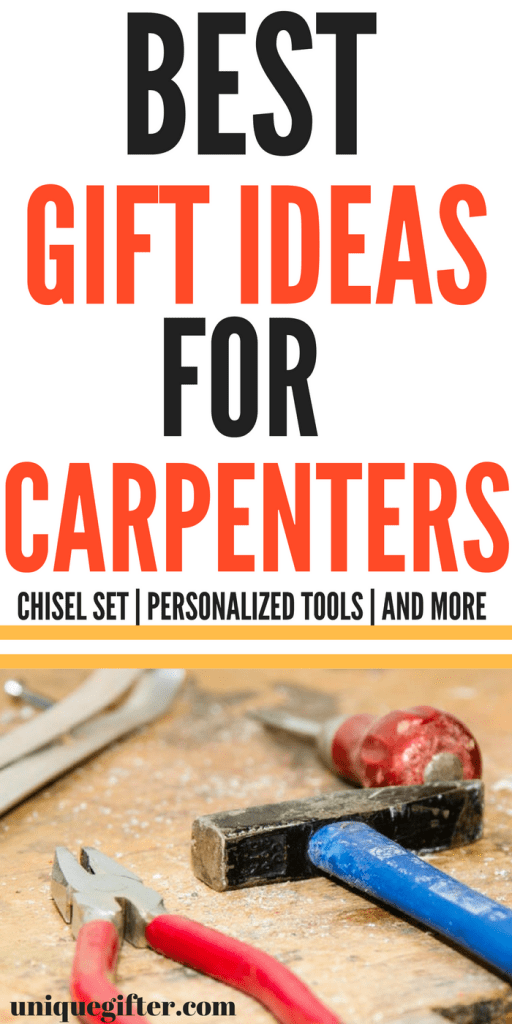 Carhartt Carpenter Overalls

19. Router
To enhance their projects, get them a router for creating designs on wood. This item can also be used to make holes.
DEWALT Compact Router

20. An Inspirational Book
At some point, they will feel like they are drowning in work. Get them something inspirational to keep them going.
The Carpenter: A Story About the Greatest Success Strategies of All