Disclosure of Material Connection: Some of the links in this post may be "affiliate links." This means if you click on the link and purchase an item, I will receive an affiliate commission. Disclosure in accordance with the Federal Trade Commission's 16 CFR, Part 255. This site is a participant in the Amazon Services LLC Associates Program, an affiliate advertising program designed to provide a means for sites to earn advertising fees by advertising and linking to Amazon.
So you're getting married? Congratulations! Now it's time to ask those wonderful friends and family members to stand by your side and support you on your wedding day. These geeky groomsmen gifts are just the ticket to sweeten the deal when asking someone to be a groomsman or as a thank you for their support.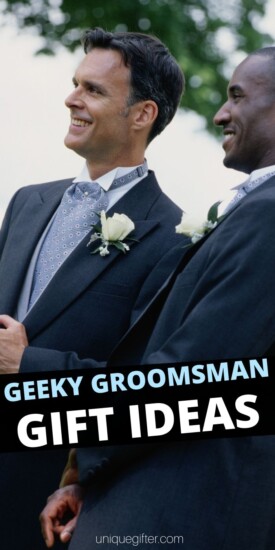 Geeky Groomsman Gifts
Plus, let's be honest here, you really want to suck up to the group of guys who are going to be responsible for planning your bachelor party. So get them one of these cool, geeky, nerdy, awesome gift ideas, so they know how grateful you are for them in your life.
Star Wars Bottle Opener
You can choose an alignment for your groomsmen or give them one that suits their personality best. Either way, this geeky groomsman gift is a perfect small gift idea that most guys actually use.
Gotta Drink it All Flask
Don't just do it because the flask says so, drink it all because you want to. This Pokemon inspired flask is perfect for those geeky original fans who are now old enough to get married, even if we don't feel like it sometimes.
Mushroom Pint Glass
This pint glass will give them an extra life! Well, they'll at least feel like they've gotten one after they down a favorite beverage in this Mario themed 1-Up pint glass.
Achievement Unlocked Can Holders
Life would be a lot more fun if you got achievements for accomplishing milestones. Give them a little taste of that by using these customizable can cozies to ask someone to be your groomsman.
Dangerous To Go Alone Keychain Bottle Opener
This one is a reference from the original Legend of Zelda game on the NES. In the game, it's a sword, but this much more useful in the modern era gift is a keychain with a bottle opener on it. Because you never know when you may need it.
Dragonhide Flask
Another video game reference, another geeky groomsman gift idea. This one is meant to look like it's made from Dragonhide, a material from the Elder Scrolls games.
Warp Pipe Can Cozy
If you want to keep drinks cool while also keeping that condensation off your hands, this is exactly the gift you need. It also happens to look like a retro version of the Mario warp pipe, which means it's even more awesome.
God of War Stein
Instead of a piece of glassware, make your groomsmen buddies feel really badass with a wooden custom-made mug. You can order these personalized with their names on them, so everyone will know who their heroes are.
Game of Thrones Decanter Set
They'll stay warm all winter when you gift them this decanter set inspired Game of Thrones. You can order the items individually or get them a whole set as a great thank you gift for a groomsman.
LEGO Bowtie
You can buy these in two different sizes and pick whichever center color matches your wedding the best. You'll have to decide if you want to stick some more bricks to this or not, though.
LEGO Brick Necktie
If you're a LEGO fan but aren't quite committed to the LEGO bowtie, this is a great compromise. It still looks classy but still has a cool LEGO man blueprint design.
Star Trek Lapel Pin
This is what we call compromise with your spouse to be. Give one to each of your groomsmen and bring a little bit of geek to an otherwise conventional wedding with these
Geeky Belt Buckle
Another great groomsman gift idea that they can wear on your wedding day! Gift everyone matching geeky belt buckles, like these ones made from recycled circuit boards.
Game Over Socks
A little self-deprecating humor can be fun sometimes. Gift these funny socks to all your groomsmen to wear on your wedding day to remind you of what's to come.
Totoro Boutonniere
This adorable boutonniere is inspired by the Studio Ghibli film "My Neighbour Totoro." It's a great alternative to flowers!
Math Cufflinks
Just in case your groomsmen need to "size up" the situation. These cufflinks look like a triangle and protractor, ideal for any unexpected math problems.
Geeky Bow Tie
Instead of referencing one thing, have everyone look like a classic geek! These wooden bow ties definitely will look geeky, but also awesome, matching on all your groomsmen.
Custom Dress Socks
Some of the best groomsmen gifts are the ones that are customizable. Make each one of your best buds feel like a superhero on your wedding day by gifting everyone a pair of these super dress socks.
Comic Book Boutonniere
Another alternative to real flowers, these handmade paper boutonnieres are made from recycled comic books. A nice nerdy addition to your wedding party's suits!
Marvel Necktie
Everyone in your wedding party should have matching ties, or at least the ones you pick out. Get your groomsmen each one as a gift idea so they can bring out your inner geek (and theirs) during the ceremony.
A Nice Watch
This is especially great if your groomsmen aren't the type to already own a nice watch to wear on your wedding day. Of course, get them something with a geeky twist like this nerdy math watch.
Circuit Board Tie Clip
If you don't want geeky neckties (or can't convince your spouse to be to agree), opt for something classy and more subtle. These recycled circuit board tie clips look great while still reminding everyone that you're a geek. Perfect.
Superhero Socks
If you're looking for a groomsman gift idea that they can not only wear to the wedding but also wear again after then these Marvel socks are a good option. Gift them each a pair or all 5 for a groomsman gift.
D-20 Cufflinks
There isn't much more iconic than the D-20 if you're a tabletop gaming geek. Particularly if you have an affinity for DnD. Make your friends (and let's be honest, probably your DnD gaming group) wear these great geeky cufflinks at your wedding.
Gameboy Enamel Pin
This Etsy shop also has listings for a bunch of retro game consoles, so no matter what kind of gaming geek you are, there's a pin for you, which is perfect if you're looking for something to gift to your groomsmen that can also be worn on their lapel.
Sunglasses
If any part of your wedding is going to be outdoors, you'll all definitely be wanting sunglasses. Give everyone a coordinating pair for a great photo op!
Pac Man Suspenders and Bow Tie Set
Don't leave the Jr. Groomsmen out of the gift-giving! This set is perfect for the boys in your wedding party or your ring bearer.
Floppy Disc Coasters
Remember, floppy discs? They're pretty much obsolete now, so you might as well use it a drink coaster. This would make a great geeky gift idea for your groomsmen for sure.
Millennium Falcon Cutting Board
Practical gift ideas for your groomsmen like this Star Wars-inspired cutting board are a nice way to say "thank you" while giving something they can actually use.
Up To No Good Sign
This is probably the motto for the bachelor party, too. Give your Harry Potter geek groomsmen this sign to hang up in their houses or man caves.
Beer Pong Tapestry
You can order this tapestry in a variety of sizes, depending on how big of an impact you want to have on your groomsmen. How awesome would this be hanging in their garage or game room, though?
Meme Dry Erase Board
Who doesn't love meme gifts? A clever idea with this one would be using the meme format to ask the guys to be your groomsmen with this gift.
You Shall Not Pass Mat
If you're a geek chances are your groomsmen are geeky too. Gift them some funny unwelcome mats like this one with the famous Lord of the Rings quote.
Beer Wall Art
The chemical composition for beer isn't beryllium and erbium, but putting the two elemental symbols together does spell it, which is close enough.
D-20 Coasters
These would be a great thank you gift for geeky groomsmen for after the wedding. Add in a case of their favorite beer for an even better surprise.
Star Wars Luggage Tag
If they're going to be traveling to attend your wedding, include some geeky luggage tags with your "will you be my groomsman" gifts. This Star Wars one is a great choice (and perfect reference).
Horde Soap
The Horde is one of the main political factions in WoW (World of Warcraft). This soap is excellent for washing all the blood off their hands after a tough battle, or just being clean for your wedding.
Organ Transplant Cooler
What's inside? Probably not human organs, but it's funny and geeky all the same. Do your friends a favor and fill it with their favorite beverage for a great groomsman gift idea.
Winter is Coming Comb
This little geeky groomsman gift idea packs a lot of punch. First of all, it's a Game of Thrones reference. Secondly, you can get it personalized to make it even more thoughtful.
Doctor Who Sleep Mask
If you'll be staying in a hotel, and especially sharing one, give your groomsmen their own sleeping mask as a gift. Of course, it wouldn't be a geeky gift if it was just a regular mask: so look for ones that suit your interests like this Doctor Who sleep mask.
Geeky Soap
Give them one or give them all four! Your groomsmen are going to love these geeky soaps, and even better, they can actually use this gift.
LED Potion Lamp
You can tap this lamp to choose the color and watch it magically transform to all the classic potion colors. (Red for healing, blue for mana, etc.)
Geek Magnetic Poetry
Your groomsmen can go from just regular men to poets in a matter of seconds! Just gift each one a copy of this geek magnetic poetry kit to unleash the writer inside.
Nacho Average Groomsman Shirt
The best shirt choice to hand out as groomsman gifts on the night of your bachelor party or other wedding party events, that's for sure.
Legion of Regrettable Villains Book
Sometimes you just need a good laugh. This book is filled with the most regrettable supervillains that were ever dreamed up in the land of comic books.
Funny Math Shirt
This funny math shirt says, "Friends don't let friends drink and derive," which is probably true. It would make a great shirt to give out at your bachelor party, too!
Shakespeare Party Game
Instead of traditional groomsmen gifts give them something they can actually enjoy: like a party game. Choose one that suits each of their personality so your gang will always have a good variety of games to play at get togethers.
Funny Party Game
Yet another party game choice, this one is generic enough that almost everyone (at least with a sense of humor) will have a good time. The perfect game to accompany a few drinks!
Ministry of Magic Underwear
Oh, dear. Not the kind of Harry Potter reference most people expect to see in their daily lives. Give it to your groomsmen and buy a pair for yourself for the wedding night.
Geeky Keychain
Keychains are a small gift that can easily be kept as a long term reminder of your wedding. Give them something that symbolizes your geeky nature, like this Star Wars keychain that can be ordered in your choice of lightsaber color.
Thor Pen Holder
It will look like Mjolnir is sitting on their desk, but this replica actually serves a purpose beyond defending the Galaxy: it's a pen holder. They say the pen is mightier than the sword, so maybe it's also mightier than the magic hammer.
The Best Geeky Groomsman Gift – A Portable Charger
This is the gift you give your groomsmen before the wedding or when you're first asking them to stand up for you. Wedding days are long and often at venues with little or no power. Help your groomsmen keep their phones charged so they can be reached by the babysitter or keep taking photos all night long.
Lightsaber Chopsticks
Eating any kind of food is much more fun when you are using lightsaber chopsticks. The best part is that they are completely reusable too. No waste that way.
Chemist's Spice Rack
Anyone who is into science or even a chemist teacher will get a huge kick out of this spice rack. Not your average run of the mill spice rack.
Guardians of The Galaxy Baby Groot
Whether you put some pens in it or a small plant, it's a great gift idea. Guardians of the Galaxy fans will go wild for it.
Dry-Erase Whiteboard Refrigerator Magnets
Wow, you have never had a dry-erase whiteboard as awesome as this one. It looks just like a gaming device. Everyone needs one of these.
Doctor Who Villains and Monsters Mad Libs
Mad Libs are hilarious and are sure to give a good time. Especially if the groomsman have been having a few drinks. Be prepared for some laughs on this one.
An Unexpected Cookbook: The Unofficial Book of Hobbit Cookery
This terrific cookbook is packed full of traditional Hobbit recipes that a true geek is going to enjoy. Any groomsman who loves to cook will enjoy it too.
Star Wars Death Star Cutting Board
Having a Star Wars-themed cutting board is terrific for any groomsman who is also sort of geeky too. Star Wars buffs will enjoy any kind of gift like this one.
Anatomic Brain Specimen Coasters
There are ten different anatomic brainspceimen coasters per set. Imagine how much everyone will enjoy discussing these unique coasters.
These geeky groomsman gifts are a lot of fun for any nerdy wedding party. Hopefully, your spouse needs little convincing to put all the geek gifts you want on the wedding registry.