Disclosure of Material Connection: Some of the links in this post may be "affiliate links." This means if you click on the link and purchase an item, I will receive an affiliate commission. Disclosure in accordance with the Federal Trade Commission's 16 CFR, Part 255. This site is a participant in the Amazon Services LLC Associates Program, an affiliate advertising program designed to provide a means for sites to earn advertising fees by advertising and linking to Amazon.
[Photo – CC Attribution Share Alike – guybo]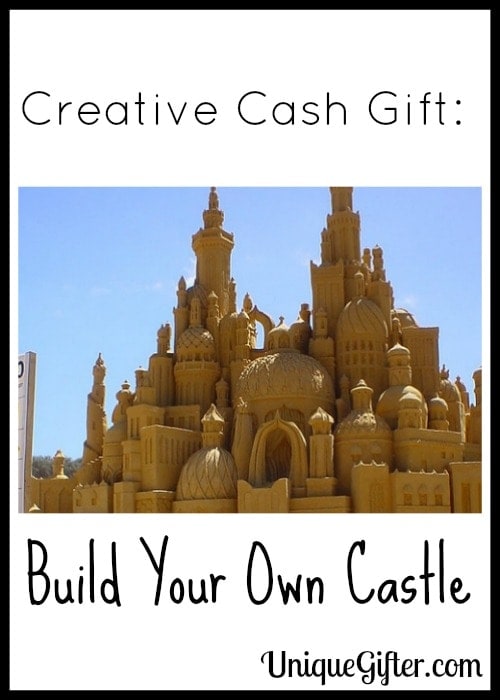 Ingredients:
Sand Shovel or Serving Spoon from the registry
Plastic Sand Pail, preferably with a lid
Quinoa, Couscous, Barley or similar food
Recipe card(s) utilizing the food "sand" you selected
Saran Wrap
Cash – Cheque(s), Coins or Bills
Ribbon
Approximate Cost: $10 + Cash Gift

First off, I have to admit that this idea is 100% stolen and slightly modified, I can take very little credit for it. My brother and his spouse received a variation on this theme.
To make this gift, collect the above list of ingredients. Most of them should be available from a dollar store or big box retailer for only a few dollars. You can find a suitable "sand" type of food in the bulk section or in a regular package at your grocery store or Bulk Barn.
Step One: Wash, rinse and dry your plastic pail and shovel, just like you would with dishes.
Step Two: Take the cash that you are giving and wrap it individually in the cling wrap. Roll bills up into little cylinders, so they don't get too messed up. Money is dirty! When you're done, wash your hands.
Step Three: Pour the grain of choice into the pail, making a layer. Start adding in some of the money and then cover it over with the grain. Repeat until the pail is full and the money is nicely distributed throughout.
Step Four: Seal the plastic pail over with cling wrap, or put the lid on.
Step Five: Use the ribbon to tie the sand shovel on to the bucket.
Step Six: Put the recipe card(s) for the "sand" in with your gift card.
A message idea for your card:
Congratulations on your marriage – today is a day that you will treasure for years to come. We wish you all the best as you join together to make your house your home. We invite you to dig for some more treasure, to help you build your castle.
Bonus points if your friends watch How I Met Your Mother and will get a reference to Robin's song "Sandcastles in the Sand."
Variation – aka what my brother received: A Chinese takeout box filled with quinoa and cash, with a spoon and a note inviting them to dig for buried treasure!