Disclosure of Material Connection: Some of the links in this post may be "affiliate links." This means if you click on the link and purchase an item, I will receive an affiliate commission. Disclosure in accordance with the Federal Trade Commission's 16 CFR, Part 255. This site is a participant in the Amazon Services LLC Associates Program, an affiliate advertising program designed to provide a means for sites to earn advertising fees by advertising and linking to Amazon.
This gorgeous patchwork old jeans pillow highlights your red fabric scraps. The denim heart pillow is a fabulous upcycling project combining ripped jeans with cotton fabric. This pillow cover has a ragged edge finish, personally I love the frayed finish.
DIY Blue Jean Pillows with Applique Hearts
I've made a few denim pillows (cushions) myself over the years with different designs, this time I have chosen to combine different textures with hand stitching, using one pair of upcycled old jeans.
Luckily for myself I have a big stash of old jeans just waiting to be upcycled. My family and friends know how much I love to repurpose and upcycle denim, so they save me their old jeans.
I love working with upcycled materials, trying to do my little bit to reduce my carbon footprint. The water use in producing jeans is enormous. Denim is a hardwearing fabric, old jeans have so much potential to be repurposed. Do check out my rather large list of recycled old jeans projects. One of the easiest projects to upcycle old jeans into is denim pillows.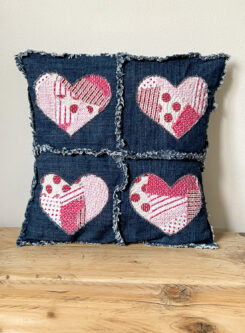 How to Source Old Jeans
If you don't have an old pair of jeans waiting to be upcycled ask your family and friends for an old pair, people often have an old pair at the back of their wardrobe. Alternatively, old jeans can be found at thrift stores (charity shops), and online selling platforms.
Sashiko Inspired Red Hearts
These are made with your old fabric scraps, placed together and joined with a simple running stitch. Sashiko is a technique originating in Japan, used to repair clothes. It is a method of attaching pieces of cloth patches to clothes to reinforce or repair holes, frayed areas and over holes.
The red hearts are inspired by this technique.
Ready for the directions? You can find the how to tutorial video for the homemade denim heart pillow sewing project right here:
The denim pillow is made in three parts. First, prepping the denim pieces for the pillow, then the sashiko inspired red hearts and finally assembling the pillow cover together. You will notice that unusually you are sewing with all you seam allowances on the outside
Easy Denim Pillow
The finished pillow measures 15 ½" perfect for a 16" insert pillow. The technique for closing this pillow is the envelope technique, no need to tackle zips and denim together!
It is easy to adjust the sizes to suit your desired pillow, when working out your measurements for your pillow ensure you include a seam allowance. For example, to make a finished heart pillow cover 17 ½" suitable for a an 18" pillow insert you will need 9 ¾" square of denim and two back pieces of denim 18" by 11 ½"
Materials
Large pair of old jeans

Fabric scraps

Sashiko thread or embroidery floss

Heat n Bond
Tools
Sewing machine

Quilters ruler

Rotary Cutter

Scissors

Needle & Pins

Iron
Prepare Denim Pieces
You need four squares for the front and two pieces for the back of the denim pillow. Mine measure 8" square, and two rectangles 10" by 16 ½". This gives a finished pillow cover of 15 ½". Cut these pieces of denim out and set aside. I find a quilters ruler helpful when cutting out squares and rectangles, or alternatively use a paper template.
Fabric Red Hearts
Start by cutting out base fabric measuring 7 " square (as you can see I used scraps as a base, just ensure your base is large enough for hearts that fit into the denim square). Place pieces of red/pink themed fabric together randomly over your base fabric and hold in place with pins, you are creating a patchwork layer of random shapes. I am working with six different prints of cotton fabric (left overs from making valentine heart lighted decorations).
Once you are satisfied with the composition thread a needle with sashiko thread (or embroidery floss) and tie a knot. Bring the needle through from the wrong side of the fabric and stitch running stitch in a straight line.
Keep repeating your running stitch with parallel lines. Don't worry too much about the evenness of your stitch as when the denim pillow is finished no-one will notice this level of detail. I find this hand stitching a relaxing activity and love how the fabrics blend together with the addition of the sashiko inspired stitching.
Repeat this process so you have four pieces of sashiko patchwork fabric.
Create the Patchwork Front Cover
Cut out four squares of heat n bond 7" You will notice this is smaller than the denim squares, this is to ensure the heat n bond is not in the seam allowance. If you have heat n bond within the seam allowance the denim will not fray beautifully. Iron centrally to the wrong side of each denim square, following the manufacturer's instructions.
Remove the paper from one of the heat n bond squares. Fold a piece in half and cut out a heart along the fold (thus creating a heart with mirrored sides). My heart is approx. in height and in width. If you are not happy with your first attempt you have another three pieces of paper to experiment with!!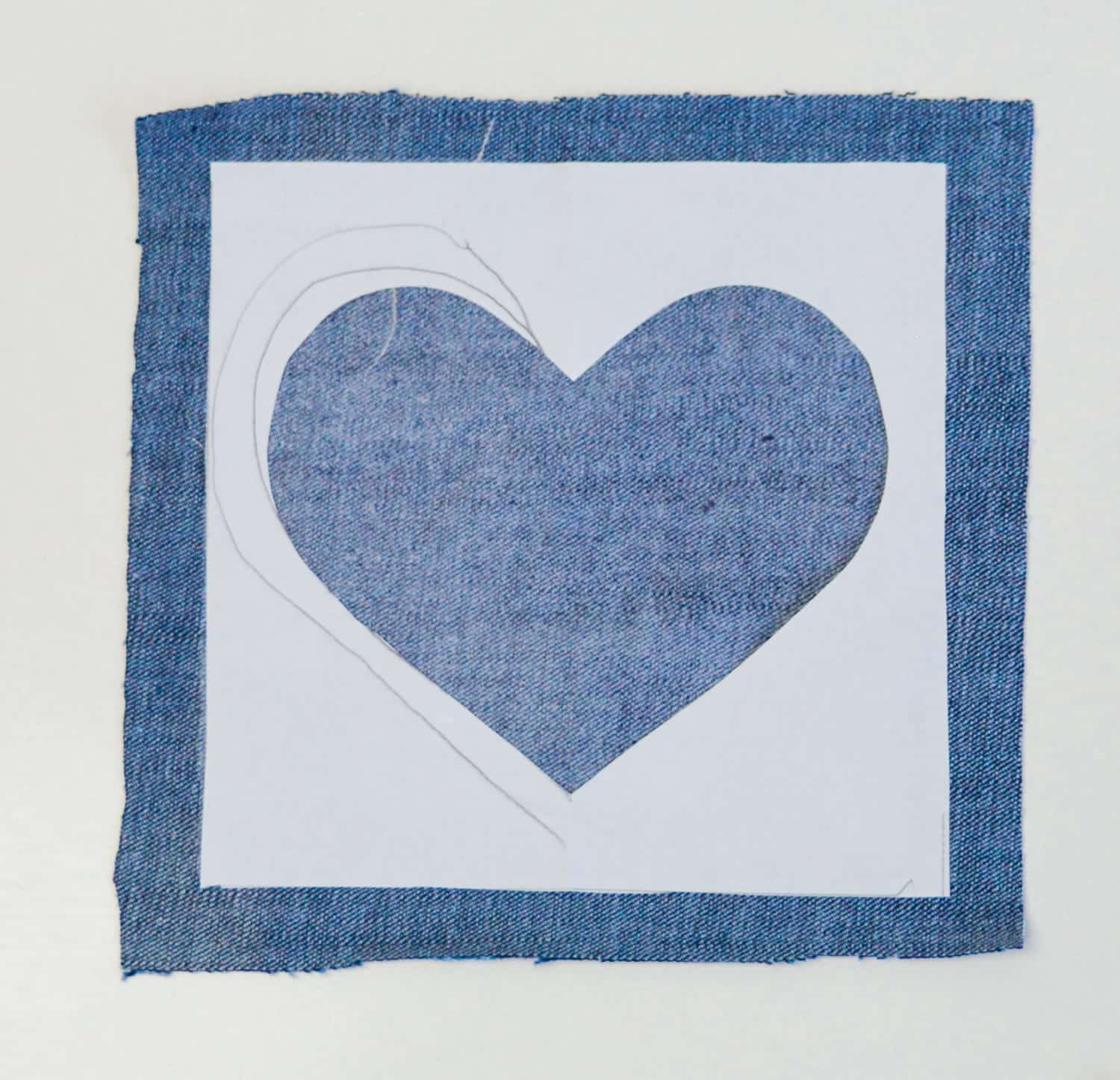 Once you have a template you are satisfied with place it centrally onto your denim square, mark the heart with tailor's chalk. Then cut out the heart, ensuring you do not cut through the surround of the denim (I fold the denim and snip through the fold within the heart area to create space for my scissors). Repeat for all four denim pieces.
Place your red fabric behind the heart, ensuring the red fabric does not stray into the denim seam allowance of 5/8". Once you are satisfied with the position of the red fabric iron to adhere the two fabrics together (I use parchment/baking paper to protect the iron and ironing board from any excess heat n bond). Repeat for the other squares.
To add the finishing touch to the hearts, using a red thick thread such as embroidery floss hand stitch a running stitch all around each heart on the denim fabric. This not only offsets the heart with a finishing touch it also secures the two fabrics together.
Place two hearts wrong sides together, stitch along one edge a seam allowance of 5/8". Repeat with the second pair of hearts. Now place these two panels wrong sides together to form a square when opened out, and stitch this seam.
Open out and press open.
Assemble the Pillow Cover
This cushion uses the envelope method for finishing. Gather your two back pieces of denim.
Fold over twice one long edge and press, then machine stitch to finish (I suggest a denim needle for your sewing machine). Repeat for your second back piece of fabric.
Place the pillow cover wrong side facing you. Overlay the two pieces of denim (right sides facing) so the finished edges overlap each other, and all the outer edges align. Pin to hold in place. As you can see my rear pieces are a little larger so I will trim these to be the same size as the front cover.
Machine stitch a 5/8" of a seam allowance all round.
To complete the denim heart pillow we are going to snip in to the seam allowance (taking care great care not to cut the stitches of the seams), every 5/8" or so. Snip into the seam allowance all around the edge of the pillow and also along the patchwork denim seams.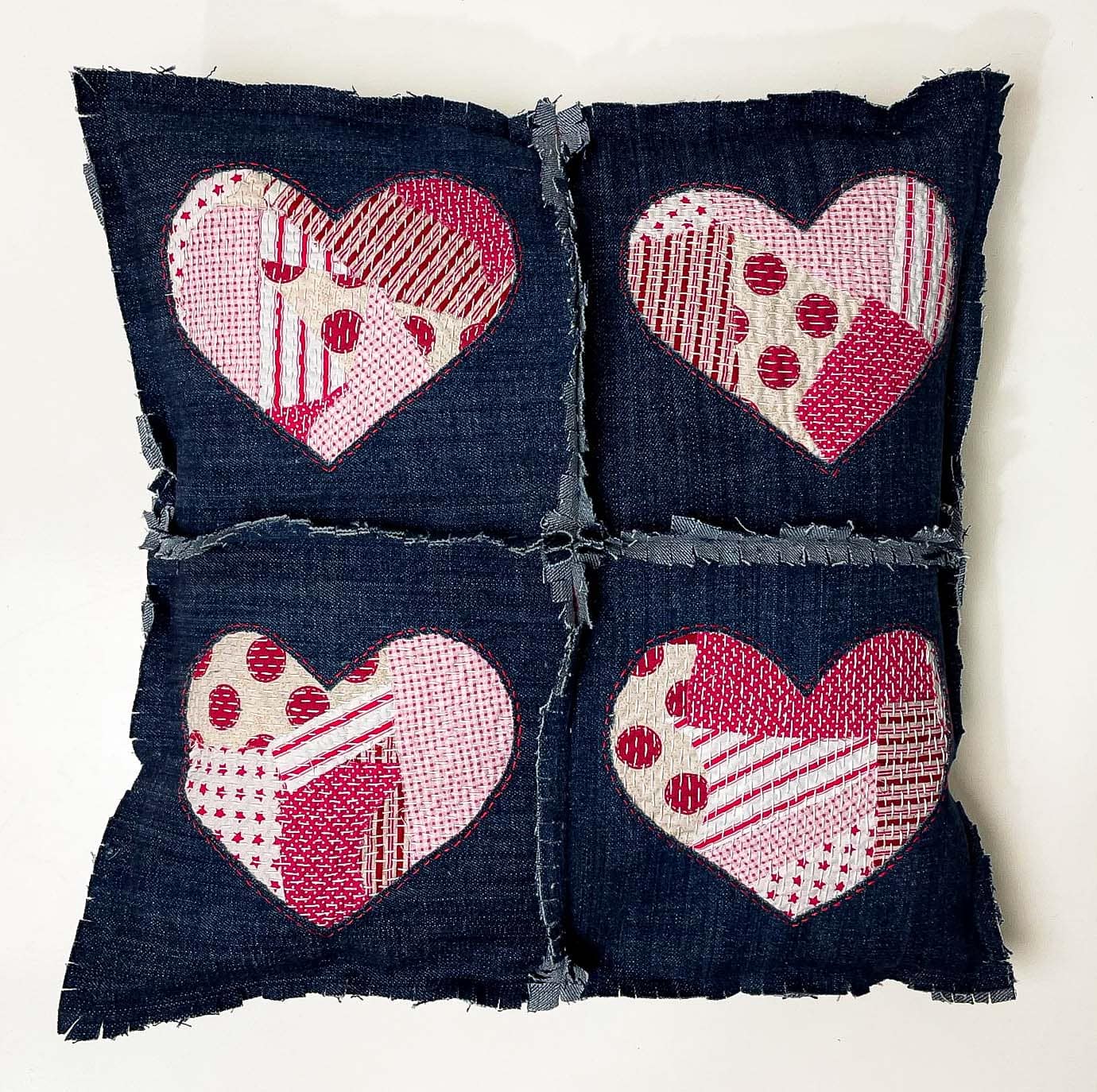 To fray the edges and give the ragged look the last step is to wash your finished pillow, the act of washing will fray the edges. If you do not wish to ace the pillow cover through the washing machine you can wet the seam allowances and brush with a pet brush, this will also fray the edges of the denim. The fray edges have a Boho vibe.
Personally I loved the frayed ragged effect with old jeans, see my chevron denim cushion, or my ragged denim quilt for further ragged denim projects. I am such an avid fan of upcycling denim I could go on and on!! Whatever you do please do not throw away unrepairable jeans, be inspired and make something.