Disclosure of Material Connection: Some of the links in this post may be "affiliate links." This means if you click on the link and purchase an item, I will receive an affiliate commission. Disclosure in accordance with the Federal Trade Commission's 16 CFR, Part 255. This site is a participant in the Amazon Services LLC Associates Program, an affiliate advertising program designed to provide a means for sites to earn advertising fees by advertising and linking to Amazon.
Everyone wants to be comfy and cozy, even gamers. These video game pillows for gamers are the perfect gift idea for those video game fanatics in your life, no matter what kinds of games they're into.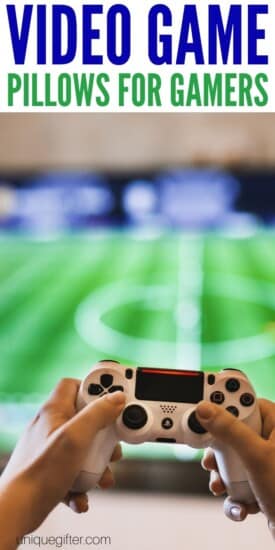 See also: Want to 'level up' your gift wrapping skills? Check out this article on gift wrapping videos to help you wrap one of these awesome video game pillows!
Video Game Pillows For Gamers
These video game pillow gift ideas would be great throw pillows in a gaming room or living room, or perfect for a gamers' bed. Kids would love them, but that doesn't mean that grown ups won't either. In fact, some of these game references will probably only be known to older gamers, and we're quite ok with that.
Xbox Controller Pillow
Have you ever felt the need to lay your head down on an Xbox controller and take a rest? Maybe that's just me? Either way, this controller pillow is wonderfully detailed and would look great on someone's gaming couch.
007 Pillow
A reference to the class James Bond 007 game that was insanely popular back in the 90s, this pillow will definitely hit millennial gamers in the retro feels.
Editor's Choice Video Game Pillows for Gamers
A favorite from Marvel games, this Captain America neck pillow can make you feel heroic with how relaxing it is. The perfect accessory for any gamer who can't get enough superheroes in their life.

Pong Pillow
Or, if you want to get really retro, this Pong pillow looks like it's straight out of the classic Atari game. A perfect piece of nostalgia or to celebrate modern gaming's humble origins.
Legend of Zelda PIllow Covers
You can get a hand sewn Link pillow cover, a Zelda pillow cover, or go for the pair! They'd be adorable sitting on both ends of someone's sofa for sure.
Mario Star Cushion
You can't have video game pillows for gamers without including something from Mario. This star pillow is the perfect choice; it's so cute and looks like it could be right out of the video game!
Game Controller Rattle
It's a video game pillow is perfect for the tiniest gamers in your life. They can't hold a real controller just yet, but they will like playing with this soft version designed for tiny fingers.
DDR Arrow Plush
For someone in your life who's a big fan of the popular arcade game "Dance Dance Revolution". This cushion looks like the arrows that you use to guide your steps in the game.
Editor's Choice Video Game Pillows for Gamers
3…2…1…GO! This mushroom stuffed pillow will have you feeling like a real life Mario Kart character! buckle up, and don't forget to take the shortcut!
Minecraft Neck Pillow
You can order these comfy neck pillows in kids' or adult sizes. One side has Minecraft zombies on fire, the other can be customized with your choice of soft minky fabric.
Thwomp Cushion
Another Mario friend, this guy normally is there waiting to crush you flat. Only this time you get to crush it flat but resting on this Thwomp cushion.
Video Game Controllers
This pillowcase and insert set has four generations of Nintendo controllers on it: NES, SNES, Nintendo 64, and the Gamecube.
Majora's Mask Cushion
This handmade throw pillow is a highly detailed, yet cozy, replica of the Majora's Mask from Zelda. Perfect for Nintendo 64 era Legend of Zelda fans!
Arcade Pillow
Video games aren't just home game consoles. Remember where it all came from with this throwback arcade machine pillow. Also remember the good ol' days when games were just a quarter.
Mooshroom Cushion Cover
Anything Minecraft is so instantly recognizable with its pixelated art style. This custom made pillow sham is no exception; it's been pieced together to look just like the face of a Mooshroom (mushroom cow) in Minecraft.
Undertale Pillows
These might not be the most popular video game pillows for gamers, but they are unique. Based off the popular indie game "Undertale", these pillows feature Sans, Papyrus, and Frisk, or you can get them all 3.
Cactuar Pillow
So cute it almost looks like it's not referencing the popular game series "Final Fantasy". But it is, and has a Cactuar on the front doing its iconic pose. This video game pillow would look great in a stylish gaming room!
Editor's Choice Video Game Pillows for Gamers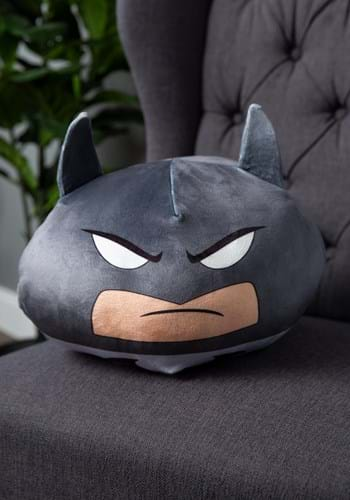 How adorable is this guy?! Let the Black Knight guard your bed, couch or office chair with this awesome 11" Batman pillow.
Smash Throw Pillows
These Super Smash Bros plus pillows are fantastic! Whether they're Nintendo Switch gamers or still remember playing the original on the Nintendo 64 (or both), they're going to love this SSB logo throw. It comes in two options, so the hardest part is going to be deciding between classic and galaxy colours.
Luigi Pillow
Move over Mario, there's a new hero in town. Even though Luigi always seems to come second you can give this Luigi video game pillow as a gift to someone who always has him number one in their heart.
These video game pillows for gamers are perfect to cozy up with on a long gaming session or just to decorate a gamer's space. Whether it's a pillow cover or a handmade plush throw, there are so many choices out there that you can definitely find a video game pillow for every type of gamer. (And it's a gift they'll actually love!)