Disclosure of Material Connection: Some of the links in this post may be "affiliate links." This means if you click on the link and purchase an item, I will receive an affiliate commission. Disclosure in accordance with the Federal Trade Commission's 16 CFR, Part 255. This site is a participant in the Amazon Services LLC Associates Program, an affiliate advertising program designed to provide a means for sites to earn advertising fees by advertising and linking to Amazon.
Being a first time dad on Father's Day is a super special time. If you have a dad in your life who will be experiencing his first Father's Day this year, whether he is your husband, boyfriend, or son, this list will help you pick a gift that will be awesome for him! Check out these ideas and think about what he likes, or what he needs. Some of these are even pretty funny, because let's face it, being a first time dad is pretty wild!

Father's Day Gifts for First Time Dads
Father's Day is Just Around the Corner!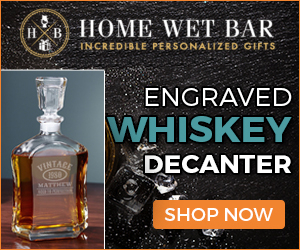 Personalized "New Dad Survival Kit"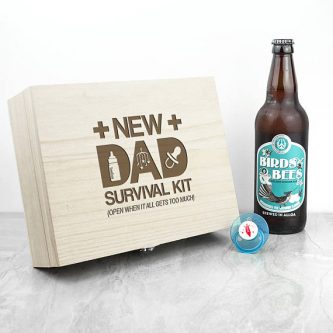 Every first time dad needs a new dad survival kit! This one is full of good things like beer, cheese, snacks, a diaper, and much more.
"World's greatest boyfriend husband Dad" Coffee Mug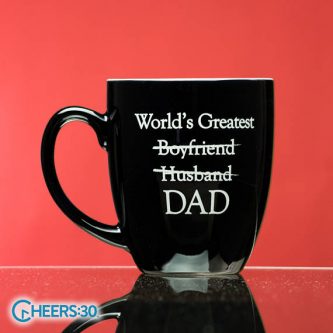 First he was the boyfriend, then he was the husband, and now he is the dad. He is taking pride in his new role and this coffee mug will give him that sense of pride every morning.
"Happy 1st Father's Day" Keychain with Picture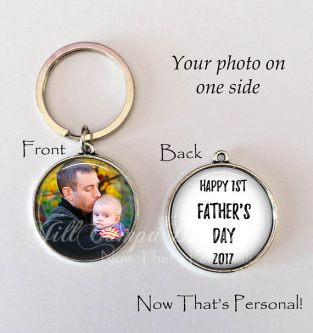 Personalize this keychain with a picture of your new baby, or daddy and the baby, and commemorate this happy event for the first time dad in your life this Father's Day.
"Dad, a son's first hero" Pocket Knife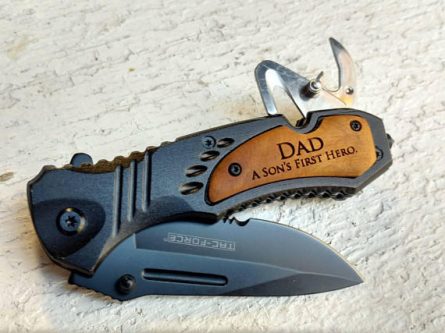 It's true, dads are their son's first heroes, and every dad needs a pocket knife when they go camping, fishing, or hunting.
"Official selection Father of the Year" Shirt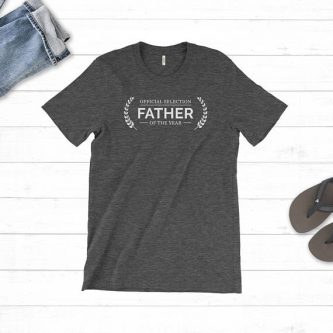 He is now the 'Father of the Year!' Every first time father is the father of the year. They are the only one their baby knows.
"Super daddy" Wooden Batman Cufflinks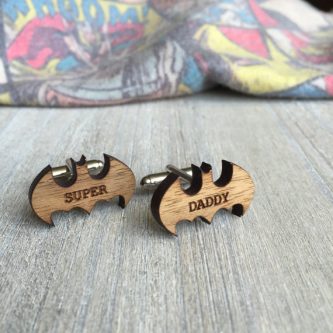 Beautiful and unique, these "super daddy" wooden Batman cufflinks will go really nice with his suit.
First Time Dad Beer Bottle Labels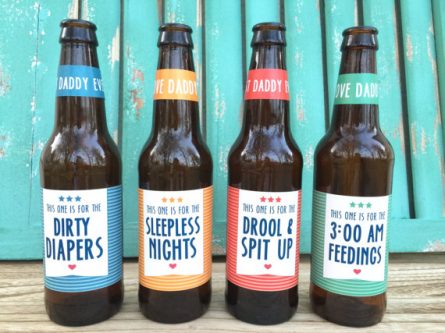 Every first time dad needs some beer to wind down, and these labels are perfect for him this Father's Day.
"Papa Bear" and "Baby Bear" Matching Shirts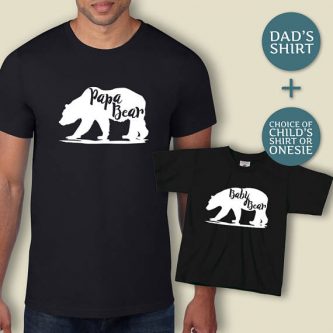 Papa Bear and Baby Bear need to match, and with these matching shirts, they will match in style!
Custom Photo Drawing of Daddy/Baby Picture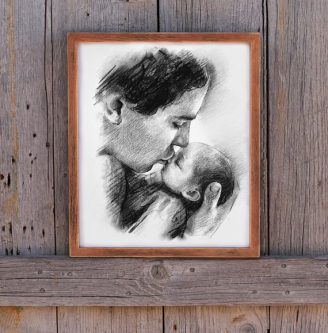 A custom drawing from a daddy and baby picture will be so beautiful and unique. Frame it before you give it to him and it will be even more special.
"Dad est. _____" Money Clip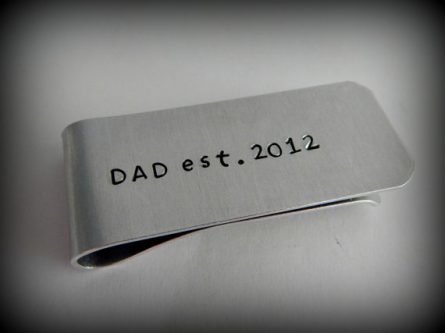 Another way to commemorate his first Father's Day is with a money clip with the year he became a father. So, if he doesn't care to carry his wallet around all the time, he will find this extra useful.
"Achievement unlocked: fatherhood" Coffee Mug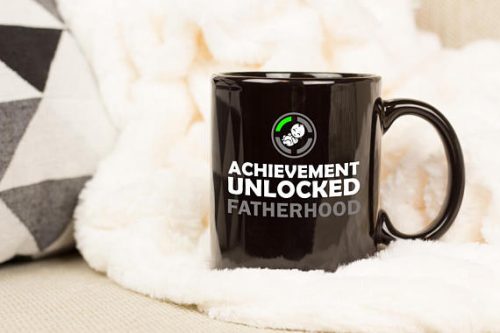 This mug is the perfect gift for the gamer dad who became a father in the past year! He has achieved another level in life, fatherhood!
"Daddy, my first love, my forever hero" 5×7 Picture Frame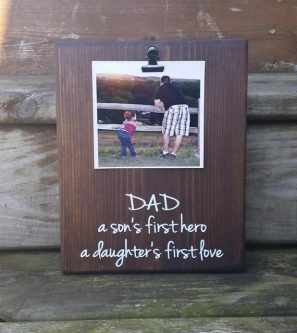 Dad is their daughter's first love, and he will forever be her hero. Place a picture of him or both of them in this frame and give it to the first time dad in your life this year.
Custom First Time Daddy Engraved Wooden Coasters
These customized first time daddy engraved wooden coasters will look nice and remind him of how special it is to be a father this Father's Day.
"It may not always be easy, but you're the love of my life" Quote on Canvas, Customized with Baby's Name and Date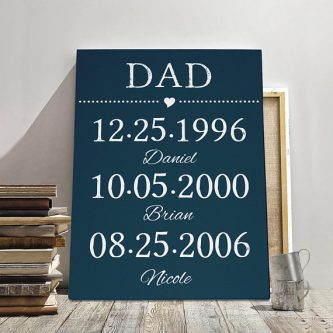 Being a father, and sometimes being the kid, is not always easy, but the two of them will always be there for each other.
"Warning: there may be traces of poop on this shirt, new dad on duty" Shirt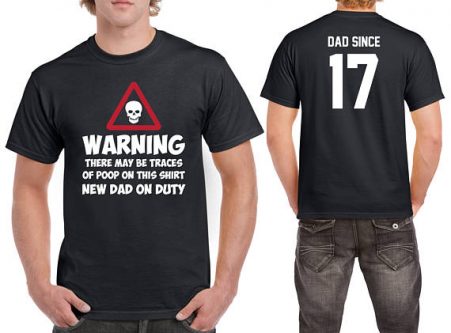 As a parent who changes diapers, there is always a chance of getting poop on your clothes. This funny shirt will both gross people out and make them laugh at the same time.
"Daddy since _____" Beer Mug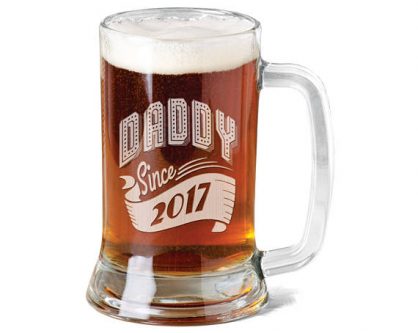 He became a daddy, and now he needs a mug for dads!
"Dad my best catch" Personalized Keychain with Fish Charm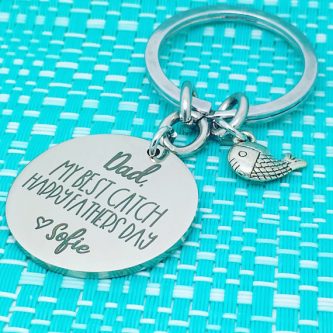 If the first time dad in your life is a fisher, he needs this keychain that says that he is his kid's best catch ever.
"Amazing Dad" Cake Topper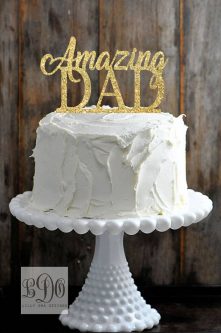 Bake him a cake and add this topper in addition to buying him a gift, and you will be sure to make this his best Father's Day ever, in addition to it being his first!
"The walking dad" Shirt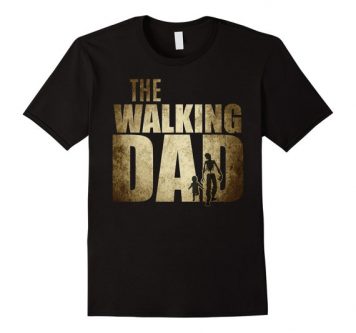 If he is a fan of the Walking Dead, or he simply walks like a zombie after being up with the baby all night, he definitely needs this shirt!
"Happy 1st Father's Day" Notebook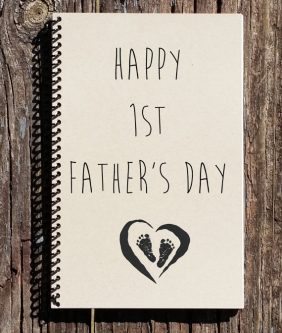 He can use this notebook for notes, journaling, or keeping memories of his kid throughout the years.
First time dads need unique gifts for their first Father's Day, and this list is full of unique gifts. Which one would he like to receive the most?