Disclosure of Material Connection: Some of the links in this post may be "affiliate links." This means if you click on the link and purchase an item, I will receive an affiliate commission. Disclosure in accordance with the Federal Trade Commission's 16 CFR, Part 255. This site is a participant in the Amazon Services LLC Associates Program, an affiliate advertising program designed to provide a means for sites to earn advertising fees by advertising and linking to Amazon.
Daughters are special. When they become mothers themselves, it is even more special, for both of you. However, sometimes it is hard to pick that "perfect" gift for our loved ones for Mother's Day or other holidays. If you don't know what to get your daughter, or you simply need a little help, then this list is for you.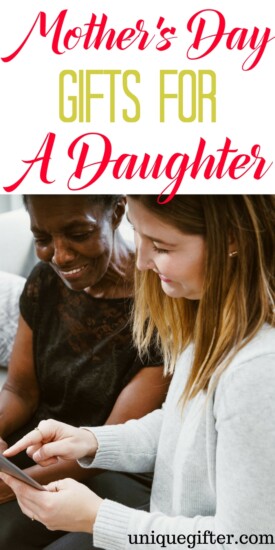 Mother's Day Gifts for a Daughter
"My heart is wherever you are" Coffee Mug
Your heart is wherever she is, and her heart is wherever you and her kids are. This is the best reminder she could get each day as she drinks her coffee or tea.
Mother/Daughter Heart Infinity Necklace Set
Kind of like a best friends necklace, this pair of mother/daughter heart infinity necklaces is a lovely way for you two to make this Mother's Day even more special.
Essential Oil Travel Case
If your daughter loves essential oils, she definitely needs this pretty essential oil travel case to carry them in while she is on the go.
"He gently leads those that have young Isaiah 40:11" Printable
Remind her that God is taking care of her, and leading her as she raises her kids, with this simple and powerful printable.
"The Mama Book" Journal
Every mom needs a mama book that guides them through the seasons of being a mom, right?
"I speak fluent toddler" Coffee Mug
If her kids are toddlers, she likely speaks fluent toddler. It's kind of a job requirement as a mom.
Dainty Custom Bar Bracelet
This dainty bar bracelet can be customized with the phrase of your choice. Choose something that is as simple as "I love you" or have your own phrase stamped on there!
Peppermint Whipped Foot Cream
With all the time she spends chasing after kids, cooking, doing housework, and whatever else she does while on her feet, she needs a revitalizing peppermint foot cream to put on at the end of the day.
"Mom of boys" Shirt
For your daughter who is a mom of boys, she needs this shirt. It takes a special mom to keep those boys alive with all of their daily daredevil activities.
"Strong & brave" Clear Glass Coffee Mug
She is strong and brave, remind her of this with a unique clear glass coffee mug. She will need the reminder, because as you know, being a mom is tough work.
Rouxbe Online Cooking Course
Does your daughter have a passion for delicious food? Splash out and get her an online cooking course from Rouxbe. There are tons of class choices and as a bonus, she can bake or cook you delicious delicious food while she takes a course! Click here to read a full review of Rouxbe.
Personalized Writing Journal
Moms sometimes need to journal out their thoughts and feelings, and what better way to do that than a personalized writing journal with her initial on the front?
Rose Clay Mask
Pampering herself will be the best part of her self-care routine as a mom!
"Because twins" Wine Glass
If she is a mom of twins, she needs that wine even more than a mom of a singleton. Multiples moms are unique.
Rustic Recipe Box
As she builds her home for her kids, she needs a recipe box to keep those recipes in, whether they are ones you have passed on to her or ones she has made herself.
"Tired as a mother" Shirt
Moms are tired, period. For those days where the previous night has been rough, she will be glad to put this shirt on so maybe, just maybe, people will leave her alone a little better.
"First mommy meltdown" Wine Bottle Labels
That first mommy meltdown is a momentous occasion!
Custom Photo Blanket
A custom photo blanket with her kids and family's pictures on it will keep her home looking cozy and warm.
Personalized Ring Dish
A wedding band, an engagement ring, one of those mom rings with her kids' birthstones on it, and all the other various rings she has, they all need somewhere to go so they don't get lost. Some nights she just doesn't have the energy to put them all safely in a jewelry box, and this ring dish with her initial on it is the next best thing.
Mama Bear Keychain
She is truly a mama bear to your grandkids, she keeps them safe and well cared for every day.
"Blessed mama" Coffee Mug
With all the work that comes with being a mom, she might need the reminder from both you and her kids that she is truly blessed.
Your daughter's Mother's Day will be so special with a thoughtful gift from you, and there are so many wonderful ideas here. Happy shopping!