Disclosure of Material Connection: Some of the links in this post may be "affiliate links." This means if you click on the link and purchase an item, I will receive an affiliate commission. Disclosure in accordance with the Federal Trade Commission's 16 CFR, Part 255. This site is a participant in the Amazon Services LLC Associates Program, an affiliate advertising program designed to provide a means for sites to earn advertising fees by advertising and linking to Amazon.
The title of 'stepdad' is a true honor, being a man who can earn the love and respect of their lover's children while giving them the love and support that they deserve. This gift guide celebrates the men who put their best foot forward to step up to this moniker this Father's day. May they not be forgotten, the 'bonus dad's' out there! Check out these father's day gifts for my stepdad and yours too!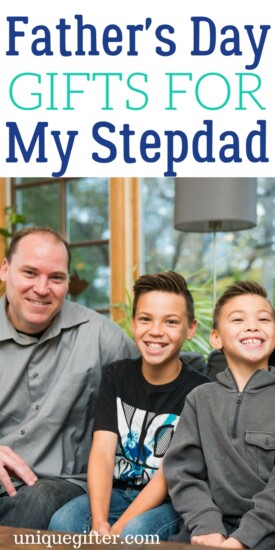 Father's Day is Just Around the Corner!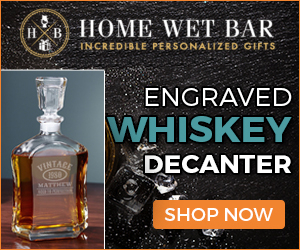 Father's Day Gifts for My Stepdad
Just think about your stepdad and what he means to you! There are lots of Father's Day gifts for my stepdad out there and yours! Keep reading to find the perfect gift. 
Hilarious Stepdad Pillow
This throw pillow comes with a hilarious saying celebrating the stepfather in every way, with whimsical font and a loving heart it's sure to win the thumbs up from any stepdad this year!
'Father of the Groom' Bracelet
This cute bracelet is made from bronze and features the cute saying 'father of the groom'. Any stepfather would love something so personal, as this bracelet offers several levels of customization.
Endearing Stepfather Hoodie
This casual black hooded sweatshirt features the phrase, 'love not DNA' with a heart and arrow adorning the front. It symbolizes the love between stepfather and step child.
Bonus Dad Father's Day Mug
This practical white coffee mug reads, "Best Effing Bonus Dad Ever". Enough said.
Silver Father's Day Tie Clip
This tie clip is engraved with the phrase, "Best Daddy Ever". It's well suited for formal attire such as a suit, so your stepfather can show it off at work!
Stepfather Keychain
This keychain is shaped in the dog-tag style and reads, "Thank you for being the Father you didn't have to be". A sincere and cute message, any stepfather would be overjoyed to receive such a nice gift on father's day!
Funny Stepdad Hoodie
All fathers, stepdads or otherwise, can appreciate a good hoodie. They're for relaxing with a beer at the end of the day on a summer afternoon. This one reads, "If stepdad can't fix it, nobody can!"
Custom Father's Day Spoon
This handmade custom spoon is a unique find any stepfather would be happy with. "Best Stepfather Ever", is engraved on the metal spoon and will serve as a constant reminder of your admiration!
Bonus Dad Card
This cute handmade card reads, "Thanks for being my bonus dad!" itis cute message is nothing less than adorable and would be appreciate by stepdads the world over!
Customized Printed Beer Pint Glass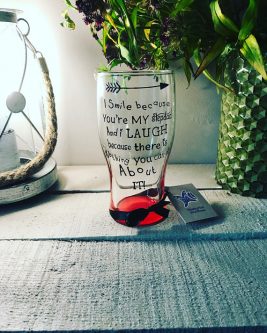 There are some stereotypical Father's day gifts that really aren't so bad, those include beer or tools. This one is a really unique handmade pint glass with a cute and whimsical message on the front.
Personalized Stepfather Stitched Picture Frame
This picture frame encloses a handmade burlap cross stitch with the definition of a stepfather and a custom name!
Stepfather Money Clip
This stainless steel money clip is an adorable momento for any stepfather, besides who couldn't use one? It features a cute message that is sure to be a winner on father's day.
Cute Block Print
This adorable custom handmade block print is an ideal Father's day gift, it's handwritten style font makes it an excellent decor piece that any stepfather would be proud to have on their desk or in their home.
Hilarious Stepfather Coffee Cup
This white coffee cup has the 'nutritional facts' that make up the ideal stepfather, it's comedic and sincere, a perfect combination for any winning father's day gift!
Stepfather Book
This book is a guide for fathers entering the blended family lifestyle, it's a self-help book with tons of information.
Dad Joke Shirt
Stepfather and biological father's alike can appreciate this "Dad joke loading" shirt, it's appeal is sure to get some grins from your stepfather this year!
CarGuys Car Cleaner
All dads can get down with some car interior cleaner! As an added bonus gift, help your stepfather detail his beloved car!
Funny Stepdad Apron
In the classic Keep Calm Carry On style, this cooking apron reads Don't Panic, Stepdad's in the Kitchen! This is truly a unique piece that you can catch your stepdad in by the barbecue!
Customized Wall Piece
This piece of wall art consists of hands holding a baseball with custom print on it. For the sporty stepdad's out there, this one's for you.
Stainless Steel Bottle Opener
This bottle opener is one-of-a-kind with the quote, "World's best Dad, love, the Reason you Drink" complete with a heart and engraved print this opener is one gift that can be appreciated by just about any father.
Bring me a Beer Socks
These crew socks feature a hilarious saying that will have your stepfather in an absolute riot!
Hopefully, you've found exactly what you're looking for this father's day. Show your stepfather some love, and trust me when I say he'll truly appreciate it.