Disclosure of Material Connection: Some of the links in this post may be "affiliate links." This means if you click on the link and purchase an item, I will receive an affiliate commission. Disclosure in accordance with the Federal Trade Commission's 16 CFR, Part 255. This site is a participant in the Amazon Services LLC Associates Program, an affiliate advertising program designed to provide a means for sites to earn advertising fees by advertising and linking to Amazon.
These glamorous formal bags for evening wear are impressive! It's taken me a while, and perhaps a lot of randomly browsed photos from awards shows, to come around to the idea that a good formal wear outfit looks great when paired with appropriate accessories. A piece of jewelry can be good but not everyone likes to wear earrings, necklaces, and bracelets, or some combination thereof. A handbag is much more essential if you carry keys, phone, but sadly lack pockets. We'll address the pockets issue some other time, on to the glitz and glamour!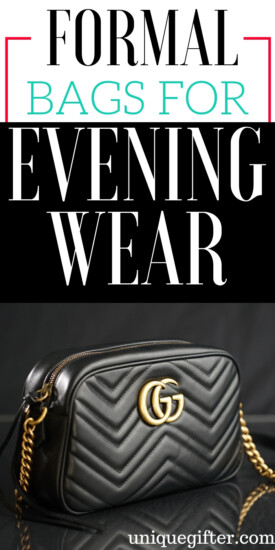 Stunning Formal Bags For Evening Wear
Enhance the look of your formal dress with a glamorous handbag (plus there are some playful ones too!)
Glitter Clutch
When it's an all that sparkles night, you're going to want to reach for this unicorn glitter bag solidly packed with glitter on both sides.
Japanese Knot Bag
Elegant and simple, this gold satin fabric with shades of orange and red cherry blossom is lined with Champagne satin fabric.
Pearl Beaded Bag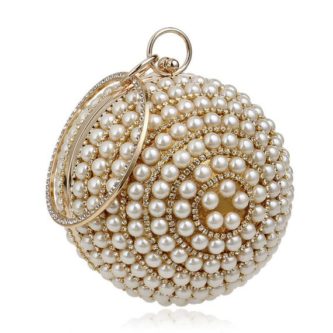 This incredibly cool dome shaped pearl clutch comes Red blue silver gold black, and loops over your wrist with linking rings.
Marilyn Clutch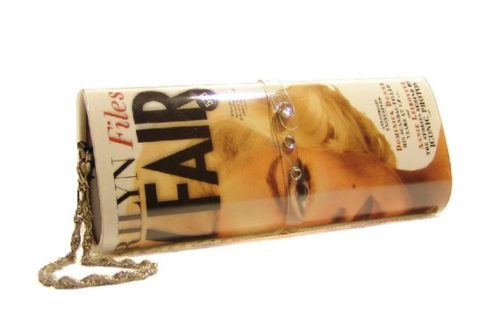 The magazine clutch bag design of the 60s has been updated to let you swap out the magazine cover. This ships with a Marilyn Monroe magazine cover so you may want to hold off on the switch for a while.
Silk Bag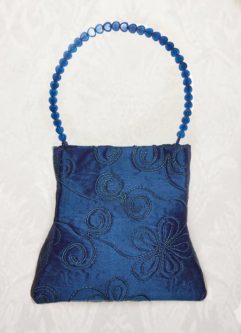 This petite silk purse can be made in a variety of fabrics and they all come with a custom matching beaded handle.
Batman Clutch
This clutch would be perfect for an Eisner award ceremony. Formal and fitting.
Acacia Clutch
A breathtaking piece of hand-carved art, this clutch has both form and function. It's made from acacia wood and closes with a magnetic clasp.
Peacock Clutch with Optional Chain
This lush green peacock fabric clutch can be customized with or without a chain, and various lengths are available for your comfort.
Brocade and Leatherette Shoulder Bag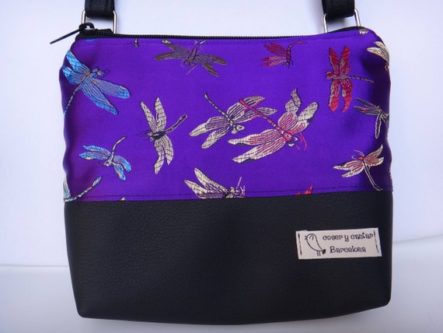 This crossbody shoulder bag is made from a combination of leatherette and silk brocade.
Felted Orchid Bag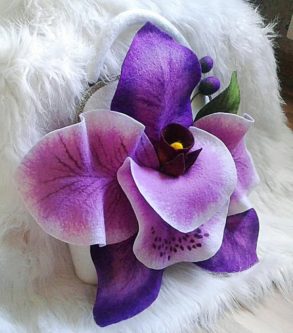 The stunning felt orchids covering one side of this bag almost makes the bag itself seem irrelevant. Happily, lightweight beauty is also a sturdy bag with clasps.
Jane Austen Clutch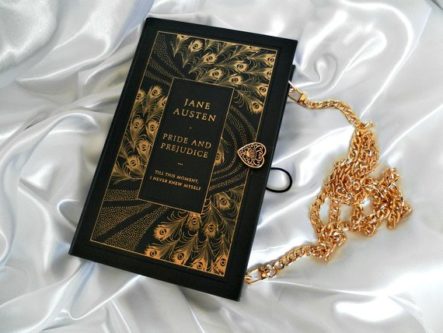 This Jane Austen inspired clutch is made of colors and textures that hark back to the period and hides a little quote from Pride and Prejudice.
Hard Case Clutch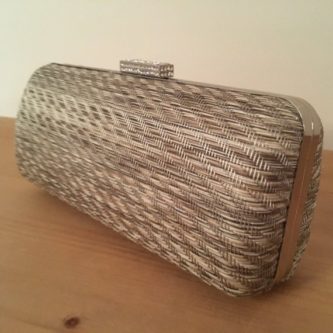 This hard case clutch runs on the larger side, protects fragile items like glasses better than a soft sided clutch and comes in woven brown, bronze and gold fabric.
Fairytale Felted Bag
A very summer evening feel had this bag. The gorgeous felted bag looks a lot like you're carrying a basket of flowers from the woods.
Royal Blue Vegan Clutch
A large clutch in Royal blue, this vegan leather bag comes in handy when you need to carry more than a key and a phone.
Cute Dollie
Put the finishing touches on that flapper outfit, or elevate a neutral palette, with this vintage-inspired black and silver clutch on a chain.
White Crochet
This white lace purse conceals a blue fabric interior for that "something blue" and comes with a removable wristlet.
Brocade Frame
This frame purse comes in bold brocades: black, pink, purple, turquoise, and red. All five colors are stunning against the silver threads and kiss lock frame.
Metallic Tote
When a compact little clutch simply won't do the job! This metallic fabric elevates a workhorse tote bag to evening status.
Mother of Pearl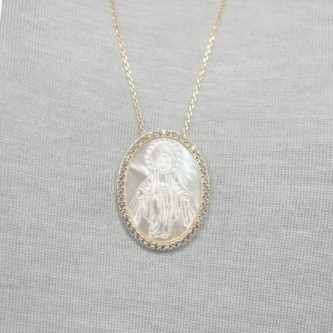 The essence of a mermaid on land, this clutch puts the mother of pearl against a gold frame and the result is as much purse as it is an art piece.
Crystal Pave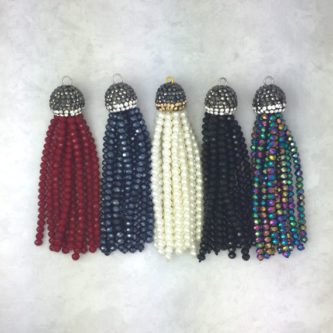 A sparkle lover's delight, this hard clutch shimmers with crystals and comes with a detachable chain.
This is a unique variety of formal bags for evening wear, so I am confident you will find the perfect fit for your event.