Disclosure of Material Connection: Some of the links in this post may be "affiliate links." This means if you click on the link and purchase an item, I will receive an affiliate commission. Disclosure in accordance with the Federal Trade Commission's 16 CFR, Part 255. This site is a participant in the Amazon Services LLC Associates Program, an affiliate advertising program designed to provide a means for sites to earn advertising fees by advertising and linking to Amazon.
Finding romantic five senses gifts for him is reasonably simple to do. This list is perfect for finding a gift for your man that will make him feel romantic, want to get closer to you and maybe even make him feel a little mushy. Men don't admit it, but many of them like to feel loved and pampered. They love things that make them feel special even for the holidays. So if you are looking for something to entertain all of his senses, you are looking in the right place. Have a look at these unique gift ideas that are sure to wow him.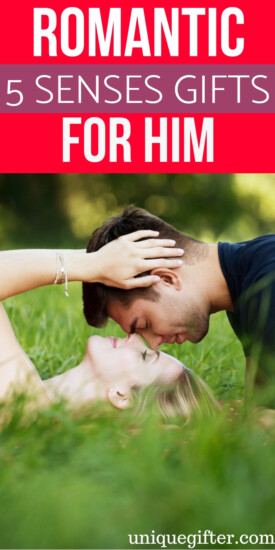 Creative & Sensual Romantic 5 Senses Gift For Him
Show him how much he means to you with these flirty gifts!
Sight
What I Love About Your Journal
Tell him how much you care with this fill in the blank journal. You both will feel warm and romantic and maybe even share a few giggles.
Make Me A Comic
If your man is a comic strip fanatic, he will be in love with this gift and will love you even more. It is a romantic and flirty gift idea that he can enjoy for years to come.
Strip or Tease Adult Couples Game
He will love getting a little frisky with you when you play this sultry and romantic game. It is made specifically for couples and will ignite your desires!
Coffee Mug
He will feel so loved and cherished each time he looks at his new coffee cup. It is adorable and sweet.
Babydoll Lace Sleepwear
There is nothing he will love more than being extra close to you. Give him this flirty gift, and you will be both enjoy it.
Touch
Relaxing Massage Oil
Help your man relax after a long day by rubbing his muscles, and it will make you both feel closer to each other. Plus, he is going to love it!
Editor's Choice Romantic 5 Sense Gift for Him 
This DIY kit of 5 Senses Date Night cards with romantic date ideas at home will help you create an amazing Paper anniversary gift for him!
The craft kit includes everything you need to create an unique romantic date night gift: mini note cards with romantic date night ideas for each of the five senses your loved one, greeting cards, blank cards, 5 senses gift tags in the same style, date night box template, a list of gift ideas for each of the five senses.
You can create this amazing gift without leaving your home.
Kisses 4 Us
Is a terrific gift idea to get you both kissing in many different ways. It is thrilling, fun and fantastic for a game night in.
TickleMe Plant
This plant is outrageously cool! He is going to love watching his plant grow and tickle it! Plus, he will think of you each time he sees it.
Wrist and Ankle Cuffs
Prepare for some kinky fun when he opens this gift! He will for sure feel playful and romantic.
Sound
Custom Sheet Music Art
Choose your favorite song, title, and artist then you will have a beautiful sheet music art piece that will impress. Pick a particular song that is important to your man, and he will feel sentimental.
Mix Tape
Help bring mix tapes back, because they were always so fun and thoughtful. It is amazing how songs can describe your thoughts and feelings so well.
Sound Wave Art
A beautiful art piece that you can have customized for the guy you love. He will think this is awesome!
Smell
Drakkar Noir
Delicious smelling cologne makes a perfect gift. You both win when he wears it.
Urban Sundry Wax Candle
This is the manliest candle ever! It has a smokey and sexy smell that everyone enjoys. Cinnamon, birch tar, and cedar leaf are a few of the scents.
Taste
Whiskey Decanter Set
Once he drinks whiskey out of this decanter set, he will never want it any other way. Plus, it looks so fabulous that he will be impressed!
Romantic Gift Set
Romance will be in the air when you break out this gift set. It has everything you need except for the cuddles and kisses to have a fantastic night.
Blackmagic Nestle Chocolates
Indulge in the sweet goodness of this rich and creamy chocolate. It tastes fabulous!
Edible Male Gummy Undies
If this one doesn't make you giggle, I don't know what will! Get frisky and have some fun with these edible undies.
Picnic Basket
A picnic is always a great way to be romantic. It doesn't matter if you have your picnic outside or indoors on the living room floor.
Say Cheese Wine Gift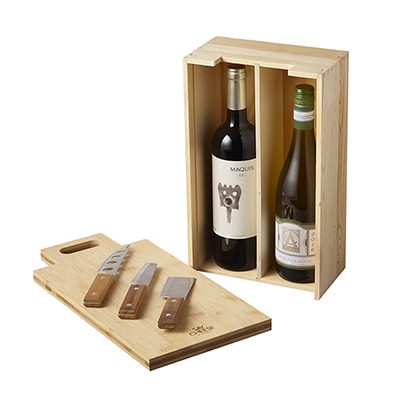 He will love the delicious flavors of wine, and this set also comes with a cutting board and cheese cutting knives. You will both be in for a long and romantic night.
Intrigue him with these romantic 5 senses gifts for him. Each one is made to be engage and a perfect way to celebrate a romantic occasion.