Disclosure of Material Connection: Some of the links in this post may be "affiliate links." This means if you click on the link and purchase an item, I will receive an affiliate commission. Disclosure in accordance with the Federal Trade Commission's 16 CFR, Part 255. This site is a participant in the Amazon Services LLC Associates Program, an affiliate advertising program designed to provide a means for sites to earn advertising fees by advertising and linking to Amazon.
"Creativity is contagious, pass it on", Albert Einstein said. It's true for sure. Just think of all the creative people in your life and how they share their infectious enthusiasm for new thoughts, crazy ideas and consuming passions with you.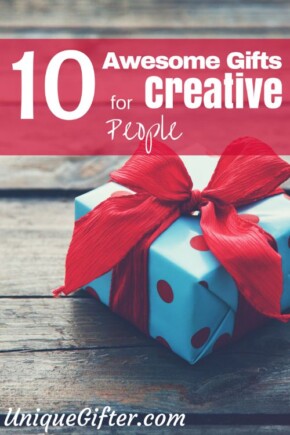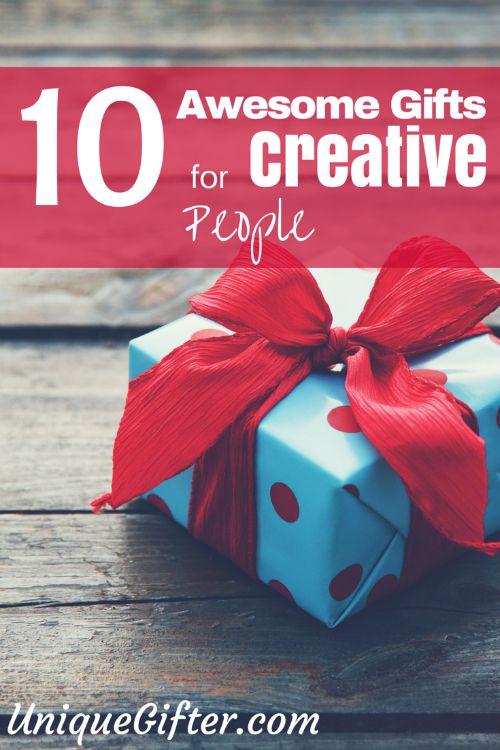 You may think that getting a gift for creative people is difficult. Not really; you just have to think different. Follow their passion and it will lead to some awesome, gift ideas that are as creative as the people themselves.
Whether they're writers, painters, photographers, people who love to cook or fanatic crafters, it always helps to remember that creative people love making new things; they have an appetite for curiosity and can spot beauty in the most unusual things. So gifts that celebrate or further their passion, gifts that inspire them are always welcome. Here are a few creative gift ideas to get you started.
10 creative gifts for creative people
#1 gift for creative people: Film roll salt & pepper shaker
You know how photographers get nostalgic about the days of film roll? Get them their own special keepsake in the form of this clever film roll salt & pepper shaker.
#2 gift for creative people: Porcelain artist brush rest
This gift is just right for those who love painting but hate their brushes rolling around and spreading colour.
#3 gift for creative people: Sensu digital brush
The world is going digital and can the arts be far behind? The Sensu digital brush is a perfect gift for those who want to make the painting transition from canvas to digital devices like tablets and smart phones.
#4 gift for creative people: Cake decorating machine
Know someone who loves baking and is obsessed with turning out the most deliciously perfect cakes? The cake decorating machine can help them transform ordinary cakes to ones that look like they've come out of the best cake shop in town.
#5 gift for creative people: Letter pressed cookie cutters
If we're talking cakes, can cookies be far behind? These letter pressed cookie cutters are yet another favourite with those who love baking.
#6 gift for creative people: The Elements of Style Illustrated
The Elements of Style Illustrated, by William Strunk, Jr. and E.B. White is a classic writing guidebook — a perfect gift for writers.
#7 gift for creative people: Personalised rubber stamps
Know someone who runs their own creative business from home? Gift them a personalised rubber stamp that they can use at work.
#8 gift for creative people: DIY screen printing kit
This gift is perfect for those who are devoted DIYers. This kit can be used for all kinds of DIY screen printing projects.
#9 gift for creative people: Comic photo frame
This is a fun and quirky gift for comic book enthusiasts. They get to create their own comic version of the adventures in their lives.
#10 gift for creative people: Easy change artwork frames
This gift is just right for children who are busy churning out artwork by the dozen. A perfect way to store and display a budding artist's work.
Ahem, so I might have been slacking a bit lately. Those film salt and pepper shakers are so fun! Thanks to Sarita for yet another awesome post! She's guest posted here before, you can read her super cute DIY kid's shirt tutorial. When she's not sharing her great ideas with us, she shares them on her blog I Love GiftingYes, I like exclamation marks, a lot.)