Disclosure of Material Connection: Some of the links in this post may be "affiliate links." This means if you click on the link and purchase an item, I will receive an affiliate commission. Disclosure in accordance with the Federal Trade Commission's 16 CFR, Part 255. This site is a participant in the Amazon Services LLC Associates Program, an affiliate advertising program designed to provide a means for sites to earn advertising fees by advertising and linking to Amazon.
House of Cards is one of those TV shows that appeals to a wide demographic: those people who are interested in politics; those people who like a dark, brooding drama; those people who appreciate seeing strong, badass women on their television screens; and those who just really enjoy Kevin Spacey. I am all of the above. If you know someone who is as well, this is the gift ideas list for you!

Gift Ideas for Fans of House of Cards
Road to Power Watercolour Print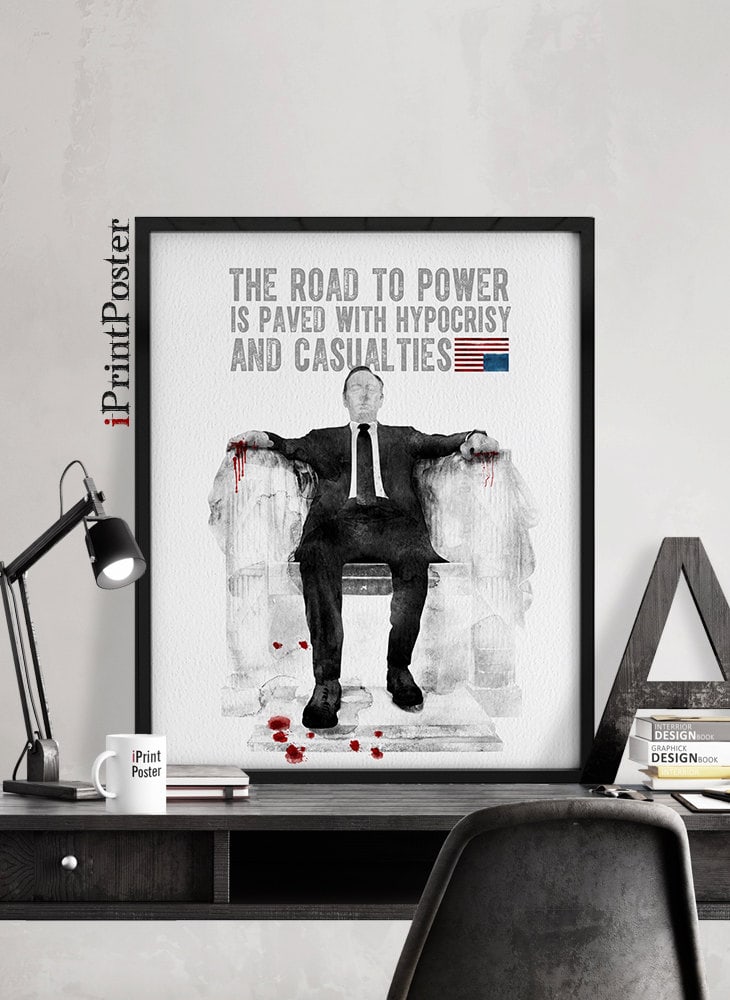 This is one of my absolute favourite quotes from the whole series, and I know I'm not alone. The combination of those words and the image of Frank sitting menacingly with blood on his hands is both terrifying and awesome. This print will fit perfectly into any House of Cards fan's home.
American Flag Skinny Tie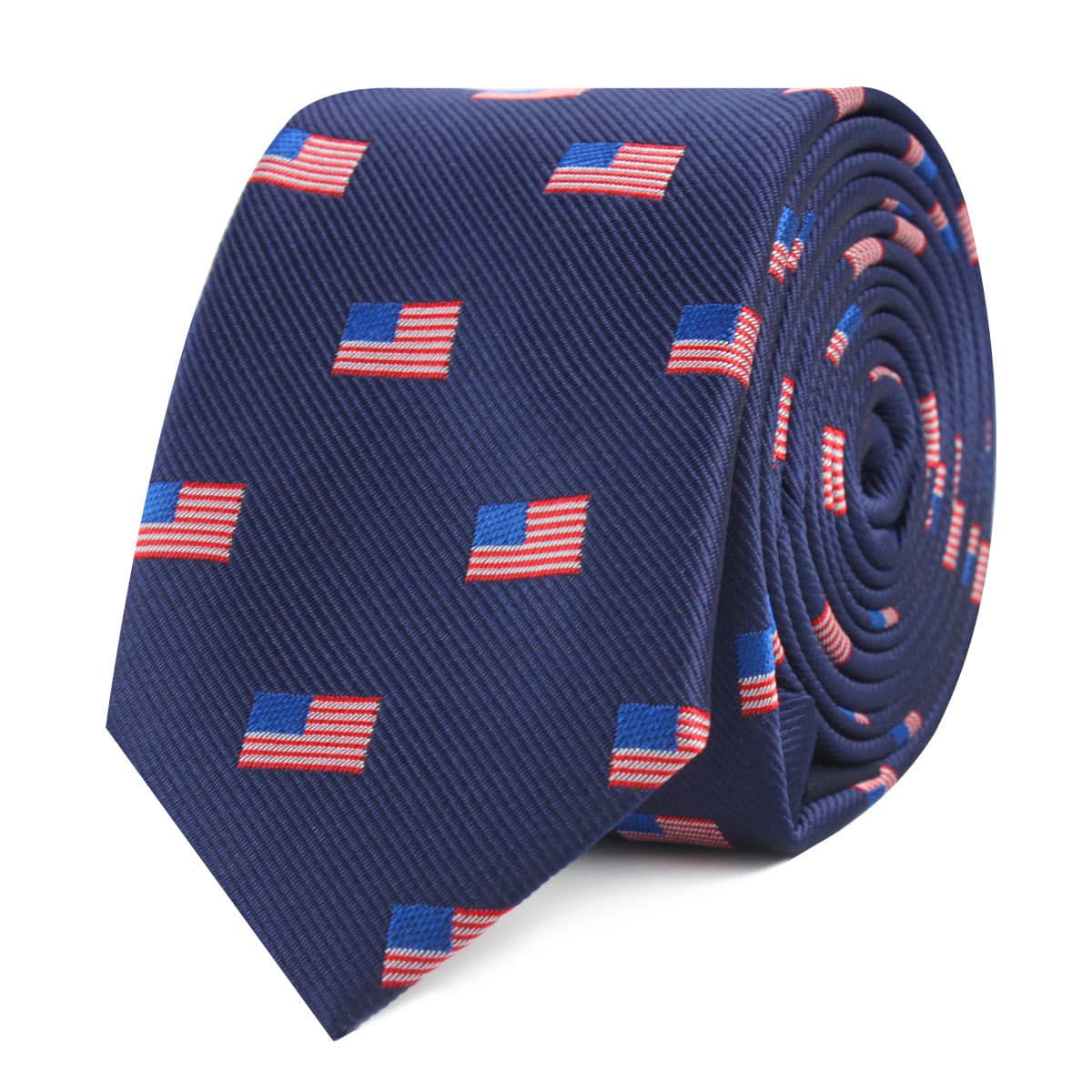 I'm sure Frank Underwood would've sported one of these skinny ties at some point or another. Made from 100% microfibre, this tie is sure to have you rising up the ranks and speaking in metaphors in no time. There's even the option to get a matching pocket square!
Hunt or Be Hunted Chopping Board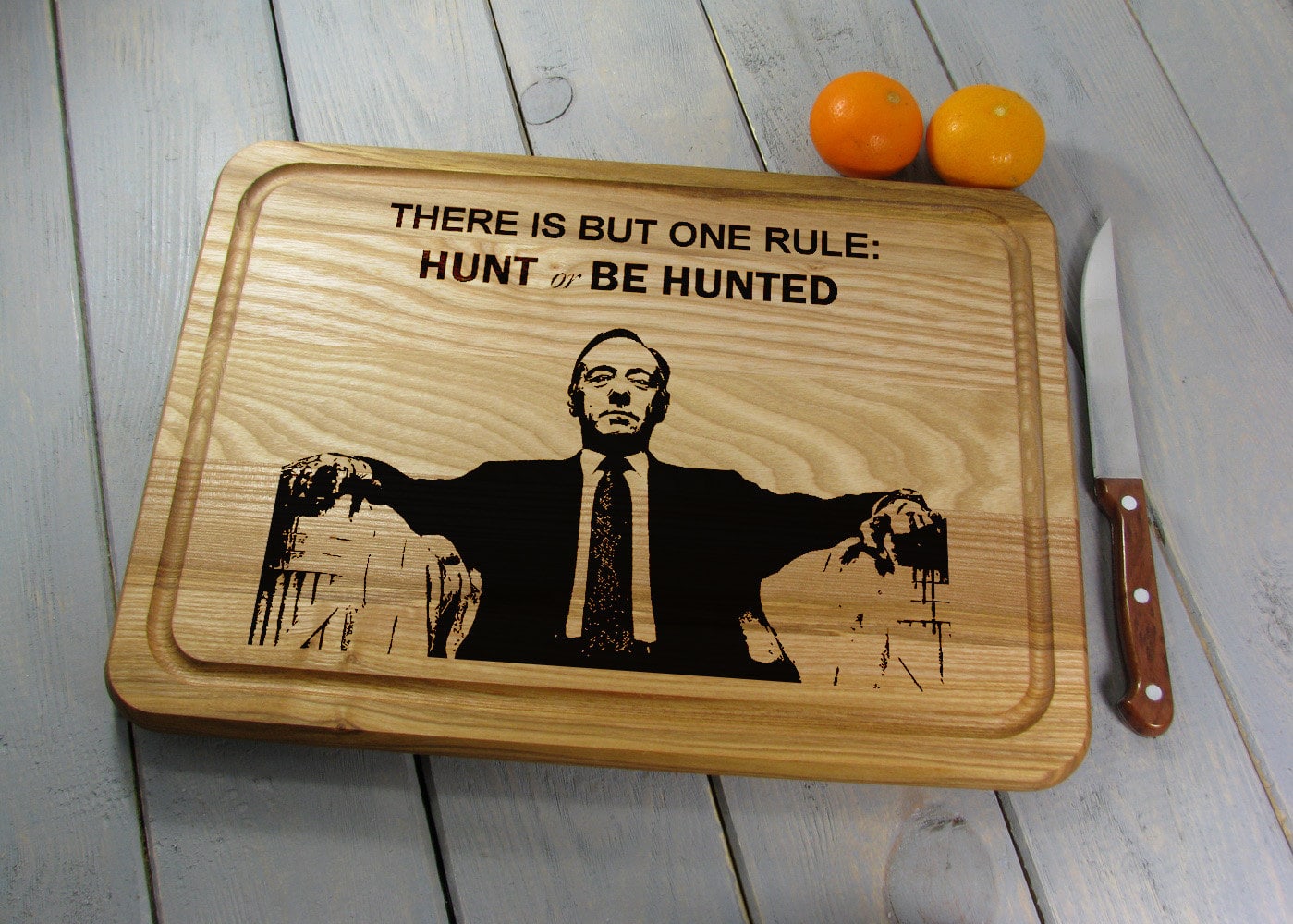 What House of Cards fan wouldn't want this in their kitchen!? Another great quote from the series is engraved into the chopping board, then the whole thing is covered with butcher's block oil and beeswax to make sure Frank is there to watch you chop up your dinner for a long time to come.
Claire Underwood for President Desktop Background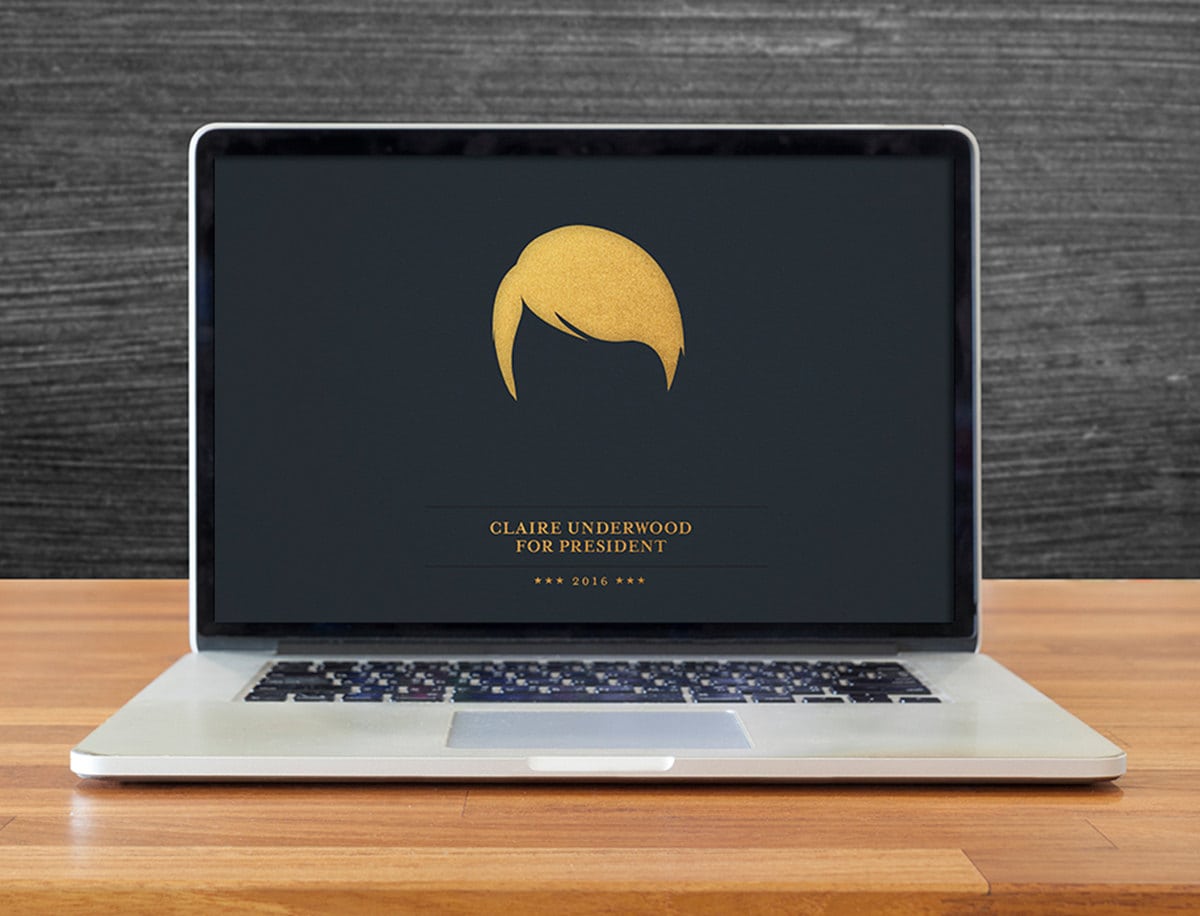 If your friend is more so-so on Frank and instead spends the whole series rooting for Claire, this desktop background will make the perfect addition to their computer. Available as an instant download, you won't even need to wait for postage.
Don't Blame Me Badge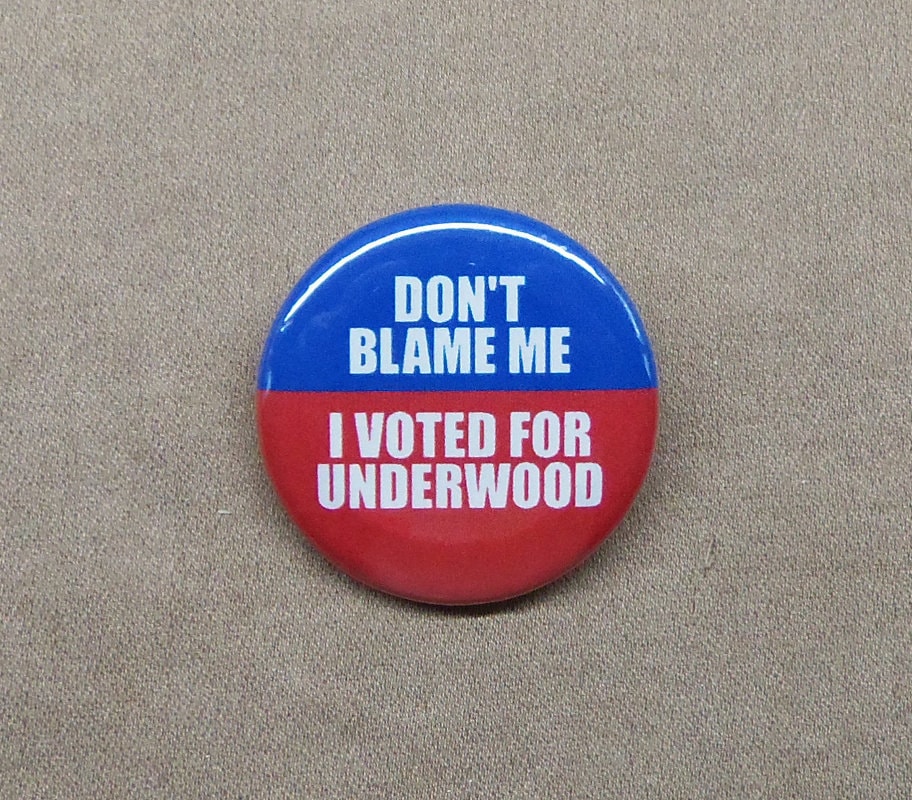 This badge may or may not be the perfect way to end any politically-charged conversation, or for simply wearing during your next Netflix binge. Now it just begs the question – which Underwood are they referring to?
F U Cufflinks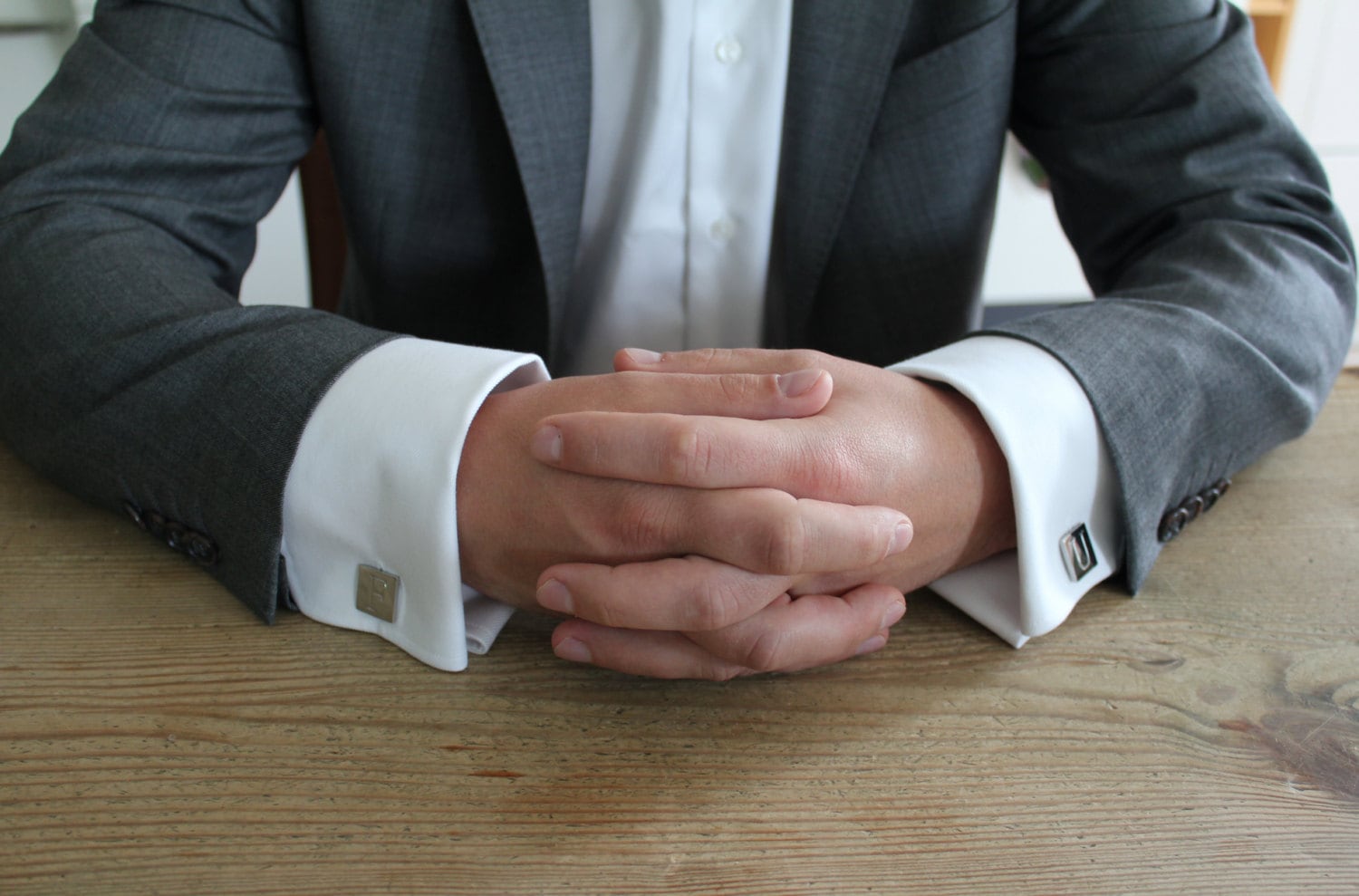 Identical to the ones Frank is given by his beloved bodyguard, Meechum, these stainless steel cufflinks are sure to bring out the manipulative politician in anyone. Hopefully minus the murder.
Frank Underwood Framed Quote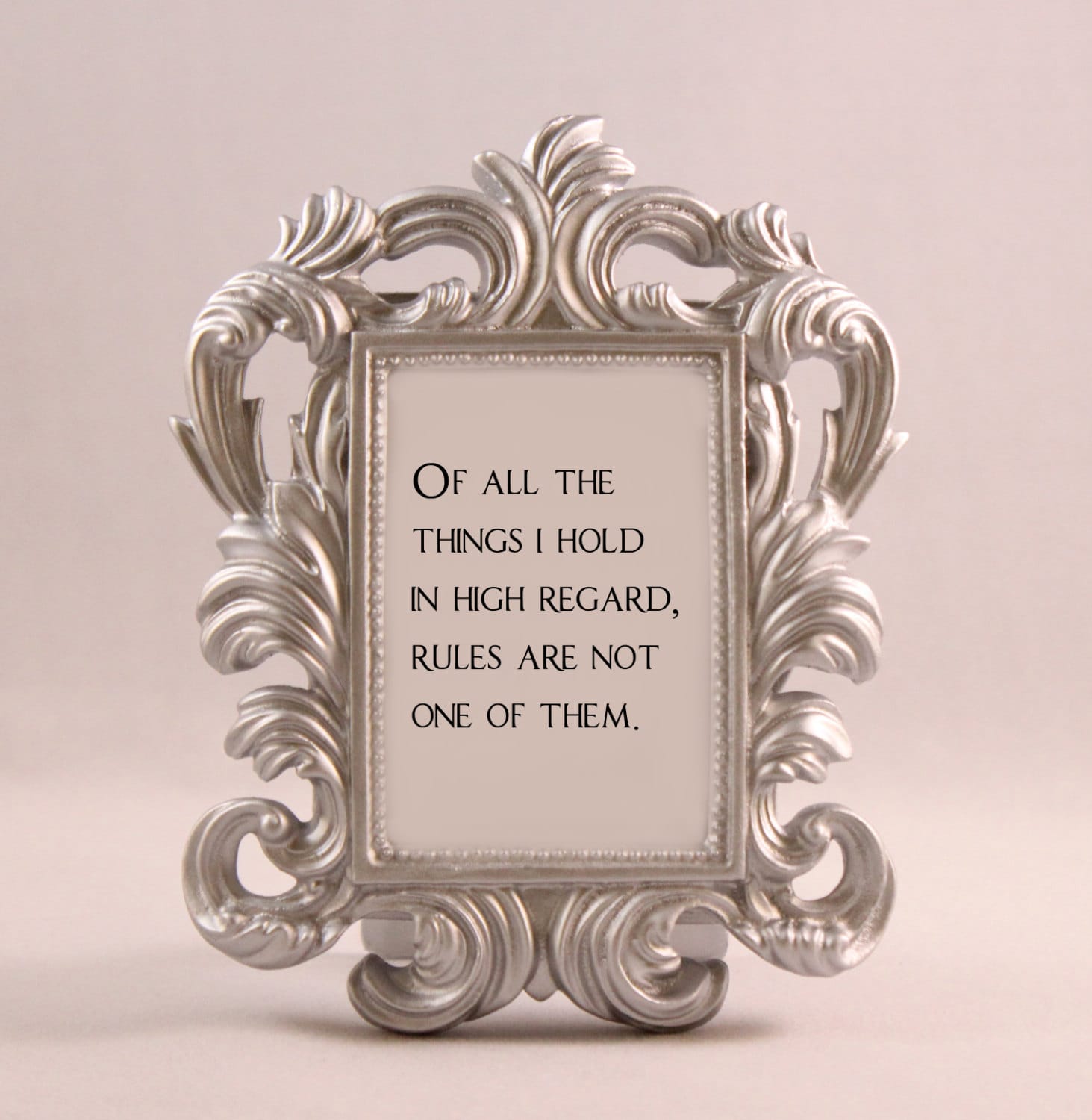 Let the wise words of Frank Underwood adorn your friend's desk to remind them where their loyalties lie. Even better – this framed quote is not only available in several different colours (including sparkly!), but a couple of different styles, too.
House of Cards Dog Collar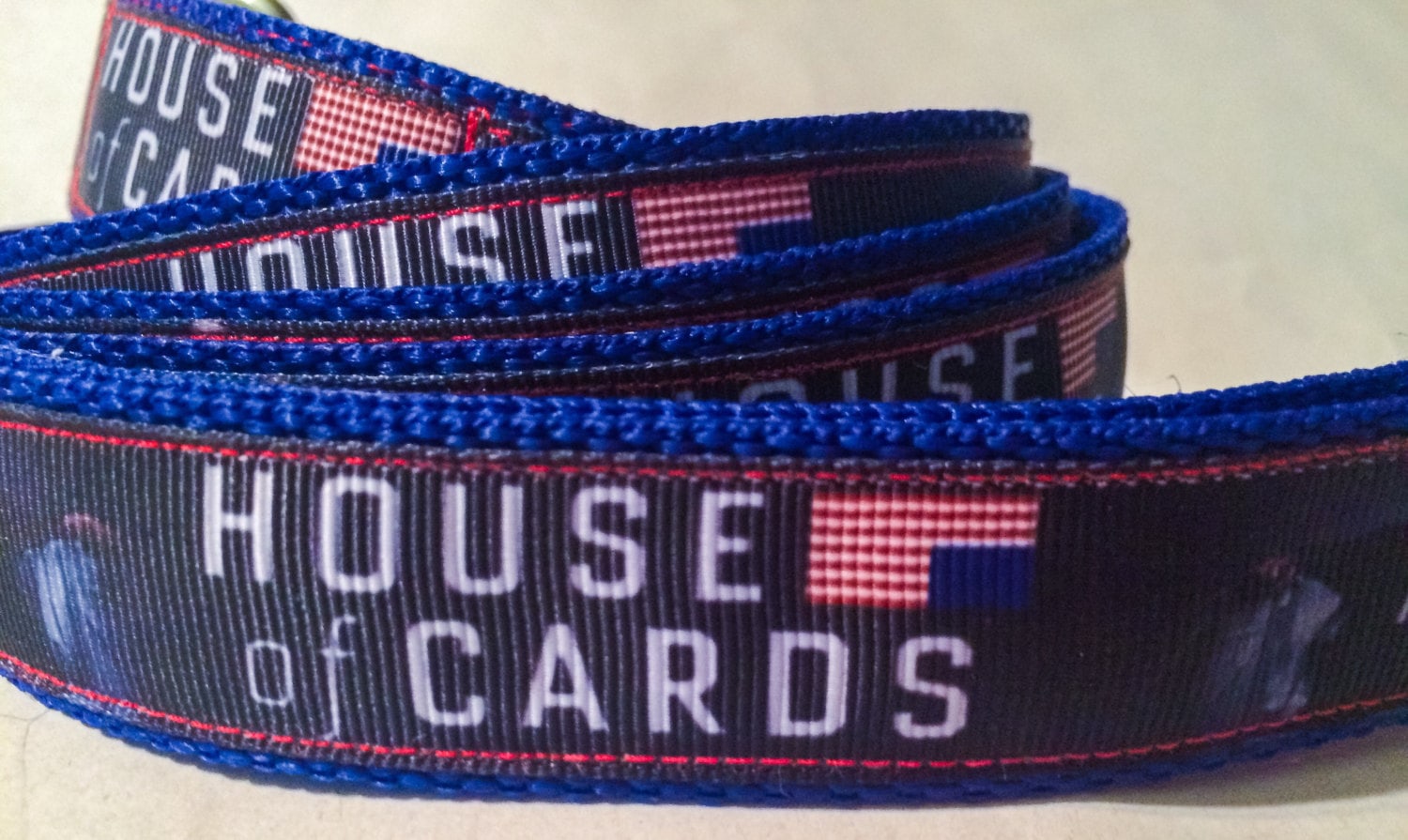 Maybe your furry friend is really into House of Cards – I'm not one to judge. If you've caught them binging Netflix while you're out, at least let them show their love for political dramas with this collar, available in any size necessary.
Saint Frank Underwood Prayer Candle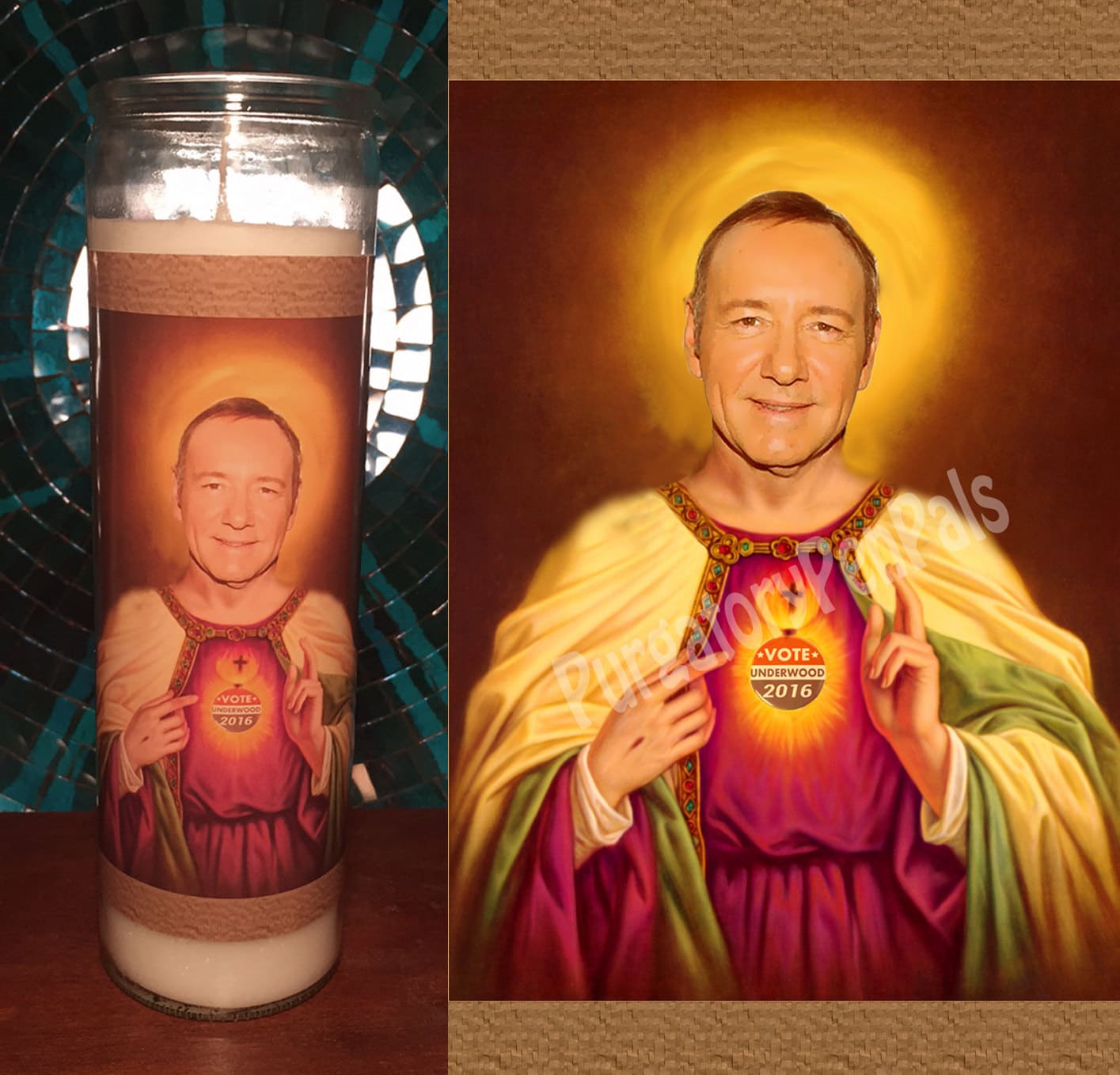 House of Cards isn't just a TV show, it's a way of life – and Frank Underwood is Jesus. Show your respect by lighting this prayer candle and settling in for another screening of season 1!
Freddy's BBQ Joint Mug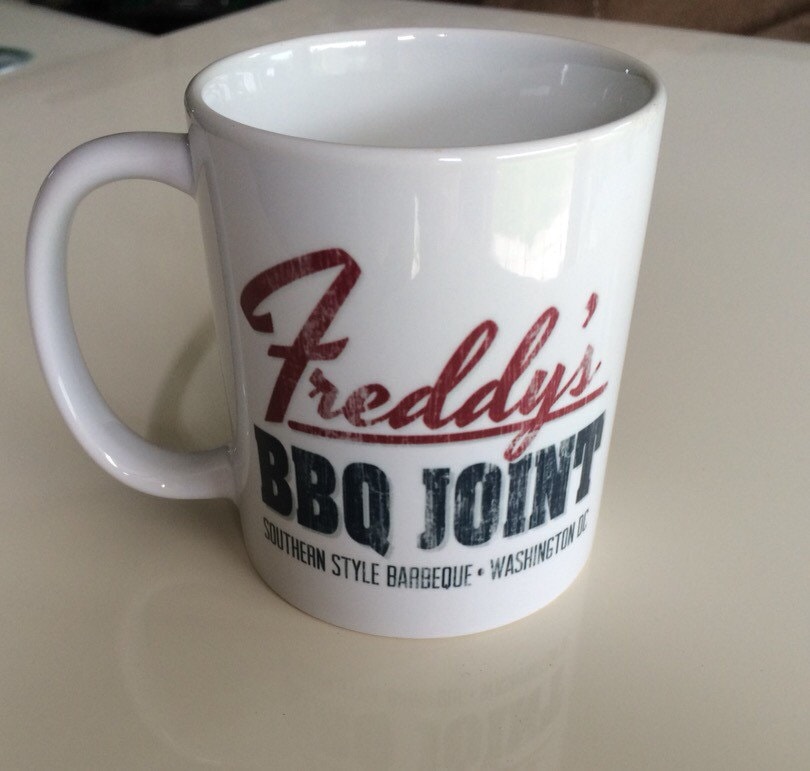 Let's admit it – all of us House of Cards fans wish that Freddy's was a real place. Not only could you get the best ribs ever, but you could potentially run into Frank Underwood on a daily basis. Sign us up!
House of Cards Quote Coasters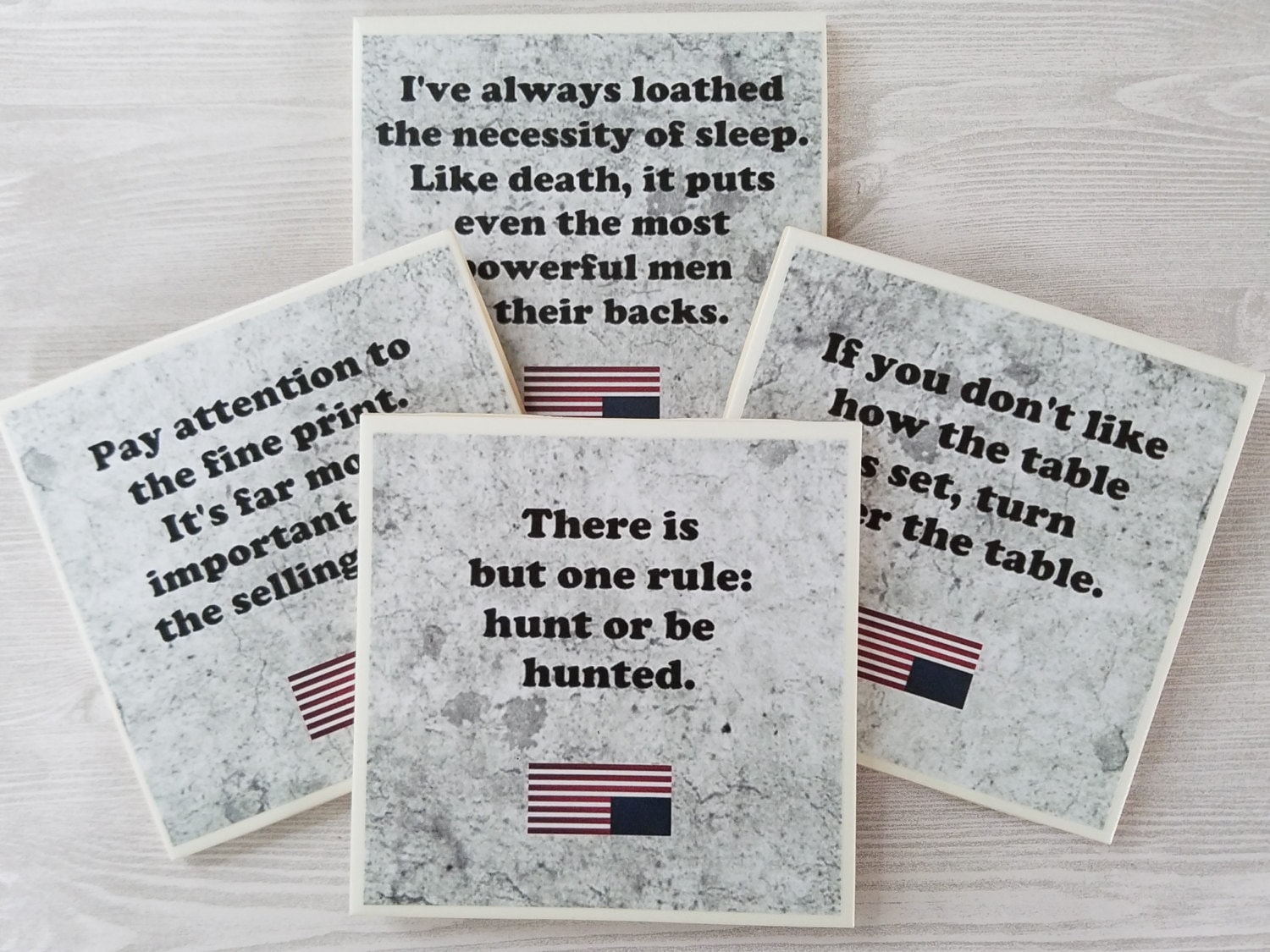 Sip your coffee in style with these brilliant coasters. Each one features a different House of Cards quote, and are handmade and fully sealed to ensure they stay looking new for a very long time. They can even be customised to add a truly personal touch.
Democracy is so Overrated Print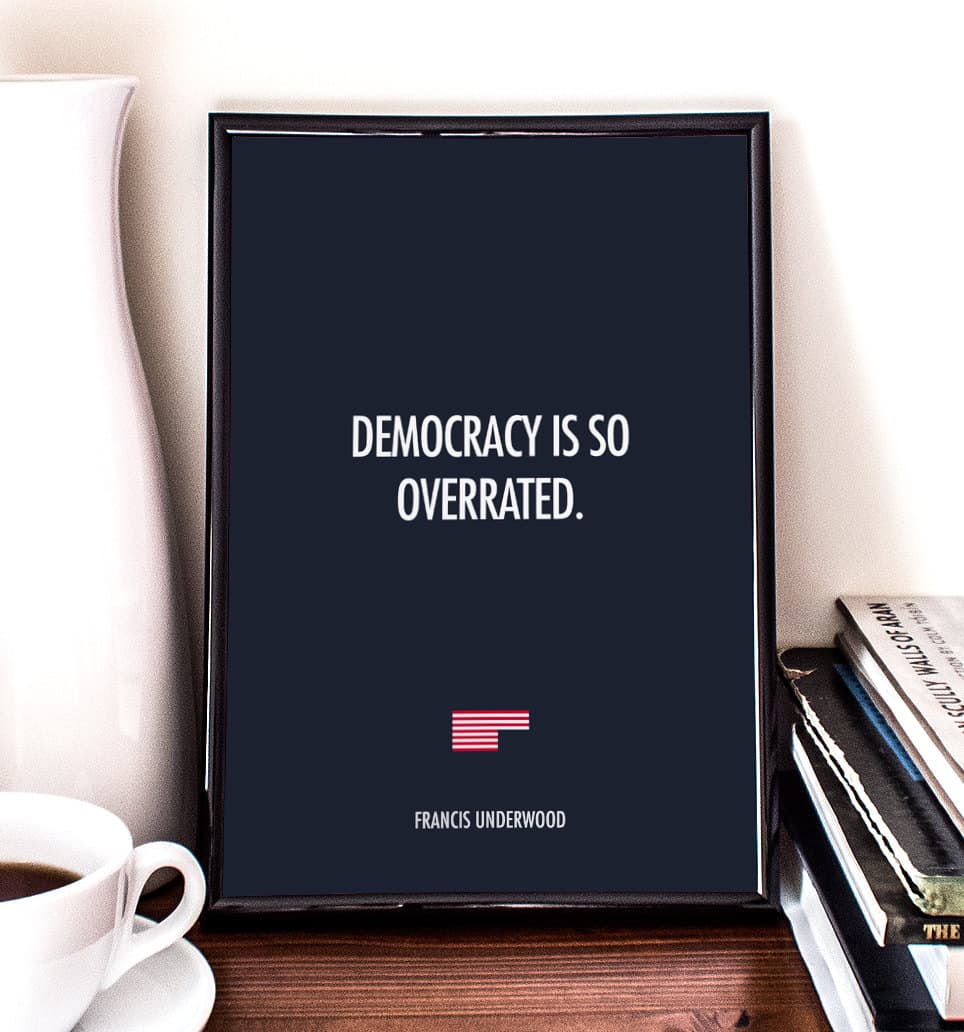 Any House of Cards fan who reads this print is sure to do so in Frank's sarcastic, menacing tone. Why not give them this print as a gift so they can hear that voice every day? Plus, the shop claims this print will last for up to 200 years – it'll become a family heirloom!
Campaign Poster T-Shirt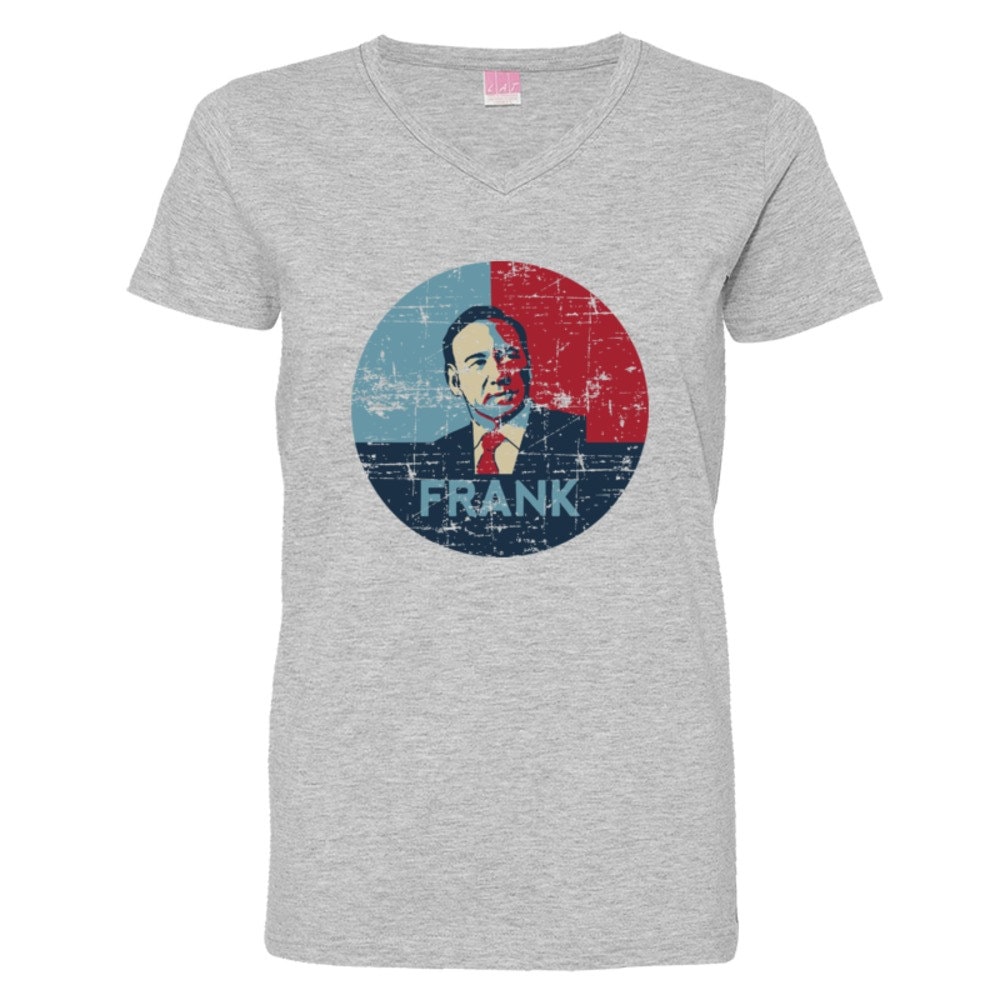 Let your friend show where their political alliances lie with this Frank Underwood campaign poster t-shirt. It's available in a large range of colours, sizes and styles, so will suit any diehard fan.
House of Cards Tote Bag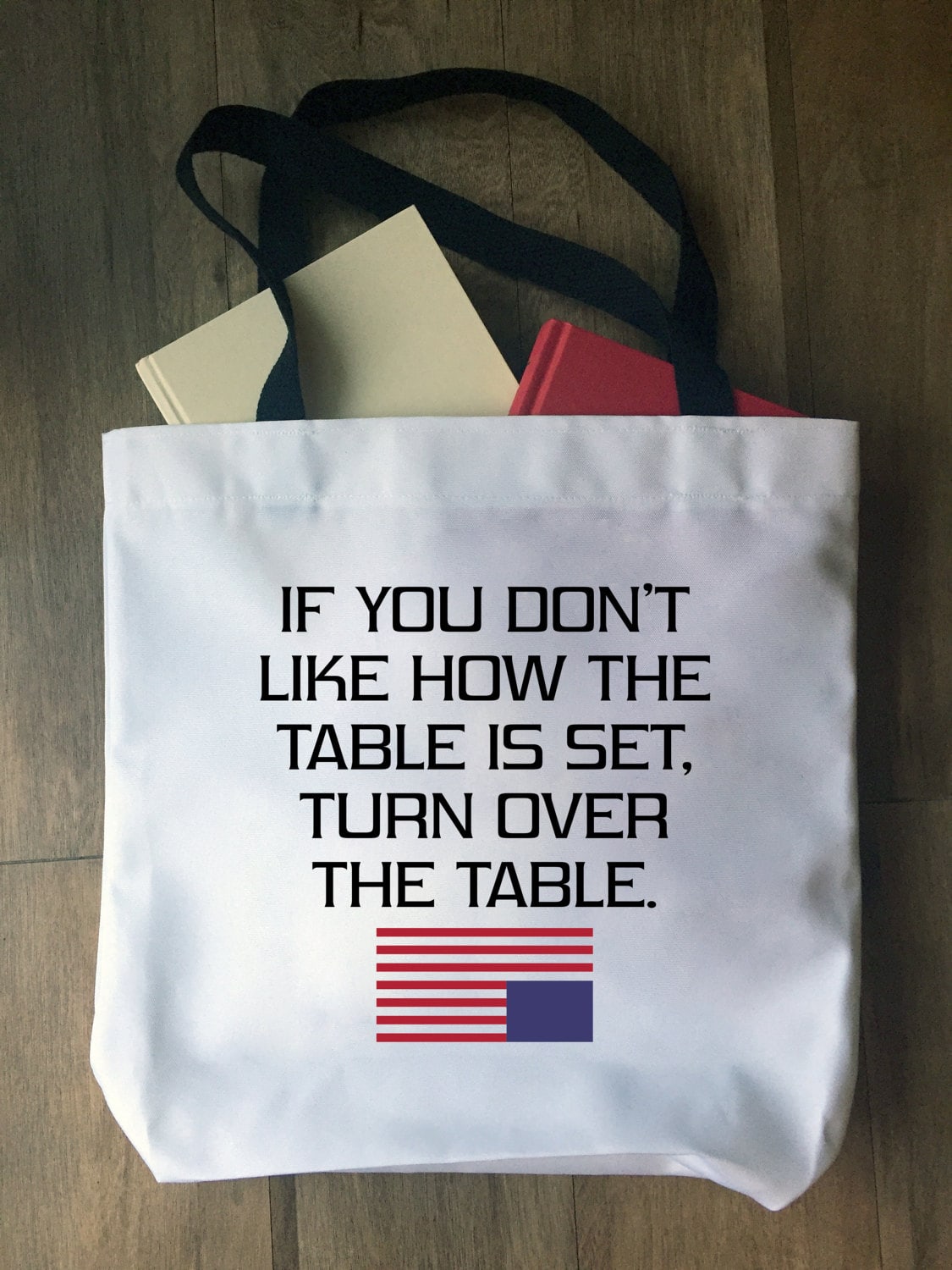 Whether your friend is heading to the markets, to work, to school, or even to another country, this tote bag will ensure everyone around them knows which TV show is their favourite. Which is very important information.
Frank Underwood Phone Case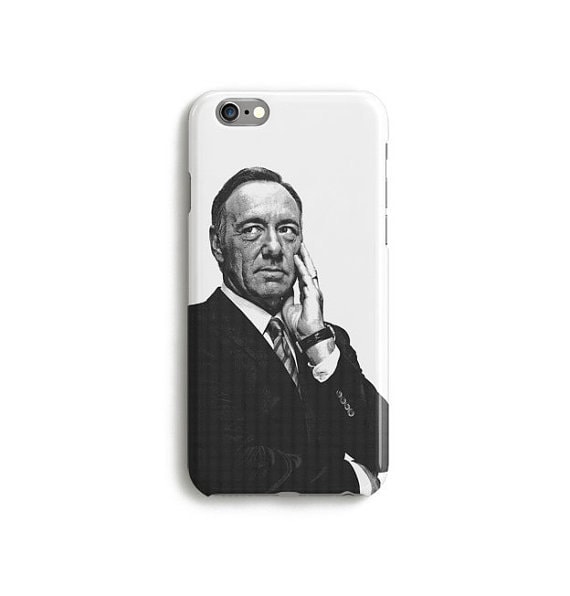 This phone case is brilliant for two reasons. One reason is that it's available in a couple of different styles, and for several different phone models. The second reason is that you just know that Frank is about to say something sarcastic/metaphorical/insightful just from the way he's posing.
Kevin Spacey Stud Earrings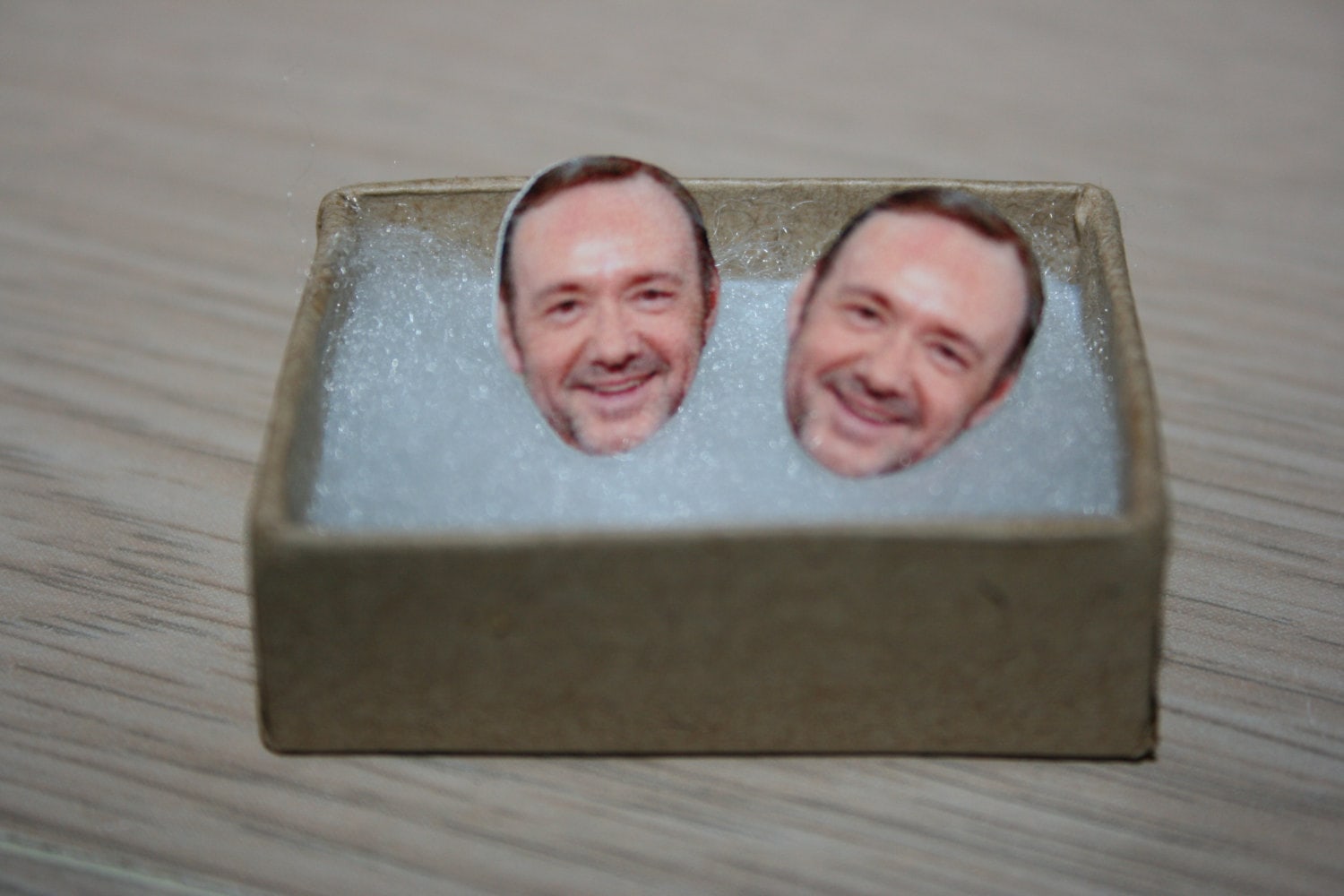 Just in case having Frank Underwood on a prayer candle, poster, t-shirt or phone case wasn't enough, now you can have him on your ears, too. These hypo-allergenic studs will make any fan squeal with delight – especially if you team them with the matching ring and necklace.
Claire Underwood Dog T-Shirt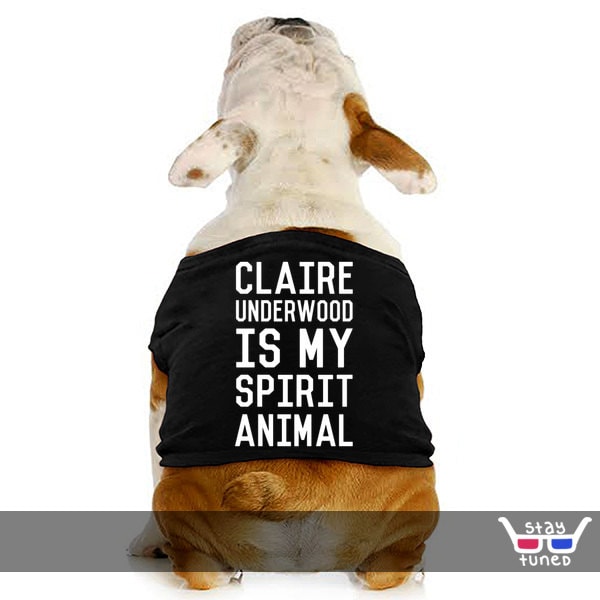 If your precious pooch isn't content with just the House of Cards-themed collar, then maybe this t-shirt will do the trick. Claire Underwood is strong, manipulative, ruthless and fierce, so it's no wonder she is so adored. Your furbaby will be the envy of the dog park!
Underwood '16 Macbook Decal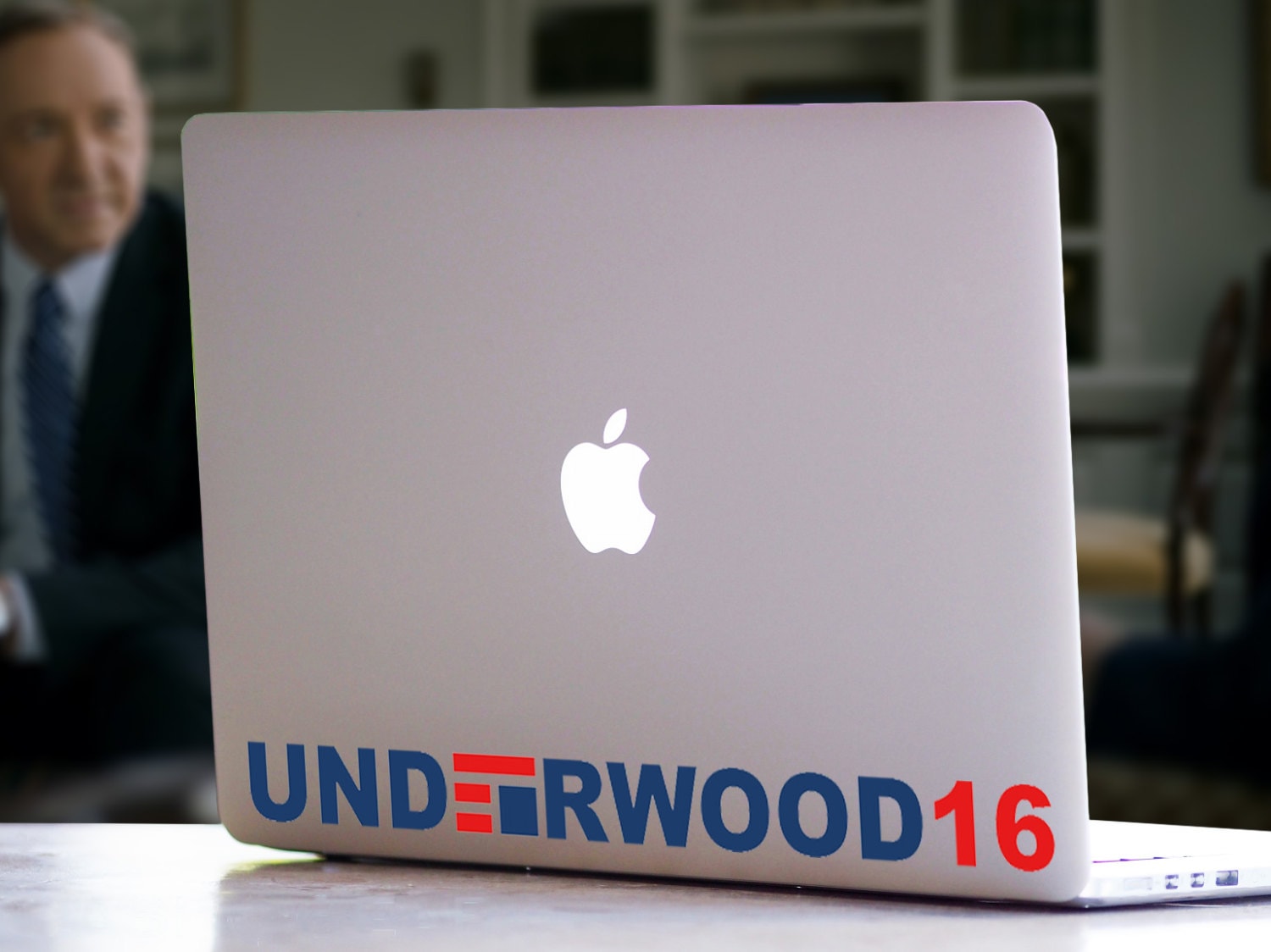 Spruce up that boring old Macbook with a strong political statement – that Frank Underwood is obviously the best choice for president! Considering this decal has a lifespan of 5+ years, the only time you'll need to replace it is when the next election comes around!
House of Cards Characters Cross Stitch Pattern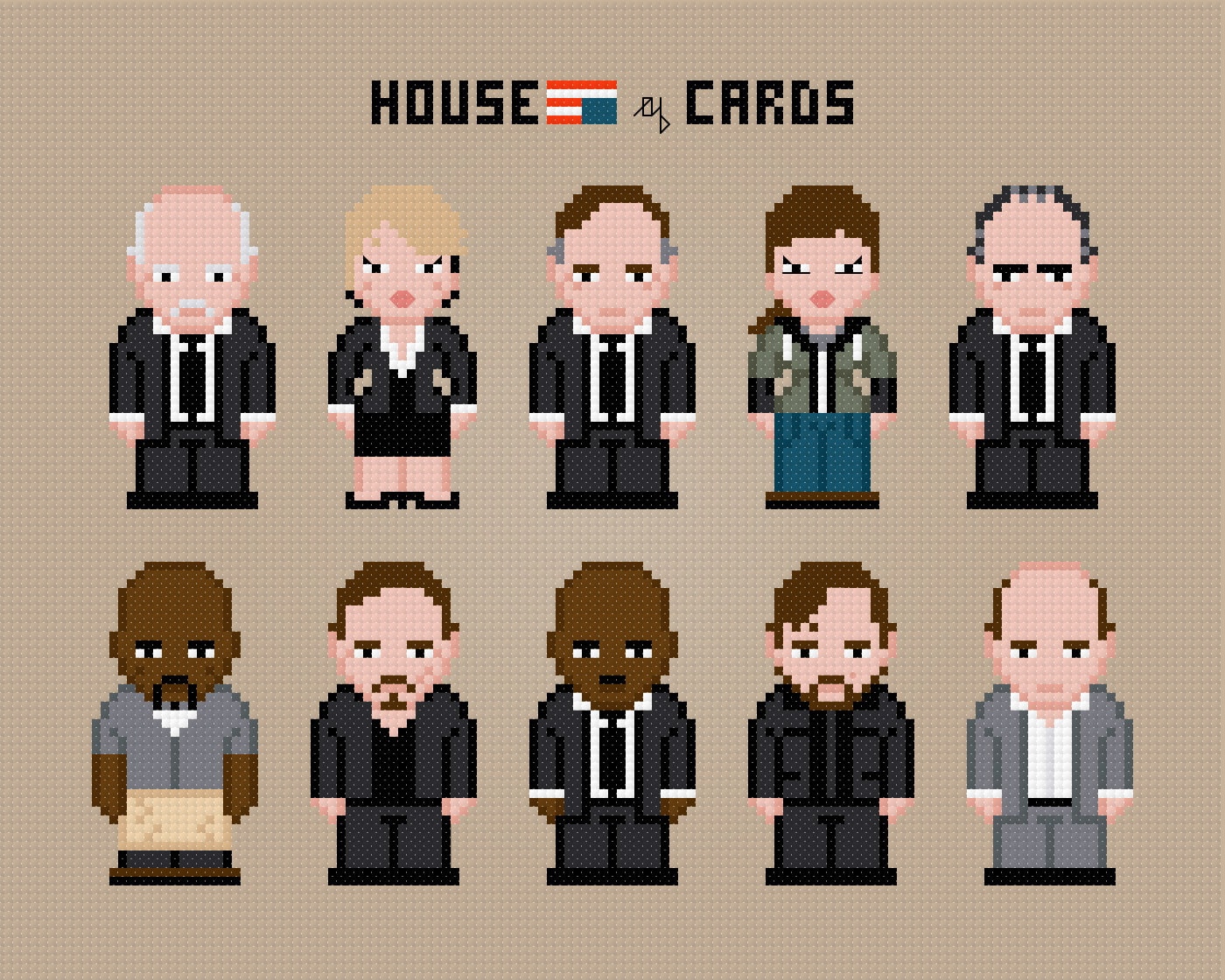 If your friend likes to try their hand at some crafts while they're binging on Netflix, perhaps consider getting them this instantly-downloadable PDF cross stitch pattern featuring all of the characters from House of Cards. Not only will they have an awesome cross stitch to frame at the end of it, but they'll be able to say they made it themselves.
Rules are Not One of Them Poster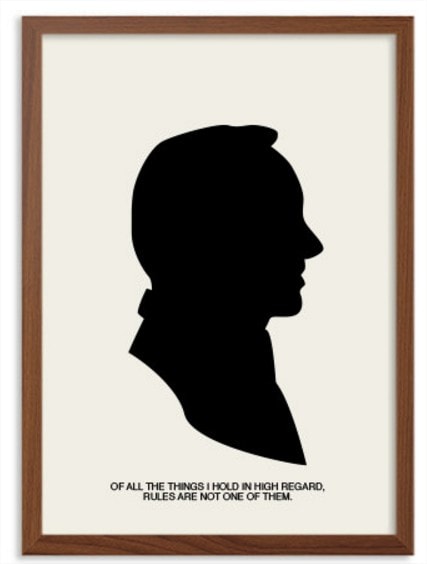 Any House of Cards fan knows Frank doesn't play by the rules in any aspect of his life – and we love him for it. This silhouette print is a great, subtle way to pay homage to one of Netflix's best TV shows.
Has this list given you some gift-giving inspiration? Are you ready for another rewatch of House of Cards? Let us know if you purchase anything from this list! We're @uniquegifter on Instagram and @ugifter on Twitter.