Disclosure of Material Connection: Some of the links in this post may be "affiliate links." This means if you click on the link and purchase an item, I will receive an affiliate commission. Disclosure in accordance with the Federal Trade Commission's 16 CFR, Part 255. This site is a participant in the Amazon Services LLC Associates Program, an affiliate advertising program designed to provide a means for sites to earn advertising fees by advertising and linking to Amazon.
Looking for gift ideas for D&D players? If you're not a Dungeons and Dragons fan you've probably been asking a lot of questions. What are all these 20 sided dice for and what is a dungeon master? Well, this list won't answer any of your questions about the popular geek franchise but it will help you decide what to buy the DnD players in your life.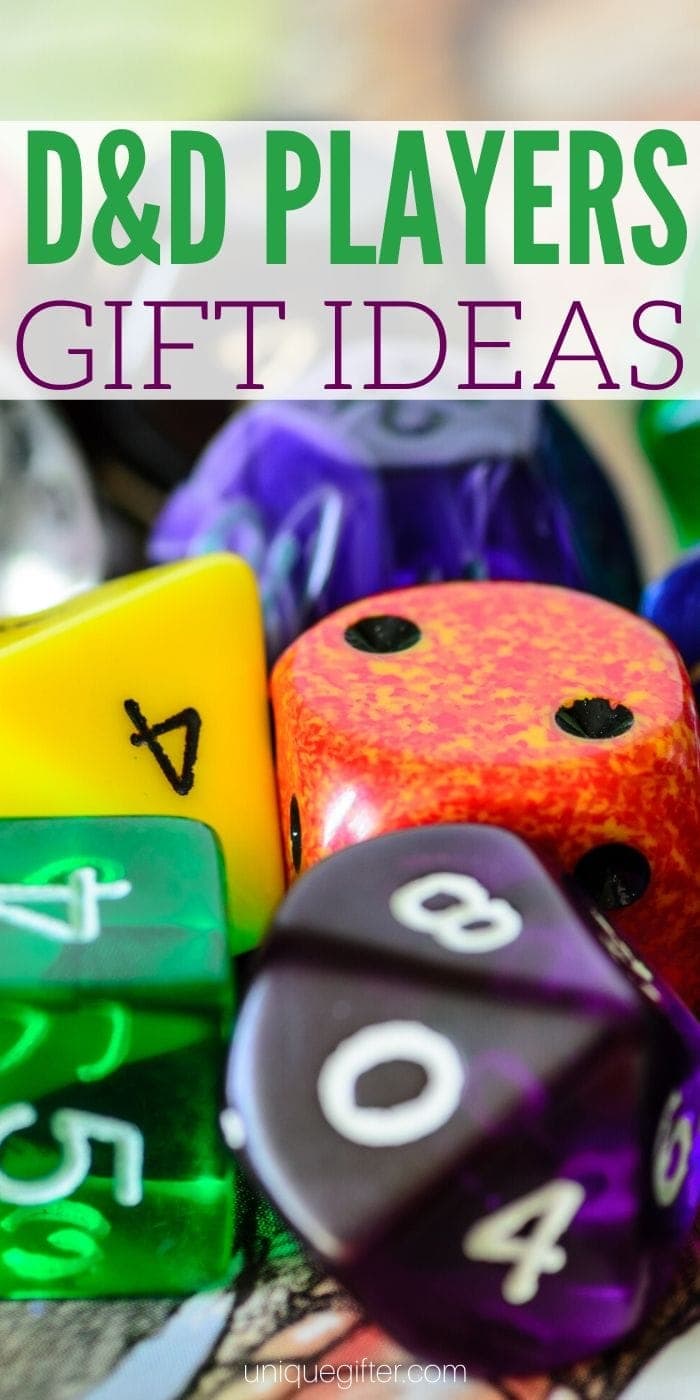 If you're looking for gifts for a different kind of gamer, these Fortnite gift ideas might be more your speed. Or maybe they're more of a World of Warcraft fan?
Cool D&D Gift Ideas for Tabletop Gamers
Even if you're not a Dungeons and Dragons (D&D) fan these gifts were chosen to appeal to most players. If you are then you already know your game master deserves a thank you gift for all their hard work.
Resin Dice Set 
This is the one gift that can never go wrong with any D&D player. Dice are vital to playing the game and it seems like one can never have too many! These dice are a cute above made from resin giving them incredible tabletop presence. 
---
Best Dungeon And Dragons Gift 
DUNGEONS & DRAGONS SHAPED D20 THROW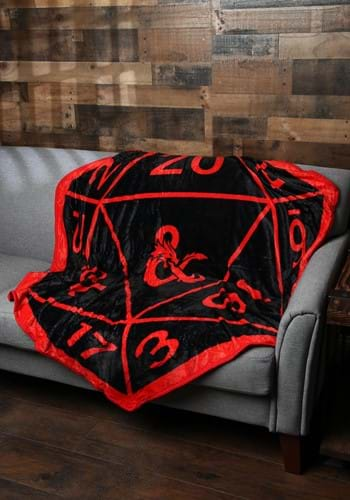 Dungeons & Dragons: Shaped D20 Throw 
Check out this D20 throw. A great way to stay cozy and relaxed while at home, in your game room or more. A nice sized throw to also decorate your living room on the couch, or even your bedroom. 
Immense Dice Bag With Pockets 
Every D&D player needs a trusty dice bag. The only problem you're going to have now is choosing which new dice to buy if you want to fill this dice bag to the brim! (Although for some dice hoarders out there, it might not be a problem at all!) 
---
Because I'm the DM Hoodie
Being a DM (dungeon master) is a big deal – you're the one who calls the shots! Like the author of a novel the DM's friends don't get to argue with what they say happens to the characters.
RPG Coffee Mug
Something for everyone or get the entire set for the whole D&D group. That way everyone will know their place… (If only)
Dice Chocolates
These dice are good enough to eat – and you can! A great gift set for D&D players who have absolutely everything already.
---
Best Dungeons And Dragon Gifts
STRANGER THINGS DUNGEONS & DRAGONS ROLE PLAYING GAME STARTER

Stranger Things: Dungeons & Dragons Roleplaying Game Starter 
Really unique, different, and a great gift. If you love stranger things you will enjoy this game starter.
---
Dungeons and Dragons Mini Figure
This is a blind box that contains 4 pre painted figures out of the set of 44. Even if they don't collect a few mini figures are fun to display.
Dry Erase Map

This is a multi purpose game mat that works with dry erase markers and comes with . Perfect for recording notes, character stats, or laying out a Dungeons and Dragons map.
Mimic Pouch
A handy pouch of a not so handy character. The Mimic can gobble up dice or other small items. Thankfully it's stuffed and therefore won't attack when they try and open it. Cute DnD stuff toys make great gift ideas for Dungeons and Dragons fans of every age!
Editor's Choice D&D Gift Idea
Dungeons and Dragons CLUE Board Game
D&D players are always looking for something new to add to their gaming collection. Grab them a special edition Dungeons and Dragons copy of CLUE for a really neat surprise gift idea!
Choose Your Weapon Shirt
Sometimes deciding what method, and therefore what dice, to use in game can be taxing. At least they'll have a great shirt to wear to their next game though.
Empire of Imagination Shirt
This book covers the life story of Gary Gygax – creator of Dungeons and Dragons and basically grandfather to all modern RPGs. This is a certain to be a fascinating read!
Stand Open Drawstring Bag
Having something to carry all of your dice in is important, especially when you have too many to fit in your dice bag. This one goes one step further by staying open on the table. Now it may seem unimportant but trust me this is handy.
D20 Keychain
This geeky keychain has the iconic D20 (20 sided dice) wrapped attached to it. Simple and cute.
Editor's Choice D&D Gift Idea
Lords of Waterdeep D&D Board Game

Dungeons and Dragons: Lords of Waterdeep Board Game 
This award-winning board game is based on the fictional D&D city of Waterdeep. Dungeons and Dragons fans will immerse themselves in this board game of strategy, intrigue, and quests. Pick up a copy for a D&D gift any fan will be head over heels for!
Of Dice and Men Book
This book talks about the influence of Dungeons and Dragons on popular culture – including the people who play it. Interesting!
D20 Christmas Ornaments
The perfect addition to your friend's Christmas tree.
Chest Dice Container
Where else are you supposed to keep your dice? Now they'll be secure in their very own treasure chest and look great displayed.
D&D Dice Magnet
Another crafty use for the D20. This time it's been turned into a fridge magnet for holding all those important paper things.
Editor's Choice D&D Gift Idea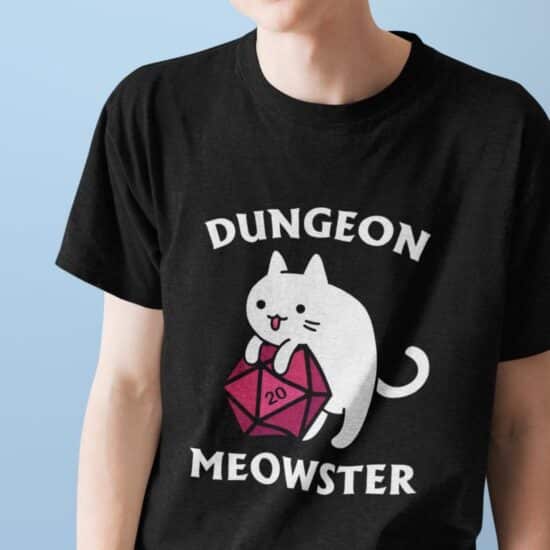 This unbelievably cute shirt is perfect for feline-loving Dungeon Master! They'll love it so much, they might never give their role up!
Bag of Holding
Potion Bottle Set
This set of 4 potions are meant to be used as paperweights or for display purposes. Just what they do is for your gift recipient to decide.
Dwarven Mine T-Shirt
This retro-style t-shirt makes reference to the always confusing shafts of dwarven mines. Perfect for an evening of getting lost for hours.
Bag of Holding
Where do you put your loot after a successful raid? In your bag of holding. You'll never believe what it does! This is exactly the right choice from all of these gift ideas for D&D players. 
D20 Clipboard
There is going to be some serious envy at their next RPG session with this in tow. It's perfect for small (or cluttered) tables to hold their character sheet or DM notes.
Since you can't gift them crits, these D&D inspired gifts will just have to do.
Dice Rolling Mat
If you've ever thrown your dice across the table only for them to slide off the side and onto the floor, you know how valuable a rolling mat can be. No more crawling around the floor to recover awol dice with this!
More Dice
What do you pair with a rolling mat? More dice, of course. Seriously, there's no such thing as too many when it comes to D&D. And these ones are pink! You really can't go wrong giving dice as gift ideas for D&D players.
Character Record Book
No more carrying a spiral notebook or loose sheets of paper to your Dungeons and Dragons game. This book has space for characters as well as campaign details and notes.
Sarcasm Mug
It's always nice to boost your character stats… Or maybe this reveals them?
Character Sheet Notepad
They can use this at their next Dungeons and Dragons game or just take D&D inspired notes. Either way, this geeky notepad is a perfect gift idea for Dungeons and Dragons fans.
Bestiary Notebook Set
This officially licensed set of notebooks highlights some of the most popular D&D characters of all time. The books contain a brief history of each character followed by spaces for notes.
Spell and Skill Tracker
Instead of writing everything down, give this reusable spell and skill tracker to a Dungeons and Dragons fan. They'll be able to keep track of their stats easier which makes gameplay more fun.
3 Level Battle Map
Flat maps are out, 3 maps are in! This 3 tiered battle map will take their D&D game to the next level… Literally!
Rick and Morty Dungeons and Dragons Game
If the Dungeons and Dragons fan doesn't already own this beloved D&D crossover then this is a perfect gift idea. Rick and Morty fans especially will love this one!
Choose Your Weapon Ring Dish
This ring dish is designed to look like a rolling mat for dice. Great if you're gifting to someone who regularly wears rings, or a married couple.
D&D Forgotten Realms Explorer Kit
Be one of the Lords of Waterdeep with this dice and miscellany gift set. Whoever you give this Dungeons and Dragons gift idea to can explore the realms in style.
D&D Miniatures
Any kind of fantasy miniatures will be welcomed by most Dungeons and Dragons fans, and these unpainted monsters are no exception. There are 5 minis of each figure.
Dungeons and Dragons Miniature Paint
If you're gifting them miniatures (or even if they're just a fan of them already), there's no better D&D accessory than paint. This set comes with colors perfect for painting tiny monsters.
A Dragon Walks Into a Bar Joke Book
Lighten the mood and get game night laughing before (or during) a roleplay session. This funny joke book is just the ticket to warming up your dungeon master.
They're Natural T-Shirt
Sometimes we roll a natural D-20, sometimes we roll a pair of them, and sometimes we have a natural pair of something else entirely. This funny shirt is a great gift (or white elephant gift) for the female D&D fan in your life.
Book of Holding Journal
This official keepsake journal is waiting to be filled with all their notes, ideas, or lists. It's sort of like a bag of holding, but for writings.
D&D Decal
Be proud to be a Dungeons and Dragons fan! This D&D inspired decal is ready to be shown off on someone's car and features every D&D fan's favorite dice.
Initiative Tracker
Roll for initiative, and then keep track of this Dungeons and Dragons custom initiative tracker. Whoever you give this present to will be the coolest player when they show up to D&D with this baby.
Stone Tabletop Terrain
Do you know what makes things more thematic than a drawn-out grid? An interlocking stone building, obviously. This 20 piece dungeon landscape set is ready for miniatures to go on some serious D&D adventures.
Dungeons & Dragons Art & Arcana: A Visual History
What do you when you're not playing D&D? Learn about history! You'd be hard-pressed to find a Dungeons and Dragons fan who doesn't enjoy this visual book.