Disclosure of Material Connection: Some of the links in this post may be "affiliate links." This means if you click on the link and purchase an item, I will receive an affiliate commission. Disclosure in accordance with the Federal Trade Commission's 16 CFR, Part 255. This site is a participant in the Amazon Services LLC Associates Program, an affiliate advertising program designed to provide a means for sites to earn advertising fees by advertising and linking to Amazon.
While maybe not as popular as other animals, walruses are one of the strongest passions of certain people. If you have someone in your life that loves this animal, they sure are rare. Let them know how much you appreciate their love of walruses with one of these thoughtful gifts.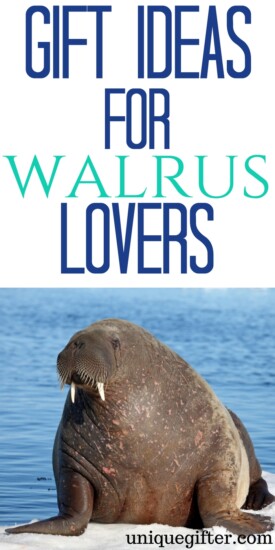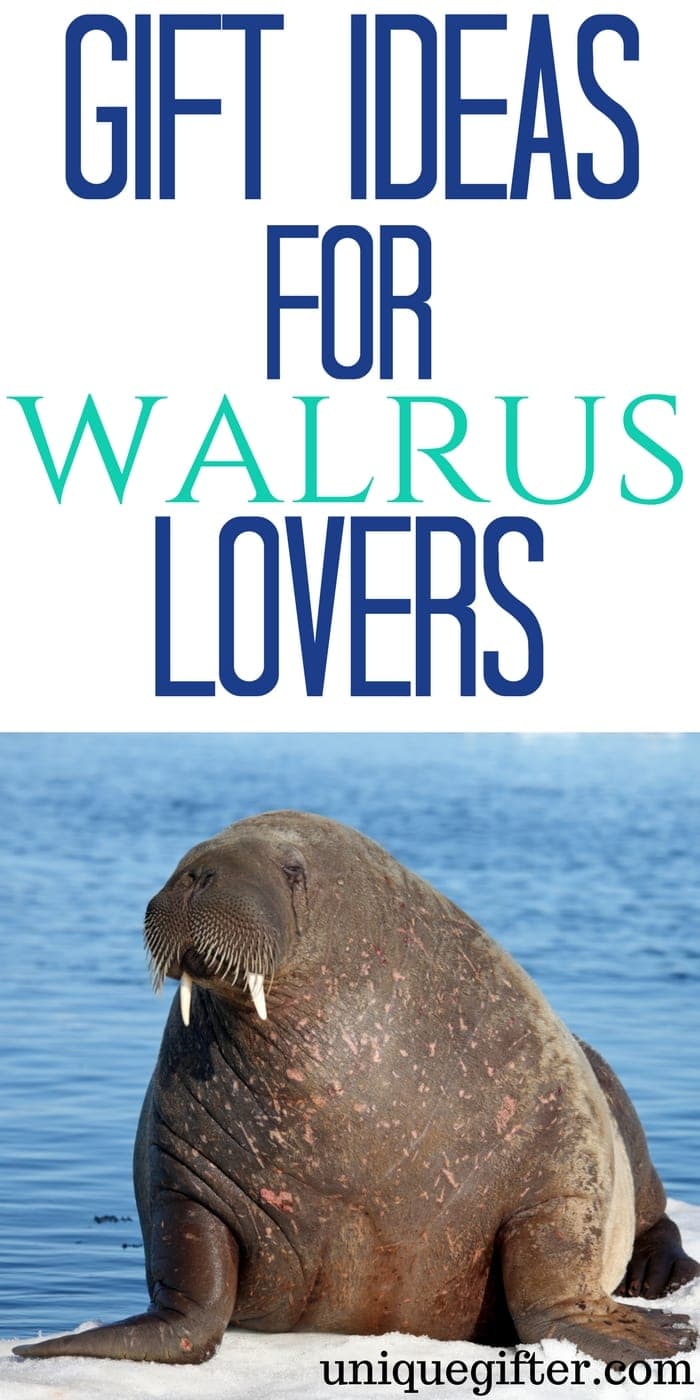 Take a look at our A to Z Animal Lover Gift Inspiration for even more ideas.
Gift Ideas for Walrus Lovers
Personalized Walrus Word Art Gift
Spruce up this walrus word art gift with words that mean something to the person in your life who loves walruses, or them and their significant other. It will be one of the most meaningful gifts they ever get!
Walrus Necklace
Wearing a walrus necklace that goes well with any outfit, will cheer them up and give them the confidence they need to tackle anything that comes up.
Walrus Cup Sleeve
Help them keep their hot coffee hotter for longer with this adorable walrus cup sleeve!
Walrus Tote Bag
Give them the gift of a walrus tote bag to bring everything they need, wherever they go, without having to make sacrifices.
"I'd like you better if you were a walrus" Shirt
They sure would like people more if they were a walrus rather than a person, that's for sure, so why not give them a shirt that says as much?
#Walrus Hashtag Sturdy Stainless Steel Water Bottle
Staying hydrated with this "#walrus" stainless steel water bottle will be a breeze!
TY Beanie Boos Walrus
If you get the two of these TY Beanie Boos together, Tusk the walrus will always have a friend in with Rosie the turtle.
"Born to be Fabulous" Walrus Coffee Mug
Your walrus loving friend was "born to be fabulous," so they definitely need this walrus coffee mug to let everyone know.
"Walrus Dr." Street Sign
They can hang the "Walrus Dr." street sign up anywhere they feel like it, in an outdoor space, in their living room, or even a bedroom or office. It's the perfect fit wherever they decide to put it.
Engraved Walrus Business Card Holder
If the walrus lover in your life is a business person or trades business cards with other business owners, they may just need this engraved walrus business card holder.
Walrus Cufflinks
Make sure to spice up their suits with some walrus cufflinks!
Walrus Hooded Baby Towel
For the baby in their lives, they need a walrus hooded baby towel to dry off and simply look adorable.
"Walricorn" Shirt
For the special fans of both walruses and unicorns, they definitely need a "walricorn" shirt to wear.
Walrus Sticker Decal with Heart
To be placed on their car window, laptop, home window, or anywhere else it will stick, they can show their love of walruses anywhere they feel like doing so.
Walrus Wall Clock
What better way to tell the time than a walrus wall clock? They won't ever have an excuse for being late.
Walrus Drink Coaster
Keep their tables free from water rings in a stylish way, with a walrus drink coaster to set their drinks on.
Walrus Abstract Watercolor Painting Print
This walrus abstract watercolor painting print will go well on their wall, and spark inspiration for them simply by them glancing at it.
Walrus Family Paper DIY Project
Download and print a walrus family paper DIY project for them, or yourself, to make 3D figurines of walruses with paper. You can give the finished version to them, or simply give them the plans to do it themselves if they like that sort of thing. Either way, they will be thrilled with the finished product!
Walrus License Plate
Simple and to the point, and will look wonderful framing their license plate!
Walrus Bathroom Rug
Rugs are necessary, but no one said they had to be boring. Your walrus loving friend will truly enjoy having this on their bathroom floor rather than just some plain old rug!
So many wonderful ideas for that person in your life that loves walruses, it will be hard to choose, but you will find one that fits them perfectly!