Disclosure of Material Connection: Some of the links in this post may be "affiliate links." This means if you click on the link and purchase an item, I will receive an affiliate commission. Disclosure in accordance with the Federal Trade Commission's 16 CFR, Part 255. This site is a participant in the Amazon Services LLC Associates Program, an affiliate advertising program designed to provide a means for sites to earn advertising fees by advertising and linking to Amazon.
Sheep are awesome. They help provide us with clothes and bedding, and the one movie with sheep that sticks out in my mind the most is Babe. For that special person in your life that loves sheep, you can get them any one of these lovely gifts for their special occasion!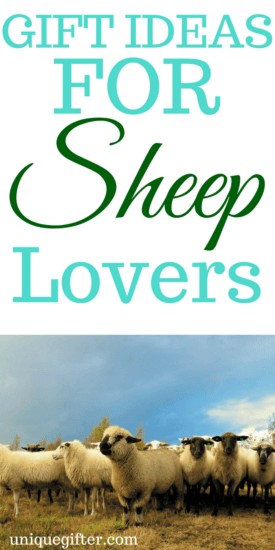 For even more animal lover gifts, take a look at our a to z animal gift guide extravaganza.
Gift Ideas for Sheep Lovers
Shaun the Sheep Stuffed Toy
Shaun the Sheep stuffed toy is cute for both kids and adults alike. Of course the kids may enjoy it more, but who are we kidding? Adults want to act like children or relive their childhood on the regular anyway!
Dublin Wacky Woolies Coffee Mug
These wacky woolies will help your sheep loving friend wake up easier and with a smile on their face as they drink their coffee.
Sheep Notebook Pocket Jotter
Help them keep track of all the random thoughts and inspiration that pops into their minds throughout the day with a sheep notebook pocket jotter!
Lightweight Sheep Scarf
Their neck will get warm, particularly if they have short hair or like to wear it up in a ponytail or bun. GIve them a lightweight sheep scarf to keep the breeze out.
Sheep Toilet Paper Holder
Give them a stylish, sheep way to store their toilet paper in their bathroom for easy grabbing!
Small Sheep Makeup Bag
This small sheep makeup bag is perfect for carrying their makeup along with them when they go on vacations or just for a long outing.
Year of Sheep Necklace
Whether or not they were born in the Year of Sheep, they will love wearing this necklace!
"Need Sheep" Coffee Mug
When they wake up in the morning, they need more sheep. Or do they just wish they were back in bed counting sheep to fall asleep? Either way, this mug is awesome!
"Herd that" Sheep Shirt
Is that the new cool thing to say? They "Herd that?" Your sheep loving friend will love wearing this shirt!
Silver Sheep Stud Earrings
Their silver sheep stud earrings will go perfectly with any outfit they choose to wear!
Cartoon Black Sheep 16GB USB Drive
Help them store their work and documents on this cartoon black sheep USB drive with plenty of space!
Sheep Tote Bag
They can bring along whatever they need, wherever they go with a sheep tote bag!
"I love ewe" Sheep Keychain
Remind them how much you love them with this "I love ewe" sheep keychain to hook their house or car keys on.
"Here's to ewe" Sheep Glass Mug
This glass mug is perfect for beer or any other beverage they choose to drink, and has a toast inscripted right on the mug: "Here's to ewe!"
Sheep Pin
A sheep pin will be fun to wear around the house, on an outing, or for special occasions!
Hologram Unicorn Sheep Sticker
Great for their laptop, iPad, planner, notebook, and more, this hologram unicorn sheep is absolutely adorable… and maybe a little giggle-inducing!
Sheep Flask
What better way to get a little tipsy on the go, than a sheep flask?
Sheep "Show Mom" decal
If the sheep enthusiast in your life is a 4H or farm mom, they will enjoy wearing this "Show Mom" shirt to events and around time.
Sheep iPhone 7 Case
They can keep their iPhone 7 safer and in better shape with their sheep iPhone 7 case, which is both functional and stylish!
Sheep Baby Booties
For the sheep lover who is expecting a baby, or grandbaby, the sheep baby booties will be the perfect baby shower gift!
Sheep are cute and fluffy, and a gift with this theme for that special sheep lover in your life will make a great choice. The good news is there are so many unique ideas to choose from!