Disclosure of Material Connection: Some of the links in this post may be "affiliate links." This means if you click on the link and purchase an item, I will receive an affiliate commission. Disclosure in accordance with the Federal Trade Commission's 16 CFR, Part 255. This site is a participant in the Amazon Services LLC Associates Program, an affiliate advertising program designed to provide a means for sites to earn advertising fees by advertising and linking to Amazon.
What powerful animals panthers are, yet beautiful at the same time. Many people like them, but do you know someone who loves panthers above all else, as their favorite wild animal? Perhaps they see something in the panther that they relate to or simply admire. A great way to show your appreciation to that person is to get them a panther-themed gift, such as those listed below…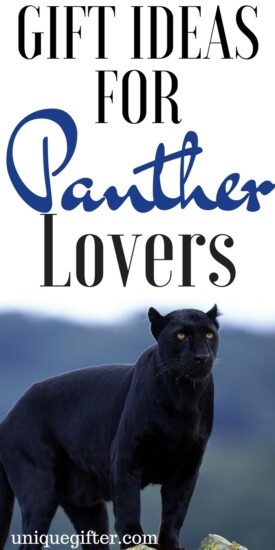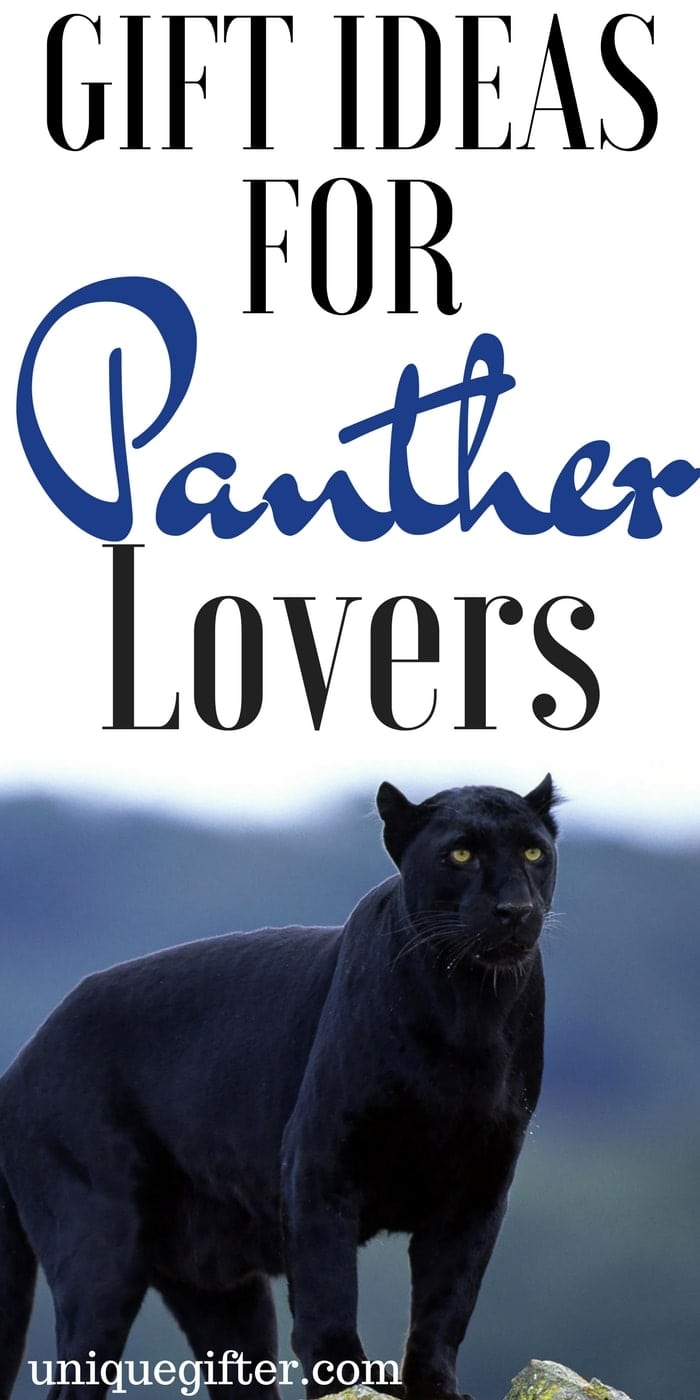 Take a look at our A to Z Animal Lover Gift Inspiration for even more ideas for every animal under the sun.
Gift Ideas for Panther Lovers
Black Onyx Panther Totem Animal
Perfect for a home or office decoration, they can place this black onyx panther totem animal virtually anywhere and it would look great.
"Panthers are my spirit animal" Shirt
If your friend relates to panthers at all, they could just be their spirit animal!
Pink Panther Collection
The Pink Panther collection will keep them entertained for many hours, with one of their favorite animals on the screen pretty much the whole time.
Realistic Stuffed Panther
This realistic stuffed panther will give them the sense that they are not alone, even when they are.
"Sundays are for the black cats" Hoodie Sweatshirt
If they have a black cat, in addition to loving panthers, they will adore this shirt. Sundays are meant to be at least partially spent with those furry creatures in our lives.
Panther Wall Art
This piece of panther wall art will look great on their living room, bedroom, or office wall.
Panther in a Heart Shirt
They love panthers, it's as simple as that, and this shirt states that as plain as day.
Bling Jewelry Panther Ring
Always unique to have a special ring in their favorite animal, to wear wherever they choose to go!
Pink Panther Herb Grinder
If they are a fan of the movie, or just the animal, they will find grinding herbs a lot more fun with this Pink Panther herb grinder.
Panther Bedding Set
Plush Panther Hat
Especially if they are a kid or like unique hats, they will love having a plush panther hat to keep their head warmer and ignite their imagination at the same time.
Framed Panther Tile
This framed panther tile will make the perfect addition to your pather loving friend's current decor.
Panther Eyes License Plate Frame
Oooh, kind of cool and kind of spooky at the same time!
Paw Print Pencils
If that special person in your life goes through a lot of pencils, for work, drawing, or school, they need this set of paw print pencils to remind them of the panther within themselves!
Draw 50 Cats Step-by-Step to Draw Domestic Breeds and Wild Cats
Help them learn how to draw many types of cats, panthers being one of them, with a Draw 50 Cats Step-by-Step book!
Panther Cub Coffee Mug
The cute little guy on the coffee mug will be their coffee date while they sip their morning coffee.
Panther Leather Phone Case and Wallet
Two-in-one with a leather phone case and wallet to store their cards and money in as they go about doing their errands and whatever else they need to tackle each day, without carrying their whole purse with them.
Black Panther on Ball Candle
Especially a great gift if they like having candles lit on a regular basis, or simply as a decorative piece in their home.
"#panther" Coffee Mug
In the morning, or during the day when they're extra tired, they may only speak panther until they get enough coffee in their system.
Big Cats Notebook/Sketchbook
Help give them more incentive to color, write, or draw, with this big cats notebook/sketchbook.
Panthers are amazing animals, strong, powerful, and beautiful in their own right. Chances are, even if they're not a huge fan of panthers, they will enjoy one of these many awesome gifts.