Disclosure of Material Connection: Some of the links in this post may be "affiliate links." This means if you click on the link and purchase an item, I will receive an affiliate commission. Disclosure in accordance with the Federal Trade Commission's 16 CFR, Part 255. This site is a participant in the Amazon Services LLC Associates Program, an affiliate advertising program designed to provide a means for sites to earn advertising fees by advertising and linking to Amazon.
Let's face it, Eel lovers aren't the easiest to gift for. Whether it be the holidays, a birthday or something to let them know you're thinking about them, these Eel themed gifts are just what you're looking for. I hope you find this guide positively appeeling!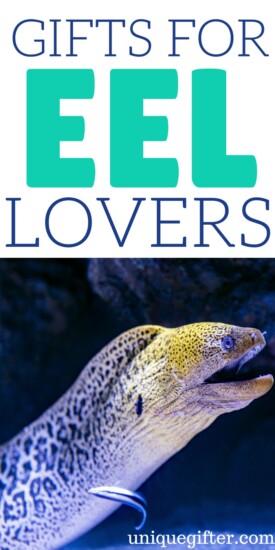 We've got you covered for more than just eel lover gifts, we've got an animal gift guide for everyone!
Gifts for Eel Lovers
Eel Stickers and Confetti
These adorable green eel-shaped confetti double as stickers which can make any Eel enthusiast's surprise party truly memorable. Or use them in your party favors!
Eel Stamp
This rubber stamp is the perfect gift for any eel lover in need! More often than not, eel lovers have a hard time expressing their passion, this stamp is the perfect way for them to let everyone know what their favorite elongated aquatic critter is.
Miniature Bucket of Eels
Ideal for collectors of the fish, this miniature clay and wood bucket of eels is handmade and stunningly lifelike. An interesting gift, this curio piece is exactly what you're looking for!
Vinyl Eel Decal
This simple yet elegant vinyl eel decal is an easy gift choice for any eel lover. Adorning their laptop, car window or notebook with this glossy decal makes it the perfect present for any eel fan.
Eel Necklace
This gorgeous silver eel necklace is the eel themed gift nobody saw coming. A real head turner, this handmade jewelry piece is ideal for any eel lover.
Eel Money Clip
Based on the well loved and universally recognizable Moray eel, this money clip is the perfect gift for an eel lover, fisherman or marine biologist on your list. Just a touch whimsical, this clip is a subtle yet practical present.
Funny Eel Card
"I have eelings for you", this cute and funny greeting card is a unique and very personal gift for that eel lover in your life.
Stuffed Eel Plushie
This cute grey eel plushie is a great gift idea for any collector of eel themed paraphernalia. Plus, Tesla the Electric Eel makes electrical shocking sounds making it a truly unique present for eel fans the world over.
Think of an Eel Book
Presenting scientific facts regarding the species, this children's book about eels combines a poetic presentation with educational benefit. A perfect gift for younger eel fans, this book is a sure to be a hit!
Realistic Vinyl Replica Eel
This large and anatomically correct moray eel might be just what that eel lover in your life has always wanted! Perfect for collectors and fans alike, this replica moray makes for a great present!
Eel Sushi Plushie
Arguably the most adorable entry on this guide, this eel themed gift takes another angle on the much loved aquatic creature. Eels are also widely known for their role in Japanese sushi cuisine. This plushie is sure to win a laugh and a smile with it's adorable charm.
Extraordinary Eels Book
This paperback book about eels provides the reader with concise factual information regarding the much loved critters. Great casual reading for an eel fan, this book makes for an excellent gift.
Eel Skin Wallet
This gorgeous and stylish men's trifold wallet is truly unique, it's made of eel skin. Luxurious and practical this eel themed gift really makes a statement.
Slow Sinking Eel Lure
This expertly crafted fishing lure is perfect for eel enthusiasts who like to take to the water. Having the right gear is everything, and they're sure to thank you for it! Make your gift memorable, go practical with this thoughtful gift.
Eel Gift Tags
Thes gift tags are excellent for an eel lover's birthday party, or any celebration. With an eel silhouette at the base of these handcrafted tags they're also ideal for scrapbooking and other crafts.
Japanese Omiyage Eel Snack
In Japanese culture an Omiyage is a treasured souvenir, this eel flavored snack should bring much joy to any eel lover. This gourmet snack is a very personal gift to any eel fan.
Wooden Eel Sculpture
This handcrafted wooden eel sculpture makes a great desk ornament for eel lovers in the professional world. Let them express themselves with this truly one-of-a-kind handmade art pieces.
Culinary Eel Stencil
This handmade cooking stencil is useful for baking an eel themed cakes and sweets. It's also great for a wide variety of crafts! Featuring a cute eel silhouette this is a thoughtful gift for eel fans!
Eel Skin Flask
This art-deco style drinking flask is adorned with an acrylic eel skin pattern for a look that's sure to raise some eyebrows. Great for the eel lover on the go, this steel drinking flask is a gift they're going to really appreciate.
Handmade Eel Coffee Mug
Minimalist style is all the rage, and it doesn't stop at eels. Pick up this trendy coffee mug featuring hand drawn sand eels for a memorable present.
Eels are iconic sea creatures, known for their unusual shape and striking features. Make your favorite eel lover's day special and unique with one or more of these cute and thoughtful gift ideas!