Disclosure of Material Connection: Some of the links in this post may be "affiliate links." This means if you click on the link and purchase an item, I will receive an affiliate commission. Disclosure in accordance with the Federal Trade Commission's 16 CFR, Part 255. This site is a participant in the Amazon Services LLC Associates Program, an affiliate advertising program designed to provide a means for sites to earn advertising fees by advertising and linking to Amazon.
Lovers of the magnificent freshwater salmon look no further! This gift guide is specially tailored to you and anyone else looking for some truly unique and thoughtful salmon themed gifts. Hopefully you'll find something swimming in this list that will do the trick!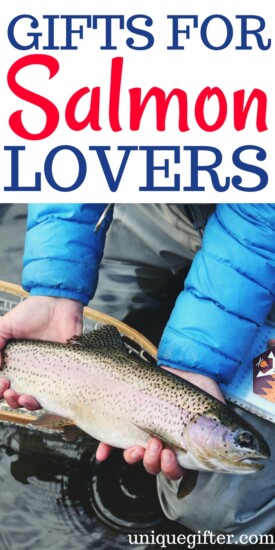 Love more than salmon? We've got an animal lover gift guide for everyone.
Gifts for Salmon Lovers
Salmon Watercolor Wall Hanging
This wonderful wall 3 piece wall hanging features a watercolor rendition of a salmon fish. It's stylish and modern look will sure to appeal to just about anyone, salmon lovers included!
Salmon Fishing Decal
This car decal is perfect for adorning anything from windshields to notebooks and laptop covers. It tells everyone you'd rather be fishing for your favorite catch, fresh salmon! Catch this deal to make a quick gift for any salmon fan!
Jumping Salmon Shot Glasses
These stylishly etched shot glasses are perfect for celebrating any occasion. Featuring a jumping freshwater salmon this set of glasses makes a great gift idea.
Salmon Steak Earrings
This set of comical earrings are a hilarious yet stylish way to help that one quirky salmon lover on your list express themselves!
Salmon Sushi Greeting Card
This handmade and attractive looking gift card is truly unique, and sure to impress a salmon lover! With a salmon sushi print it's sure to land with any culinarily inclined friends too!
Wooden Salmon Wall Art
Set in carved wood this salmon wall hanging is a modern art masterpiece. Decor is a great way to surprise someone with a one-of-a-kind gift!
Salmon Tie Clip
Fisherman and salmon fans alike will fawn over this eye catching tie clip. The professional world doesn't have enough self expression, show your salmon loving friend or family member some love with this rare find!
Salmon Fish Cookie Cutter
This steel handmade cookie cutter is in the shape of a majestic jumping salmon! Use it to whip up some sweet treats for a fish loving friend, or add it to their kitchen collection!
Sockeye Salmon Enamel Pin
This enamel pin is the pinnacle of collectable salmon gifts. Set in gorgeous handmade enamel it features a sockeye salmon and is truly unique. Pick it up today to check that salmon fan off your gift buying list!
Salmon Picture
This atlantic salmon wall hanging is a single piece framed art picture. Perfect for offices or living rooms alike your salmon loving friend is sure to love it!
Salmon Fish Necktie
This eye catching necktie features salmon fish set in a quirky and fun design pattern. Why should someone's love for salmon not be allowed to shine through in the formal world?
Salmon Fillet Dry Rub
This handcrafted dry rub is an excellent gifting choice for any salmon lover in your life! Add some spice to their celebration this year with this thoughtful and practical salmon themed jar of dry rub.
Salmon Fillet Plushie Cushion
This decorative throw pillow resembles an oversized, photo realistic depiction of a salmon steak. Definitely a unique gift for the ages, this is a great decorative piece that will always remind your salmon loving friend you're thinking of them.
Smoked Salmon Trio
This smoked salmon pack features three unique flavors. Smoked salmon is a delicacy any lover of the succulent fish would be happy to receive! This pack makes a great gift, believe me they'll thank you!
Happy Salmon Card Game
Give your salmon fan a fun new piece for game night with the Happy Salmon Card game!
Trendy Salmon T-Shirt
This trendy and fashionable T-shirt is a great gift for any salmon lover. Besides, who couldn't use a brand new T-shirt?
Salmon Puzzle
This 1000-piece puzzle features a wide array of salmon breeds. Once complete it could even make a great wall piece. Puzzles are great collector's items and this salmon themed one is no exception, add it to your gifting list today!
Salmon Fishing Lure Set
This fishing lure set is specially tailored for salmon fishing. Featuring a variety of lures it is ideal for that salmon fisherman on your list.
Salmon Plushie
This plushie resembles the iconic Chinook Salmon, a recognizable and long fish it makes a great detailed plushie! This stuffed animal would make a great piece of decor, bedding even a collectable! (Salmon Fact: The Chinook is a saltwater salmon!)
Salmon Jerky
Surprise that one salmon lover on your list with something absolutely irresistible! This pack of salmon jerky provides a sampling of original, peppered, and teriyaki flavors.
Here's to you, you expert gift giving guru you! Hopefully these gifts will have your salmon enthusiast friend jumping with joy! (Salmon Fact: Salmon fish leap to navigate the river rapids on what is known as a salmon run!)