Disclosure of Material Connection: Some of the links in this post may be "affiliate links." This means if you click on the link and purchase an item, I will receive an affiliate commission. Disclosure in accordance with the Federal Trade Commission's 16 CFR, Part 255. This site is a participant in the Amazon Services LLC Associates Program, an affiliate advertising program designed to provide a means for sites to earn advertising fees by advertising and linking to Amazon.
Gotcha Day is all about both the loss and gain of family. Give a gift or two that helps honor and celebrate such an intense day that embodies both loss and gain at the same time. Of course we want to help celebrate the good and positives of adoption, but we also need to be sensitive to the child who may need some help with the loss part of it as well. The gifts here are chosen with these in mind.

Gifts For Gotcha Day
Personalized Adoption Block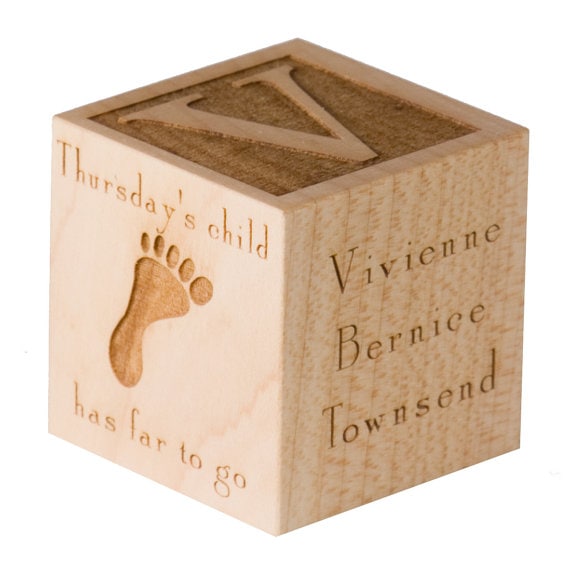 This block is specially made for each family. The personalization can be used in different ways. You can honor both the birth family, if known as well as the new family, merging as one. The block symbolizes the different building blocks that make up a family, with each side just as important as the other.
Children Are A Gift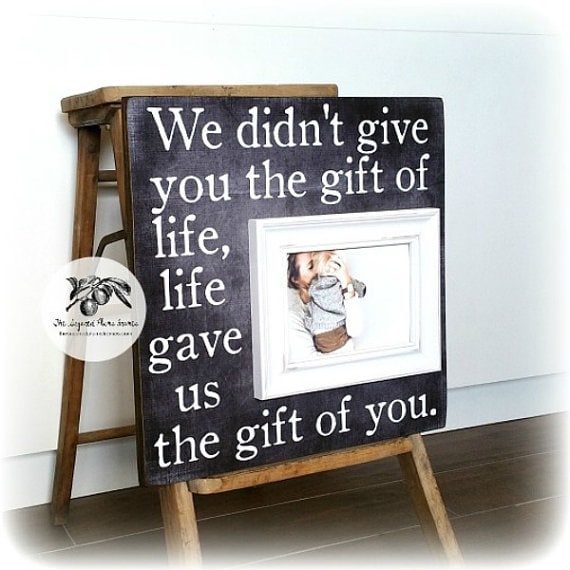 Great reminder for the adopted child to see a first time meeting photo and what it means to become part of the bigger picture. Lets the child know that they are a very special gift and brings life to the family.
Personalogy Family Game
Great way for everyone to get to know one another or remind one another of what the other likes and how they think. Family night is a very important bonding and memory making time that kids do look forward to.
The Family Branch
3D family tree to show that even though everyone is their own branch everyone is also connected and held together using the same foundation trunk. It doesn't matter what part of the tree the child is on, they are loved, needed and wanted by the rest of the tree to complete the family.
Personalized Beginnings Map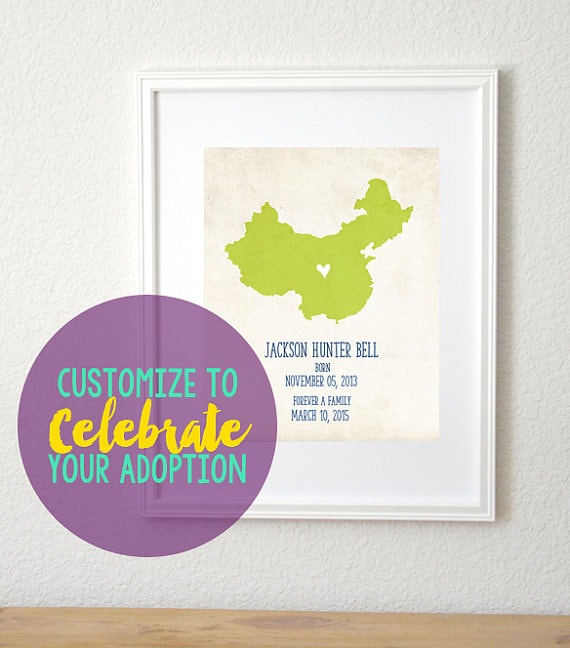 This can be personalized to show where the child was born. It is a great way to honor their origins and how they became part of an additional family. Mapping out their life story will be an important topic for years to come, help it start off with everything that makes them who they are.
Pyrographyed Family Sign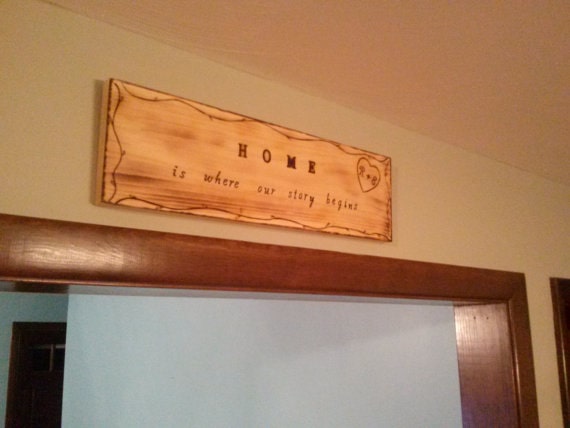 The family names are forever together, showing a unity that can't be broken because they are ingrained-burned just like their real life bond. The family was fated to come together as a single unit and share a loving, star-struck bond.
The Strength Of Family Completes The Circle
When a family comes together the bond and strength it holds together is such an amazing and euphoric experience. Adding an extraordinary child to the family makes that strength intensify. What a nice wall decor piece to resemble the strength this family possess.
Treasured Family Memories
Family is such a treasured community to have and be a part of. It is definitely one of the only communities that you can count on and be able to make some amazing memories with. Capture Gotcha Day and treasure that special day forever.
Cooking Together Opens Lots Of Communication And Builds Memories
The family who cooks together will eat together. Eating together as a family is really beneficial especially when the child has officially joined the family. Cooking and eating together will help build that trusting and loving bond the child seeks daily.
Fun At The Dinner Table
After they have cooked together they can play together while eating. How fun is that! The family can play a game at dinner time to encourage longer family spending time. Extended dinnertime will promote and foster the parents and kids to spend that much needed quality time together and it will be more fun and relaxed, not even forced because it is dinner time which is a time that is pretty open and relaxed.
Treasure Box Full Of Family Memories
Fun treasure holding trunk to keep everything in one spot and safe from damage. Family memories are a huge treasure to come across and this great trunk will hold lots and be fun to add items to.
Fun Activities That Are Both Play And Therapeutic
Yes the children are so excited to become officially part of the family in legal terms but it can also become overwhelming too for the older kids too. Gift the family both fun and activities that are also therapeutic for all involved to keep the lines of communication open. It is a great way to express various emotions without overwhelm or being confrontational.
Science Fun Activities To Do As A Family
Science is a world of questions, cause and effects and a great way to play with the kids while getting in that quality time. It gets the kids asking lots of great questions and it is a great way for parents to respond with authority, mentorship, and many other important roles they now have with the child.
Family Journal
Both the parent and child will really enjoy filling out this family journal of memories to treasure years later. It is a great way to help them document how their family was created and how they were magically united.
Gotcha Day Keepsake Keychain
What a sweet quote and photo reminder of such a life changing moment. A nice way to keep the special day as a nice memory and refer back to. Use a photo of the whole family together or one that shows the signing of the official papers!
Joining Hands As A Family
Grab a handprint of the family officially coming together. A fun keepsake to create as a family together on the very special day they officially became a unit. Each member adding their print to complete the full family handprint is going to be a lovely reminder for years to come.
Adoption Day Song Book
Beautiful illustrations showing off the lovely words of this song made for adoption day. Music is used all over the world to bring happiness, joy and bring people together. Having a special song just for that special day that commemorates a lifetime of unity.
Adoption Announcement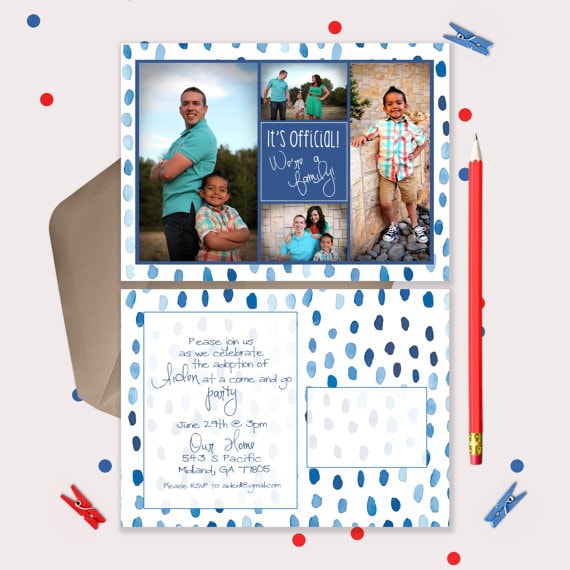 Show off how well bonded the family is with four different photos along with the official date announcement. You can customize the information section for a party or give some information about the special day.
Gotcha Forever!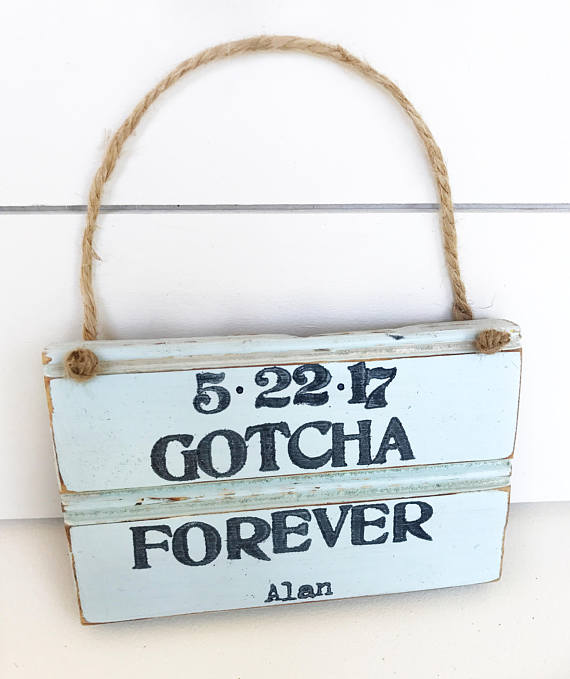 Beautiful wood piece to commemorate that special day. It will look great near the family tree or just about anywhere. Can also be hung in the child's room as a reminder of their special day. Since it is made with reclaimed wood, each piece is unique, just like each family is.
Scrabble Wall Art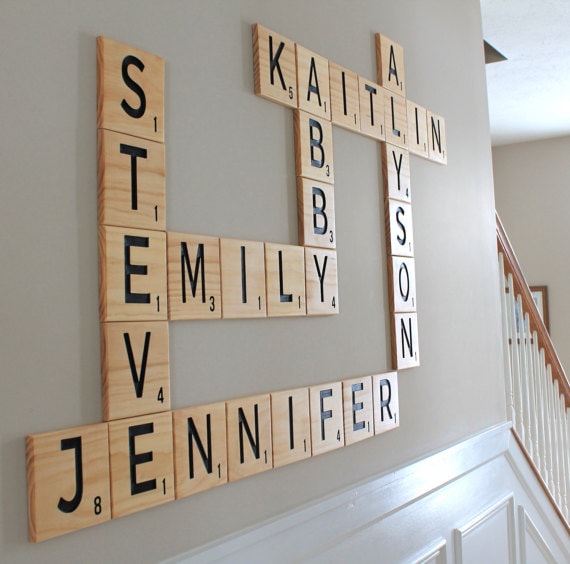 You can create a fun, memorable and unique wall art that looks great in the living room or hallway or just about anywhere to show off how each person in the family is needed to complete the picture. A great way to have a visible reminder that each person is special and very important as a family unit.
Looking for more? We have 20 more Gotcha Day Gifts to check out.
Gotcha Day Is Such A Huge And Happy Moment
Gift some items to help the family bond, spend more time together and show others how they came together. Gotcha Day is like a renewed life for many children and parents are going to want to capture and treasure those moments. Help these children and parents not only capture such amazing memories but also encourage to make many more united family moments.