Disclosure of Material Connection: Some of the links in this post may be "affiliate links." This means if you click on the link and purchase an item, I will receive an affiliate commission. Disclosure in accordance with the Federal Trade Commission's 16 CFR, Part 255. This site is a participant in the Amazon Services LLC Associates Program, an affiliate advertising program designed to provide a means for sites to earn advertising fees by advertising and linking to Amazon.
Math teachers are criminally underrated. So many people self profess to hate math which can leave your poor math teaching feeling underappreciated. Yet, who's out there, day after day, teaching students how to solve their problems? That's right. Math teachers. These gifts have been carefully calculated with a math teacher in mind.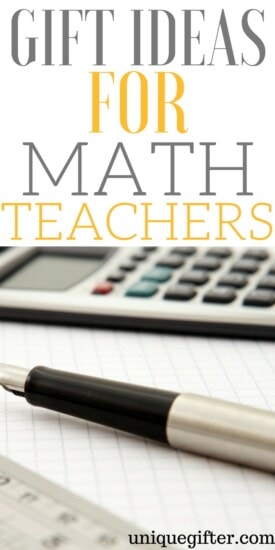 Gift Ideas for Math Teachers
99 Problems Mug
Any math teacher I've had has had a sense of humour. Let them tease the students with this funny math mug.
Trigonometry Necklace
This long brass necklace is covered with the 3 different parts of trigonometry. Perfect for a high school math teacher or your favourite math geek.
Math Symbol Index
It's nice to have posters around the classroom for reference but as you go into senior grades the colourful ones feel childish. This art print is so elegant they just might want to hang it up at home instead!
Avoid Negativity Hoodie
This is a great choice for one of those infectiously positive math teachers who always brighten your day. Who doesn't love a good math pun that people won't quite understand?
Grading Stamps
Maybe they're a math teacher for a reason. Maybe that reason is they don't like writing. Handy stamps to make grading easier on your already busy math teacher.
Geometry Formula
A unique buy for a geometry teacher! It would make a great decor item in the math classroom or on their desk.
Customized Tote Bag
You can't go wrong if you go practical when gift giving and this personalized tote bag would be a handy gift for a math teacher. They can use it to bring books and papers back and forth for grading.
Math Jokes Book
Math teachers are mathy folks and they're going to love these mathy jokes. Why is 6 afraid of 7? (because 7 ate 9)
Math Clock
A brilliant way to annoy students who are forever checking the time in class. Either guess or figure out the math problems.
Pudding Bowls
These aren't just any pudding bowls – they're a pun. "The proof is in the pudding" is a common phrase and each pudding bowl has proof of a classical mathematical theorem printed on it.
Math Notebooks
These notebooks are just too cute to pass up. You get both in the set so your math teacher can write double the notes!
Pi Sign
Another fun decorative piece, this frame has the first 3 numbers of Pi done using photographs of numbers. Underneath Pi continues for awhile. The cool thing about this gift is it's completely handmade.
Personalized Notepad
No one will be able to question who gave you that note when it comes on your math teacher's personalized stationery.
Math Errors Print
This poster is a print at home choice which makes it a great last-minute gift idea. It's also a handy guide to have in the math classroom.
Tangent Mug
Teachers need to drink a lot of coffee so mugs are probably a safe bet. This one has a fun double meaning, get it?
Math Teaching Book
This is a great book for a friend or family member who's also a math teacher. It has advice for math teachers to make their lessons more interesting and engaging, and better support the different types of students in their classes.
Math Coasters
Brightly coloured and full of nerdy math jokes, no drink will leave rings on your math teacher's table again with these coasters. Each references a different mathematician.
Mathematics Inspirational Sign
It's a lot better than those tacky "hang in there" posters from when we were in school. Inspire students to think positively with this art print.
Tower of Pi Pencil Holder
This unique pencil holder is made of stacked up Pi numbers. Inside it also shows the symbol for Pi. What a great item for your teacher to have on their desk!
Math Teacher Card
Sometimes it's better to go with a card. This personalized thank-you card is going to put a smile on a math teacher's face. You could even tuck a gift card inside.
Now that you've found the right formula to impress your math teacher it's a sin you need to pick up something cool to say "thanks for making sure I know how to calculate the cheapest price on toilet paper". Trust me, these are life skills you're leaning in math class.