Disclosure of Material Connection: Some of the links in this post may be "affiliate links." This means if you click on the link and purchase an item, I will receive an affiliate commission. Disclosure in accordance with the Federal Trade Commission's 16 CFR, Part 255. This site is a participant in the Amazon Services LLC Associates Program, an affiliate advertising program designed to provide a means for sites to earn advertising fees by advertising and linking to Amazon.
Have a peek at these ideal gifts for insomniacs! Trust me; if you have ever suffered from insomnia, you know how difficult the nights can be. Sometimes no matter what you do, it's nearly impossible to catch any of those much needed zzz's. Giving a gift that will help them is going to be appreciated more than you will ever know.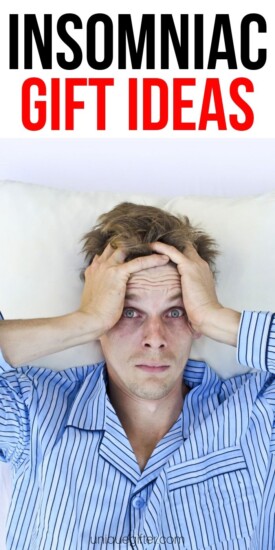 Creative Gifts For Insomniacs
You have to see these fantastic gifts for insomniacs! Soon your friend or family member will be sleeping so amazing thanks to you.
White Noise Sound Machine
Sometimes the littlest noises can keep someone up if they have insomnia. A sound machine is a wonderful way to drown out some of the other sounds in the room.
The Nocturnal Journal
This book will help you understand insomnia and give some things to really think about. This is a must-have for all insomniacs.
Weighted Blanket
If you have never slept with a weighted blanket, then you have been missing out. It's so comfortable to snuggle with a weighted blanket, and you will be surprised by how amazing you sleep with one.
Insomniac Coffee Mug
Keep in mind; you don't necessarily want to use this for coffee if you suffer from insomnia. Sip on some relaxing tea before bed instead.
Cotton Sleep Eye Mask
Block out annoying light with a cotton sleep eye mask. This is especially wonderful for someone who is trying to sleep during the daylight.
Pajama Set For Women
Having some comfortable pajamas is a fantastic way to relax and enjoy a night's rest.
Pants For Men
These pants are soft and easy to sleep in. Get him a pair of these, and he will be forever grateful.
Lavender Body Lotion
Lavender is a relaxing smell! Giving lotion as a gift is an excellent idea because the recipient can put lotion all over before sleeping.
Satin Sheets
Sleeping in satin sheets is one of the best feelings in the world. They are cool, smooth, and you can't help but relax when you lay on them.
Good Night Sleep Essential Oil
This essential oil is truly amazing. Put a drop on your bedding and breathe it in. You can also use it in a diffuser or rub it on your feet.
Essential Oil Diffuser
It just makes sense if you are going to use essential oils that you would want a diffuser to go with it. Sleep awaits!
Blackout Shades
These shades are fabulous if you sleep during the day. Or if you want to sleep in in the morning and the sun can't wake you.
Noise Cancelling Headphones
They can listen to something that relaxes them and tune out the rest of the world while they get some sleep.
Sleep Support Tea
Sipping on a cup of this sleep support tea is sure to relax you. Plus, it smells incredible too.
Memory Foam Hybrid Mattress
I don't think there is a mattress more comfortable than this one. It's inexpensive and worth it to get a great nights sleep every night.
365 Ways To Relax
This book teaches you how to relax. Your body, mind, and soul should all be relaxed, and it explains how to make this happen.
Adult Dot-To-Dot
Unwind after a long day by working on a dot-to-dot before you go to sleep. It can help get your mind off your troubles.
Memory Foam Pillow
Oh, you have never slept on such a comfy pillow. Give this as a gift, and they will be thanking you like crazy.
Bath Salts
Before trying to go to sleep, soak in a tub of relaxing bath salts and warm water. It will feel amazing, and you are sure to relax.
The Ultimate Sleep Gift Box
This gift box has a little bit of everything. This will give a variety of things to try and see what works best.
If you have ever had insomnia before, you already know how stressful it can be, these thoughtful gifts for insomniacs are perfect for getting a great night's sleep.