Give a bit of the luck of the Irish to anyone who receives one of these gifts! If you know someone who is Irish or you want to buy a gift for St. Patty's Day then scroll through this list below. I have tons of great Irish themed gifts to give to brighten someone's day! Happy shopping.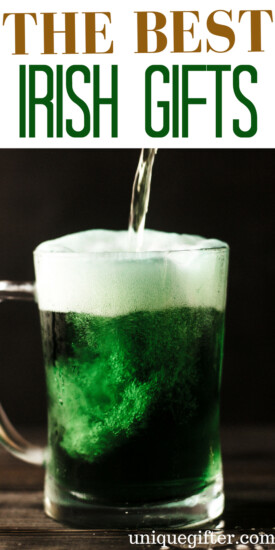 Epic Irish Gifts for St. Patrick's Day and Beyond
Whether you're shopping for a perfect St. Patrick's day gift or just want to get an Ireland themed gift for someone in your life, these ideas have you covered. With options that celebrate Celtic heritage, Irish luck, and fun Ireland memorabilia there's truly something for everyone on your list here!
Hopefully you've struck a bit of luck with these fun Irish gifts and found something for all the Ireland lovers on your list. Whether it's a St. Patrick's Day goodie or just something special for the Irish (or fans of) folks in your life will appreciate that you cared enough to get something Irish themed.