Disclosure of Material Connection: Some of the links in this post may be "affiliate links." This means if you click on the link and purchase an item, I will receive an affiliate commission. Disclosure in accordance with the Federal Trade Commission's 16 CFR, Part 255. This site is a participant in the Amazon Services LLC Associates Program, an affiliate advertising program designed to provide a means for sites to earn advertising fees by advertising and linking to Amazon.
It's so easy for people to visit a newborn and bring them a toy or a book, but it's not always so easy to come up with something for the person who did all the work!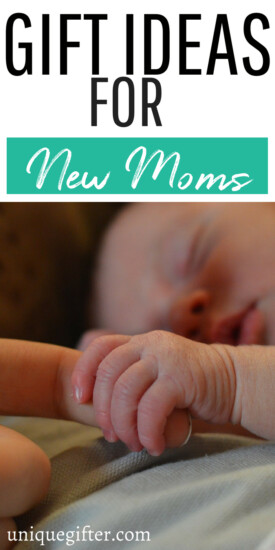 Some of these suggestions might seem to suggest a new mom has nothing but time on her hands. Trust me, she doesn't, but when the baby is nursing or you're stuck rocking them to sleep for a few hours in the wee dark hours, a great funny book or movie is just the thing to pass the time and put a smile on her face.
Gifts for New Moms
Cheese To Go
Easy to grab snacks are so wonderful when all your brain is busy with keeping a brand new baby alive and well.
Gluten-Free Mighty Muffins
These muffin cups are so neat! You don't have to worry about them going bad before she can eat them, they take next to no work to prep, and they're certified gluten-free.
Minute Muffins
These mini muffines are perfect when you don't want to commit to a whole big meal type muffin.
Dark Chocolate Truffles with Fruit Center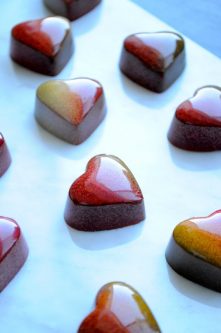 Dainty, beautiful, and delicious. The perfect little pick me up for a chocolate lover. You might want to get a couple boxes so that if Mom has to share, she doesn't have to give up any of her own!
Smoked Salmon
For moms who had to avoid seafood during pregnancy, this treat will taste and feel like the utmost luxury.
Vacuum Insulated Stainless Steel Bottle
New mamas, whether nursing or not, need to stay hydrated. An insulated bottle with a straw in case she's drinking while laying down (often when you're nursing!) makes this a versatile all the time gift. No one needs to know when mom has switches over to wine. Just sayin.
Mermaid Dry Shampoo
Friends swear by the magic of dry shampoo when they're stressed and overworked. It seems like an excellent thing to have on hand when you've got a newborn in the mix.
Epsom Salt
This is only a worthwhile present if you add a little critical element to the gift: an hour of babyminding so that she can actually relax and USE it.
Massage Oil
Bring this and a pair of gentle strong hands to give her a foot massage. An old friend did that for me and I had no idea that's exactly what I needed.
Micellar Wipes
I don't generally love totally disposable things but I bend that rule for wiping bums and faces after a newborn has joined the family. That might be the only refreshing moment of your day!
Mindy Kaling's Is Everyone Hanging Out Without Me? (And Other Concerns)
Mindy takes readers on a narrated tour of her life covering romance, friendship, and Hollywood.
Gabrielle Union's We're Going to Need More Wine: Stories That Are Funny, Complicated, and True
Gabrielle's intense collection of essays tells incredibly personal stories about power and race and bullying, gender, sexuality, feminism. Truly, this is worth spending time with.
Issa Rae's The Misadventures of Awkward Black Girl
Issa Rae's adventures are hilarious and self-deprecating. This had me chuckling all the way through.
Jenny Lawson's Let's Pretend This Never Happened Kindle Edition
Those of us who struggle with any kind of mental illness, or just had really strange childhoods, can probably relate to Jenny's experiences. Even when I didn't know what it felt like to be her, she still made me laugh.
Deep Cleaning or Spring Cleaning
If you're close enough friends to do some deep cleaning, or hire it in, that would be an amazing refreshing gift for exhausted new parents who simply isn't going to have the time or energy to spend on such things.
Cozy Robe
Rather than feeling like she's laying around in a ratty old robe, wrap new mom (and baby!) up in this lush robe.
Cozy Socks
There's nothing that keeps much needed sleep away like cold feet, and anything that encourages sleep when you're running the Sleep Deprivation Marathon is a blessing.
Nursing Pads
All my friends with multiples swear by these nursing pads for those newborn days.
Stool Softener
Ok look, no one ever wants to tell you about the gross stuff but moms still have to deal with it anyway. Just pop these into a care package and spare her a trip to the pharmacy.
Tucks Cooling Pads
The hospital will usually send some home with the new parent(s) but for harder births, new moms can't get enough of these.
Some of my best gifts were from dear friends who'd never had kids – they just instinctively knew what to do. I was never that intuitive myself. If you're anything like me, I hope these suggestions help!