Disclosure of Material Connection: Some of the links in this post may be "affiliate links." This means if you click on the link and purchase an item, I will receive an affiliate commission. Disclosure in accordance with the Federal Trade Commission's 16 CFR, Part 255. This site is a participant in the Amazon Services LLC Associates Program, an affiliate advertising program designed to provide a means for sites to earn advertising fees by advertising and linking to Amazon.
40 Baby Shower Gift Ideas for Your Nerdy Friends
There's no way to put this delicately, so we're just going to say it. Buying the perfect gift for a baby shower sucks. It's the same, boring stuff every time! And sometimes the usual just isn't good enough for that special human submarine that's about to pop! When your soon-to-be-mommy doesn't quite fit the mold and spends her free time raiding or playing Magic the Gathering with the best of 'em, what do you get them that lets them know how excited you are? These are the 40 baby shower gift ideas for nerdy soon-to-be moms!
Woefully behind on your baby shower gift buying? Check out Bump Boxes! They're a trusted name in subscription-box style gifts for expecting mothers that add even more excitement to their shower.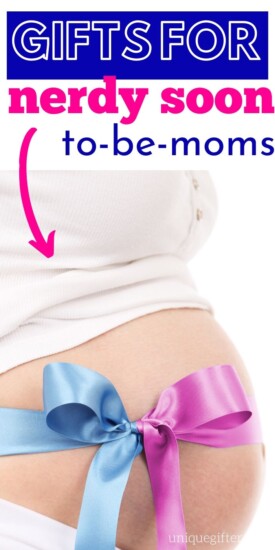 See also: For more fabulous baby shower ideas, check out this article! We also have a list of push presents in case you missed the shower.
40 of the Nerdiest Baby Shower Gifts You'll Ever See
Pack your diaper bag of holding and get ready to dive in! This list is going to add +10 intelligence to your shopping list!
Legend of Zelda Pillow Covers
These adorable pillow covers are super soft and perfect for a baby nerd's crib!
Plush Robot with a Big Red Heart
Show your nerdy parents how much love you have for their new bundle with this handmade robot!
HTML Maternity Shirt
Obviously coding isn't all someone does! Perfect for the pregnant programmer!
Princess Peach Onesie Outfit
This adorable set can be used as someone's first Halloween costume or for an adorable nerdy photoshoot!
Dragon Baby Blanket
This blanket is beautifully minimalistic and soft. A perfect first for any baby!
Baby's First Mjolnir Rattle
For any nerd's baby Thor! What better (and safer) tool for a tiny bundle of thunder!?
Gengar Face Pokemon Onesie
This little ghost onesie is guaranteed to be a hit at any Pokemon fan's baby shower!
Harry Potter Maternity Shirt
The best way to let all the muggles know you're casting spells for two!
Teenage Mutant Ninja Turtles Nursing Pillow
The only way to represent the best show that ever happened to all the 90's kids that are now having their own baby ninjas!
Tiny Hobbits on Board Decal
The safest way to venture outside of the shire is to let everyone know their tiny hobbit is aboard!
R2D2 Onesie
This robot onesie is perfect for any little Star Wars fan! Hat included!
Crocheted Dobby Doll
The sweetest of all house elves wants to help keep all tiny wizard and witches safe!
Level 1 Human Onesie
The baby might not have any stats yet, but they've got to start somewhere!
Uterus of Holding +1 Maternity Shirt
This maternity shirt is the best way for any D&D nerd to let everyone know exactly what's going on underneath their shirt! There's also +2 and +3 for twins and triplets!
Baby Muggle on Board Decal
This decal is the best way to let those filthy muggles know to not ride your bumper or you'll Avada Kedavra them!
Millennium Falcon Bath Bomb
Not every baby shower gift has to be for the new addition! Sometimes mom needs to relax, and this bath bomb is specially for them!
Hobbit Feet Baby Booties
These adorable little booties will be perfect for any baby hobbit's first adventure! Just don't forget to pack second breakfast.
Superhero Personalized Crib Blanket
The newcomer's got some things to prove. Personalize this super blanket with their name so everyone knows just what they can do! (Peaceful naps not included)
Super Mario Wall Decals
These decals are the perfect way to customize a future nerd's nursery! This set includes 44 removable stickers and a plethora of ways to decorate!
World of Warcraft Murloc Baby Carrier
This carrier is ergonomic and will fit a baby up through their toddler years, and is absolutely adorable to boot!
That's No Moon Maternity Shirt
This shirt is the best way to let everyone know they aren't gawking at the moon! No wookies were harmed in the making of this shirt.
Spiderman Night Light Sign
This light is beautifully crafted and designed to look great during the day and at night! Go ahead and get yourself one too, we won't judge.
Viking Hat and Battle Axe
If your friends are giving birth to a warrior, then the kid is going to need some gear! Start 'em out early with this adorable little crocheted set!
Hogwarts Student Costume
Okay. This title says costume. But we're not stopping anyone from putting this on their kid every day. Who are we to judge?
Mario Bonus Box Maternity Dress
This dress is perfect for a gender reveal party – and for the following months where mom just wants to be comfy!
ABC's of D&D
This wonderful children's book will be perfect for any little nerd that loves learning! You gotta start 'em off early!
123's of D&D
You can't get one without the other, so we're throwing in the counting book too! This is a great way for both parents and kids to enjoy books together!
These gifts are perfect for any nerdy mom and baby! Sometimes a plain old pink diaper bag or Batman onesie just isn't enough! We hope this gift guide has helped you think outside the box! If you have a favorite or order something off this list, give us a shoutout on Twitter (@ugifter) or Instagram (@uniquegifter) and let us know what you got!