Disclosure of Material Connection: Some of the links in this post may be "affiliate links." This means if you click on the link and purchase an item, I will receive an affiliate commission. Disclosure in accordance with the Federal Trade Commission's 16 CFR, Part 255. This site is a participant in the Amazon Services LLC Associates Program, an affiliate advertising program designed to provide a means for sites to earn advertising fees by advertising and linking to Amazon.
If you know someone who is passionate about making wine, they will appreciate a lovely gift such as one of those listed below. It could be for their birthday, just because, or a holiday or another special occasion. Gifts that are fun, and unique, always make the best ones!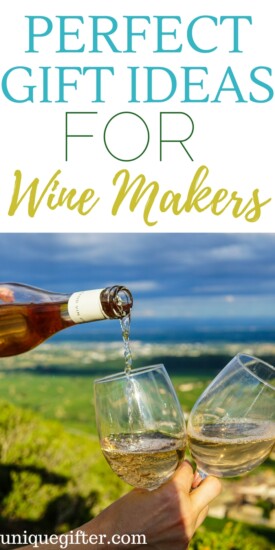 Gift Ideas for Winemakers
"I'm the psychotic (hot) winemaker" Shirt
Your winemaker friend is both hot, and possibly even psychotic. Give them this shirt that is sure to make both of you laugh out loud!
Wine Glass Bangle Bracelet
A very nice piece of jewelry for that special winemaker, or even simply a wine lover!
Wine Patent Prints, Set of 3
Perfect for hanging up on the wall of the space they use to make the wine, whether that be in their kitchen or somewhere else. Plus they look beautiful and can be even more classy when framed before gifted!
Acrylic Wine Cooler
This acrylic wine cooler will help keep their wine cool when they are drinking it, or have guests over to taste their own wine!
Grape Keychain
Wine is from grapes, therefore this grape keychain is one of the best places for them to hold their house, car, and other keys on.
Kato Insulated Wine Tote Bag
They can bring their own chilled wine to games, picnics, potlucks, parties, or anywhere else without a reduction in their temperature.
Wine Life: A Snarky Adult Colouring Book
For those who love making wine, drinking wine, or both, this Wine Life adult coloring book is perfect for downtime and recharging.
Le Chateau Wine Decanter
Classy and fun, their new wine decanter will be their favorite winemaker accessory!
"My broomstick runs on wine" Shirt
For that "witchy" person in your life who makes wine, this "My broomstick runs on wine" shirt will be the shirt they just love to wear.
"If you can read this, bring me wine" Socks
They love relaxing with a glass, or bottle, of their own wine. Help them get that message to others with these funny socks.
Custom Map Wine Stopper
Wine stoppers are handy, and you can choose a special location that fits your favorite winemaker!
White Wine Candle
A white wine candle for those times when they light candles, like a date night or when the power goes out, will make a nice addition to their home even when it's not lit up.
Wine Lips Lip Scrub
If they love wine enough to make their own, they definitely need a wine lips lip scrub as part of their beauty routine.
Wine Bottle Wind Chime
What a beautiful accessory for the winemaker in your life to put on their porch! It just might be the most talked about outdoor decoration they have.
"World's most awesome winemaker" Coffee Mug
They are certainly the world's most awesome winemaker, so make it official with this mug!
Wine-O Bingo for Wine Lovers
The wine-o bingo is fun for wine lovers and winemakers alike!
Personalized Stemless Wine Glass
Personalize a stemless wine glass with their name and title, or a funny quote. They might be perfect for the wedding party, but also for housewarming presents, birthday gifts, and more.
Wine Cork Shadow Box
Help them collect wine corks for their own wines, or even just wine memorabilia to decorate their place and keep them inspired!
Personalized Wine Name Block Mount Art
Choose a name for this custom wine name block mount art that is super classy and beautiful!
Personalized Rose Wine Coaster
A beautiful and funny rose wine coaster for a beautiful winemaker, personalized with their name!
Wine is fun, making wine is for those who are passionate about the process. The winemaker in your life will absolutely love one of these special gifts!