Disclosure of Material Connection: Some of the links in this post may be "affiliate links." This means if you click on the link and purchase an item, I will receive an affiliate commission. Disclosure in accordance with the Federal Trade Commission's 16 CFR, Part 255. This site is a participant in the Amazon Services LLC Associates Program, an affiliate advertising program designed to provide a means for sites to earn advertising fees by advertising and linking to Amazon.
Birthdays are unique events, and should be marked accordingly with a unique gift. After all, you're only ever going to get one 50th birthday in your life – and so it follows that you should only receive one gift – and that it should be special, and unique to you.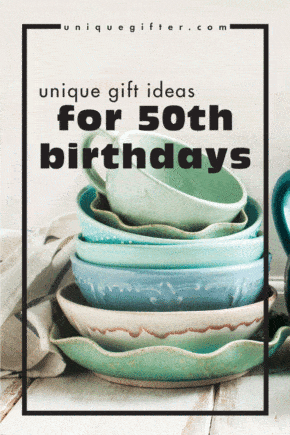 For those shopping for birthday gifts, this presents something of a problem. How might we find a gift that's uniquely suited to one person from among the teeming multitude of gifts on offer from retailers both online and offline.
If you're stuck for an idea, then you're in luck – in this article, we'll explore some potential gift ideas. Perhaps one might strike you as suitable for your intended recipient. Let's get started, shall we? (we also have various 50th birthday gift guides, like this example here.)
Personalised Food
When it comes to birthdays, there are few gifts more widely-appreciated than the edible sort. This is so for obvious reasons – everyone likes to eat, and everyone likes to eat things which taste good. This principle is already hard at work in the form of the birthday cake – but why not extend it a little further? Personalised chocolate bars, and other foodstuffs, are available online. But if you've a culinary flair, then you might come up with something yourself – we've all by now seen 'The Great British Bake-Off' – if you've a recipe for great cookies and access to a piping bag, there's no reason you can't come up with a delicious and unique treat for the occasion.
Personalised Pottery
Of course, not all personalised items are of the edible sort. You might also go for some personalised pottery – or crockery. We're all familiar with the rows and rows of personalised mugs, each featuring a different name. And if you're shopping for someone who enjoys their tea or coffee, such a purchase might be suitable.
But we can surely do better than that. The internet is awash with services willing to inscribe a cup not only with a name, but with a personalised message, too – or even a picture. If you're going to create something that's unique, then there are few better ways to do it.
And the personalisation needn't just be limited to cups and mugs. One can find all sorts of personalised items – be they enormous flowerpots or simple baking dishes. Take a look out there and see what's available.
If you're a skilled potter, then you might instead decide to create something yourself – or to pay someone to create something bespoke on your behalf. If you're going to go down this route, then you'll want to ensure that the item eventually produced is as unique as possible. After all, there's no point in going to all of that effort if the end result looks as though it's been picked off a shelf!
Personalised Glassware
Creators of personalised glassware face somewhat different challenges to those creating personalised pottery. But the principles are the same – by shaping the glass to a specific shape, or colouring it a certain way, we can create beer mugs, cocktail glasses and vases which are perfectly suited to a given person. So, if your intended recipient has a penchant for beer, wine or flowers – then be sure to consider getting them an appropriate, personalised piece of glassware.
Personalised Textiles
With the advent of printable fabrics, creating an item of clothing that's unique and personal has never been easier. So why not design an item of clothing that will be used again and again? It needn't be a piece of immaculate finery – many will appreciate a thoughtfully-personalised tea-towel or apron just as much as they would an incredibly ornate piece of eveningwear.
Unique Items
Thus far we've discussed some of the common forms for items, which might be personalised to attain that required uniqueness. But what about those items which don't quite fit into any particular mould? What about those items which you haven't thought of – but which you couldn't think of before actually seeing it? Inevitably, there will exist gifts which go beyond your imaginings – and in order to find them, you'll need to look.
That's why actually going shopping in unusual stores is a worthwhile thing to do. There exist plenty of retailers on the internet which specialise in seeking out suitable gifts and presenting them to their customers. Be sure to take a look through these treasure troves in search of those items which are quite unlike anything else you might find. It might be that one of them simply leaps out of the page at you!