Disclosure of Material Connection: Some of the links in this post may be "affiliate links." This means if you click on the link and purchase an item, I will receive an affiliate commission. Disclosure in accordance with the Federal Trade Commission's 16 CFR, Part 255. This site is a participant in the Amazon Services LLC Associates Program, an affiliate advertising program designed to provide a means for sites to earn advertising fees by advertising and linking to Amazon.
Cosplay accessories are gaining popularity as everyday accessories and most of the gifts on this list fit that list. So don't just get them something, get them a cosplay something.
Harry Potter Accessories
Buy Now
Grab their favourite house and watch the sheer delight as they open up this 3 piece gift set. Harry Potter is always in style.
Steven Universe Shirt
Buy Now
Steven's iconic shirt design is simple and "normal" enough to be added to their regular wardrobe. So, even if they're not planning to cosplay the youngest Crystal Gem, they'll still love this gift.
Angel Wings
Buy Now
If the person you're shopping for loves cosplaying any kind of divine characters this is a perfect gift idea. You can never have too many sets of wings.
Pokemon Hats
Buy Now
Who doesn't want Ash Ketchum's iconic hat? Well this set has 3 different Pokémon designs. Great for Pokémon cosplays or just as an everyday hat!
Ocarina
Buy Now
Fans will adore this cosplay replica Ocarina from the Legend of Zelda. It doesn't matter if they plan to cosplay as Link or not it makes a great display or collector's item.
Jayne Hat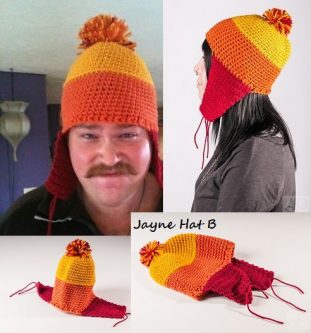 Buy Now
A perfectly normal winter hat, right? Not to Firefly fans!
Mario and Luigi Hats
Buy Now
Have you ever seen a more perfect couple's gift in your life?
Mana and Health Potions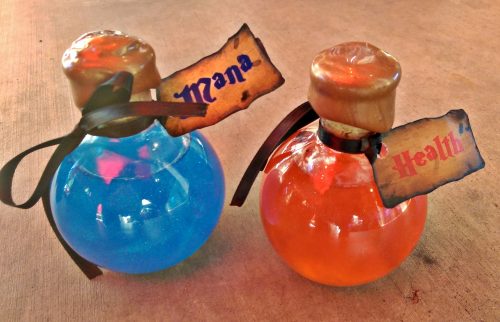 Buy Now
Everyone who's (cosplaying) in a fantasy world needs a couple of potions, just in case. Grab them this paid and they'll be ready for the next convention or have a great display item.
Steampunk Goggles
Buy Now
Steampunk costumes are a lot of fun to put together. Get them started with a pair of googles, or they can just wear them and look awesome.
Attack on Titan Jacket
Buy Now
Straight from the show, these jackets will show off whatever group's logo your recipient prefers. The added bonus is they are perfect as a light coat for spring or summer.
Elf Ears
Buy Now
Way too many characters have pointy ears. Now they can too!
Kunai Set
Buy Now
These little throwing knives would work in a lot of Japanese cosplays. They're also a guaranteed hit for Naruto fans.
BADMAN Shirt
Buy Now
Vegeta's iconic shirt is a definite must have for Dragon Ball Z fans. It would also be pretty cool to wear in public if you were brave enough.
Evangelion Hat
Buy Now
Grab them a replica of Asuka's hat from the new Evangelion movies. Super cute!
Sonic Hat
Buy Now
Ok, so maybe this one is a bit of a joke, but who wouldn't love a Sonic hat?
Diamond Dogs Hat
Buy Now
We're Diamond Dogs now, or at least they are. It's a great everyday hat that they can wear to represent their favourite NGO.
Star Trek Shirt
Buy Now
Classic cosplay accessory! Grab a shirt in their favourite colour and they can pretend to be on board the Starship Enterprise.
Pokéballs
Buy Now
Pokeballs are always fun cosplay accessories. Great as part of the costume or just as something to have for fun.
Keyblade
Buy Now
Kingdom Hearts fans are going to go crazy for this replica keyblade.
Free! Cosplay Jacket
Buy Now
They can join their favorite anime swim team with this cosplay jacket. Why not wear it outside too?
It's totally cool to wear cosplay accessories out in public every day, stop telling me how to live my life!