Disclosure of Material Connection: Some of the links in this post may be "affiliate links." This means if you click on the link and purchase an item, I will receive an affiliate commission. Disclosure in accordance with the Federal Trade Commission's 16 CFR, Part 255. This site is a participant in the Amazon Services LLC Associates Program, an affiliate advertising program designed to provide a means for sites to earn advertising fees by advertising and linking to Amazon.
Grandma is one of the sweetest people in your life. She has helped raise you, lent an ear and a shoulder from time to time, and loves you unconditionally. Whether you are a youngster or an adult, she deserves a thoughtful gift from you. Check out some of these ideas listed here and pick the one she will love the most, or maybe even a few. She deserves it!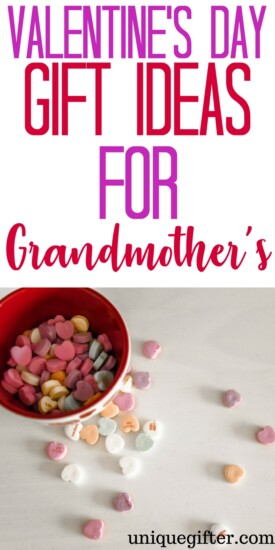 Grandma Scrapbook
Put together a scrapbook for your grandma for Valentine's Day, full of the memories and fun times you have had together.
Qianse Butterfly Bangle Bracelet
She is beautiful, and so is this qianse butterfly bangle bracelet that will shortly become her favorite piece of jewelry.
"Mimi's little valentines" Picture Frame Personalized with Grandkids' Names
Put in a picture of yourself and your siblings, or your kiddos, and personalize it with her favorite people's names. If she's not "Mimi," it can also be switched out for grandma or nana, etc.
"Grandma, the Beauty, the Goddess, the Legend" Coffee Mug
Grandma is a beauty, that's for sure. Show her as much with this brand new "grandma, the beauty, the goddess, the legend" mug she can use for coffee, tea, hot cocoa, or the beverage of her choice.
"I don't need cupid, I've got my grandma" Shirt
So true! Your kids don't need cupid, they have their grandma. She's their best valentine ever!
"Grandma" Collage Canvas Print With Custom Phrase at the Bottom
Fill this beautiful "Grandma" collage canvas print with pictures of all the fun family memories from over the year, and put a meaningful quote at the bottom for her too.
Grandma and Child Essential Oil Diffuser Necklace
If she uses essential oils, then she will absolutely adore this grandma and child essential oil diffuser necklace to diffuse her essential oils in.
Custom Heart Shaped Photo Magnet
A custom heart shaped magnet with the picture of her favorite grandchild in it will definitely make Valentine's Day that much more special.
"Only the best moms get promoted to grandma" Bracelet
It's true, she was a good mom to you, or your own mom, show her how amazing she is with this bracelet. Perfect for announcing pregnancy too!
"Grandma's sippy cup" Wine Glass
Grandma needs a sippy cup for her wine, especially when she has had the kids all day!
"Grandma" Vinyl Decal
This "Grandma" vinyl decal can be placed in so many places and she is so proud to show off this about herself too!
"My valentine calls me grandma" Shirt
Grandma's favorite valentine is her grandchild!
"Nana's Coffee Spoon"
Every Nana needs a coffee spoon to stir her coffee with!
"I love you, a bushel and a peck & a hug around the neck" Coffee Mug
I don't know about you, but this was one of my grandma's favorite sayings. My mom loves saying it to her grandkids too. Chances are, you may have a grandma that loves it too!
"Nana's Kitchen (Where the secret ingredient is always love)" Wood Sign Decor
Nana's secret ingredient is definitely all the love she pours into her kids and grandkids. She can hang this wood sign anywhere, or prop it up on a table or bookshelf for all to see.
"I love you to the moon and back" Interlacing Heart Necklace
Some grandma's really love this saying too, show them that you love them to the moon and back as well with this
interlacing heart necklace.
"Grandma again" with Date, Coffee Mug
Oh, how exciting! She's going to be a grandma again! Tell her the amazing news with this special coffee mug!
"Grandma's Scoreboard Boys vs. Girls" Wall Frame
Grandma may be counting how many grandsons and granddaughters she has, and this is a cute way to do it.
White with Hearts Throw Pillow with Monogram
Customize this heart throw pillow with your grandma's favorite saying, her name, or anything else that will fit in the space. She will love how thoughtful it is and how much work you put into it, and will be proud to place it on her couch or chair!
"Happy Valentine's Day, we're getting you a grandchild" Bodysuit
Another awesome way to announce a pregnancy, with this "Happy Valentine's Day, we're getting you a grandchild" bodysuit. The baby can wear it after they're born, or grandma can put it in a frame and hang it up on the wall.
Grandma will love whatever Valentine's Day gift you choose for her, and there are so many beautiful ones to choose from in this list!