Disclosure of Material Connection: Some of the links in this post may be "affiliate links." This means if you click on the link and purchase an item, I will receive an affiliate commission. Disclosure in accordance with the Federal Trade Commission's 16 CFR, Part 255. This site is a participant in the Amazon Services LLC Associates Program, an affiliate advertising program designed to provide a means for sites to earn advertising fees by advertising and linking to Amazon.
Here is a list of gifts for childcare workers that they will appreciate! Finding a gift for your favorite childcare worker may not be easy, but it is such a great way to show how much you appreciate them for all they do. It can be a random gift, or it can be for a special occasion, like a holiday. You want to get them something that will truly make them smile or that will be fun to use regularly. This list is full of those kinds of gift ideas!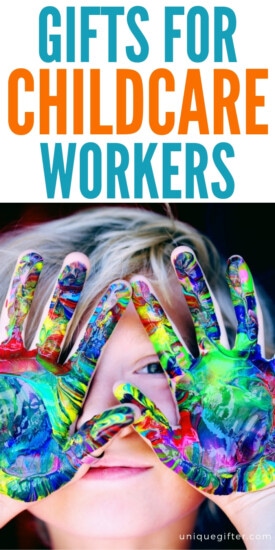 Thoughtful Gifts For Childcare Workers
Show how much you appreciate your childcare worker by giving a present. 
Personalized Reusable Starbucks Coffee Cup
Most childcare workers survive on coffee, and having a personalized reusable Starbucks coffee cup is excellent for bringing their homemade coffee to work and feeling like they stopped to pick it up along the way.
SkinCraft Organics Cocoa Body Butter
Help them pamper their skin with an organic cocoa body butter!
"Thank you for all your patience day to day & every tear you wipe away" Eternity Necklace
This necklace is a beautiful way to remind them that you appreciate how much they show patience with your child, as you know how hard it is to do sometimes, and for wiping away tears when your child is upset.
Lavender Sage Bath Fizzy
With this lavender sage bath fizzy, they can pamper themselves with a nice warm bath.
"Tiny human wrangler" Shirt
Your favorite childcare worker sure is a tiny human wrangler, and this shirt will get laughs whenever they wear it.
Handcrafted Sugar Scrub
They can pamper their skin even further with a handcrafted sugar scrub to revitalize it. Let's face it, childcare workers brave a lot of things, and it all takes a toll on their skin, especially during the winter.
Disney Starbucks Glitter Tumbler
If they love Disney, or you love Disney, this Starbucks glitter tumbler with Minnie Mouse ears is perfect and so fun!
Personalized Black Initial Tote Bag
When they bring their teaching and entertainment materials to the center, they will now be able to do it in a personalized and stylish manner with this personalized black initial tote bag to carry it all in.
Gourmet Popping Corn
Every childcare worker deserves a movie night to relax, and now they can enjoy some gourmet popcorn that they popped themselves.
"Tiny seeds grow into mighty trees" Necklace with Leaves on it
Remind them that the children they take care of may seem tiny now, but they do grow up to be mighty too.
"A teacher takes a hand, opens a mind, and touches a heart" Wood Plaque
As a childcare worker, they teach, and teachers lead, empower, and love their students.
"I work out. Just kidding, I chase toddlers." Shirt
Their workout routine revolves around chasing toddlers all day at work! Even if it's not their primary form of workout, it does qualify!
"Nurture little children, grow big dreams" Bracelet
When they are nurturing the children, they are also growing big dreams in the hearts of those little children.
"Chasing toddlers is my cardio" Mug
If you're not sure of their shirt size and want to get them something about chasing toddlers being their exercise, then this mug is the way to go.
"I'm not a regular teacher, I'm a cool teacher" Tank Top
Your favorite childcare worker is not just a regular teacher; they are super cool!
"Thanks for helping me grow" Keychain
Thank them for helping your child grow, with a simple yet powerful keychain.
Funny Wine Labels for Teachers and Childcare Workers
One of the best gifts you can give them may be a bottle of wine, and these labels will make it even more special and funny!
"Thanks for making my child bright" Lightbulb Necklace
While your child was already bright, your favorite childcare worker has definitely helped them grow and helped their light shine brighter.
"I speak fluent toddler" Mug
They speak fluent toddler; sometimes, it even surprises them how fluent!
Getting a gift for your childcare worker is actually pretty easy. There are so many awesome gifts that may be hard to choose just one!