Does your mom or wife love spending time out in the garden or caring for indoor plants? These Mother's Day gifts for gardeners are the perfect way to spoil her this May. Just in time for spring!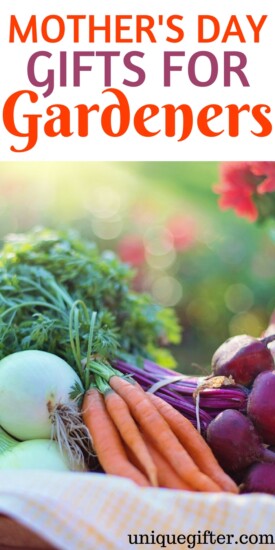 Mother's Day Gifts For a Mom or Wife Who Gardens
Gardening is not for everyone, so when you want to get a Mother's Day gift for the gardener in your life, something extra special will make their day one of the sweetest they have ever experienced. There are so many fun things that you can get your mom for Mother's Day when she loves to garden.
I don't even garden, and these Mother's Day gifts for gardeners catch my eye!
Not everyone has a "green thumb." In fact, there are many of us who can't grow anything before it dies or shrivels away, if it even emerges from the soil at all. Your mom needs a gift that shows her that you believe she is talented, beautiful, and passionate about her garden – and these mother's day gifts for gardeners do just that!