Disclosure of Material Connection: Some of the links in this post may be "affiliate links." This means if you click on the link and purchase an item, I will receive an affiliate commission. Disclosure in accordance with the Federal Trade Commission's 16 CFR, Part 255. This site is a participant in the Amazon Services LLC Associates Program, an affiliate advertising program designed to provide a means for sites to earn advertising fees by advertising and linking to Amazon.
Gardening is not for everyone, so when you want to get a Mother's Day gift for the gardener in your life, something extra special will make their day one of the sweetest they have ever experienced. There are so many fun things that you can get your mom for Mother's Day when she loves to garden. I don't even garden, and these gifts catch my eye!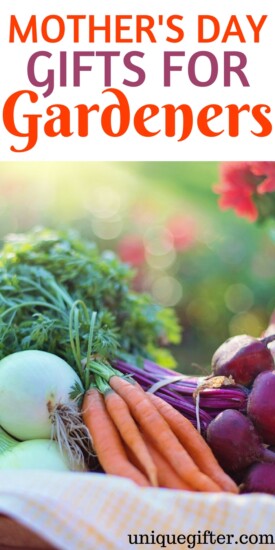 Mother's Day Gifts for Gardeners
Honey Bee Garden Stake
This beautiful honey bee garden stake will make their garden look even more pretty, and is a really nice gift for someone who loves to garden and loves bees too.
Butterfly Garden Seed Kit
Help your gardening mom bring the butterflies to her yard with this butterfly garden seed kit!
Hummingbird Hanging Feeder
Your gardening mom will love having this beautiful and colorful hummingbird hanging feeder on her porch to attract the neighborhood hummingbirds.
"Mom's garden is filled with love" Sign
Her garden is always filled with love. She loves her kids, tends her garden with love, and shows so many other people love as well.
Gardener's Notebook
Your mom can keep track of how things are going with her harvest with this adorable notebook.
Black Carrots Shirt
Black carrots on a white shirt may not be that visually appealing, but it does make for a cool shirt!
Coffee Canister Jar with Sprout in it
A canister jar that holds coffee, and shows her a sprout as her use the coffee is pretty cute! She will get a kick out of it.
Cactus Key Fob
They will be a lot less likely to lose their key if it is on a cactus key fob like this!
Framed Botanical Watercolor Paintings
Beautiful decoration to put up at home to remind them of all the love they have for gardening when they're not out there gardening.
"Grow away" Coffee Mug
What a hilarious spin on the phrase 'go away,' but fitting for someone who loves gardening and dislikes people talking to them too early in the morning. Be sure to grow away until after she is done drinking it.
Rainbow Pyramid Bottle Windchimes
Rainbow pyramid bottle windchimes will both look and sound beautiful on her porch or patio. She will adore looking at them even when there isn't much wind, and when there is wind, they will make beautiful music.
"Plant whisperer" Shirt
Your gardening mom is a "plant whisperer," which is a level above having a green thumb. Show her that you appreciate how talented she is with a fun shirt like this one.
Plant Pokes, Set of 3
For Mother's Day, your mom will love adding these plant pokes to her garden. They have different sayings on them, such as live, laugh, love, and friends, family, faith.
"Home is where mom is" Watering Can
Perfect for your mom on Mother's Day, remind her that home is where she is, while also giving her something that will help her grow her food and plants at the same time.
Peony Flower Decor Soap
Pretty peony flower decor soap will look wonderful in her bathroom or kitchen, and is the perfect fit for her gardening heart.
"I wet my plants" Coffee Mug
Instead of wetting her pants, your mom wets her plants to help them grow. She will get a kick out of her new mug this Mother's Day.
Three Year Garden Journal
Wow, this gardening journal lasts three years! She will be perfectly set for a while, and not only that but it has a very pretty cover too!
Homestead Garden Gift Set
Every garden loving mom needs a homestead garden gift set with handmade soap, lip balm, a lotion bar, raw honey, a beeswax candle, and an heirloom seed collection. You will make her day the best one she has ever had when she opens this to find all these goodies inside.
Personalized Hand-Painted Garden Sign "______'s Sanctuary"
Your gardening mom deserves a sign that tells everyone that her garden is her sanctuary. She finds peace there, and there is no doubt about it.
Steel "Mom" Garden Stake
One of her most important jobs has been to be a mom, and one of her most important hobbies right now is keeping her garden thriving, which means she needs a "mom" garden stake to mark her special space.
Not everyone has a "green thumb." In fact, there are many of us who can't grow anything before it dies or shrivels away, if it even emerges from the soil at all. Your mom needs a gift that shows her that you believe she is talented, beautiful, and passionate about her garden.